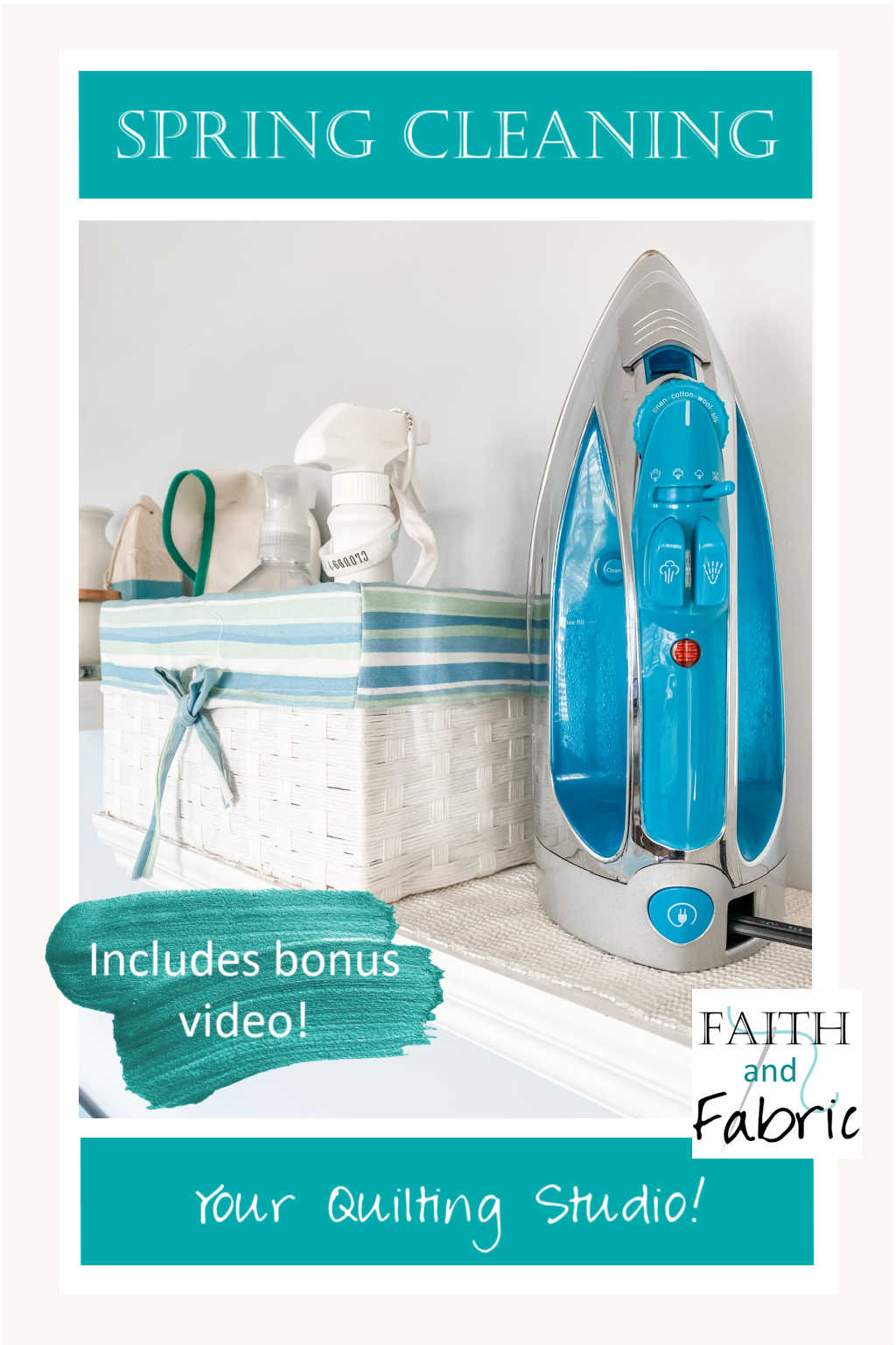 Welcome to the Spring Clean Your Studio Blog Hop of 2021 hosted by Cheryl Sleboda of Muppin. I'm Jen Frost of Faith and Fabric, designer of the Scripture Quilts ™ and Scripture Quilts Blocks ™ pattern collections. This year, I'm excited to join up again with these talented – and clean (haha!) quilters to bring you into our studios and share a bit about how we spring clean. Each day of the hop a new quilter will be bringing you into their space and sharing their own tips and tricks on how they spring clean:


So onto the cleaning! My studio is honestly usually pretty darn clean space, as I'm one of those "there's a place for everything and everything goes in its place" kind of people. That means that taking a "before" and an "after" just isn't quite as exciting, as it's just not that messy – especially not since we did the full remodel and built a proper studio. Of course, this excludes last year's hop when fabric exploded all over the room!
However, <ahem> what does get overlooked in my space is general cleaning of my quilting tools – things like my iron, bobbin case, rotary cutting mat, and glider mat. So, I thought I'd share some tutorials and videos with you on how to give these essential tools a good scrubbing! You can click on the bolded titles below to read the tutorials, but I recommend checking out the videos as they contain more in-depth information than the tutorials themselves…just a tip.
Let's get started with cleaning four key tools that you likely use every day:
1.
REMOVE HARD WATER BUILDUP FROM YOUR STEAM IRON:
a few weeks ago, my steam iron started spitting out little white chunks of calcium that had been deposited inside the vent holes due to the hard water we have in our home. It was time for a good cleaning!
2.
DEEP CLEAN YOUR BOBBIN CASE
: you already (hopefully) clean out visible loose threads and filaments each time you change your bobbin, but when is the last time you really gave it – along with all the components inside – a good deep clean?
3. 
RESTORE THE SELF HEALING QUALITIES OF YOUR ROTARY CUTTING MAT: 
your rotary mat, like mine, probably has lots of random threads and fibers, random stains, and (dare I say) a few coffee cup rings on it. It's easy to restore the self healing capability of your mat by taking it to the spa! Kidding. Not really. In this video I'll show you how to moisturize your mat so it's less dry and self-heals better than ever, as well as how to exfoliate off all those loose threads and fibers.
4.
MAKE YOUR GLIDER MAT SUCTION TO YOUR TABLE AGAIN:
glider / slider mats are *indispensable* tools when it comes to free motion quilting (you'll notice I've never *not* use
one in our #freemotionfriday designs
), but – after a few rounds on my extension table – it just. won't. suction. So, in this video I'll show you how to carefully clear off all the buildup on the bottom of your glider / slider mat so that it suctions down to your extension table in time for your next free motion or ruler quilting session. Huzzah!
5.
TURN THOSE RANDOM QUILT BLOCKS INTO TOSS PILLOWS:
chances are you have *a lot* of quilt blocks laying around. Some are seasonal, some are holiday, and some are just…random. With just a few simple stitches, you can turn those blocks into adorable toss pillows; the envelope-style back means you'll be able to quickly change out the pillows without fear of committing to a design, and your home will always be extra seasonal and fashionable as your blocks can be rotated out whenever you catch the whim. Plus, these make great gifts – so get started now and be ahead come Christmas (you're welcome).
6.
PULL TOGETHER ALL THOSE LOOSE NOTES, SWATCHES, PATTERNS, AND DEADLINES INTO ONE SPOT:
chances are you have little notes everywhere with information like that new fabric line you want to pick up, your niece's wedding date so you can make her a quilt, pieces of foundation paper patterns for the project you're starting as soon as you finish the one you're currently working on, and more…I know I sure did. A true game changer for me was pulling them into 
Plan to Quilt
, an undated quilt planner that holds key dates, fabric swatches, pattern pieces, sketches, layouts, and more!
…and there you go! Everything is like new, and all those random quilt blocks that you had laying around now have a purpose. I'm so glad you joined me today for the 2021 Spring Clean Your Blog Hop! If you're interested in staying in touch, and learning about our Christian quilt patterns and designs, I invite you to
join our newsletter
(arrives in your inbox on the 1st and 15th of the month). If you're a social media fan, you can also check out the hashtags #springcleanyourstudio2021 and #springcleanyourstudiobloghop to see how others' have – and are – cleaning their space both this year and in years past. Thanks for joining me on this cleaning adventure!
(Visited 722 times, 2 visits today)