Welcome to my corner. My name is Jen Frost, and Faith and Fabric is my way of sharing projects I make in the hope that they inspire you be creative, too. I believe that there is something very personal in creating a beautiful item that reflects and retains a bit of you that wasn't there before.
I have loved sewing for as long as I can remember, and find inspiration from the everyday things around us. My faith is central to my family's life, and is often reflected in my quilt patterns. This is how Faith and Fabric was born. A desire to share my faith in a creative way – both the awesome projects and the mistakes! – and learn from you. You'll find lots of quilting and crafting ideas to celebrate your faith both on this site and in our biweekly newsletter.
A quick side-story? Our priest, a few years ago for Christmas, asked, "If your home were to be visited by someone who had never heard of Christmas before, would they think – based on your decor – that Christmas was a day celebrating snowmen? A large man in a red suit? Consumerism? Or the birth of Christ?" This resonated *so much* for our (ahem) snowman-heavy house. Since then, I've been inspired to make faith-focused projects – both fabric and not – for the home to help remind us throughout the year what we are celebrating.
Thanks for joining me on this adventure, and I'd love to partner with you along the way.
Jen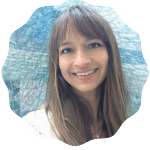 (Visited 1,828 times, 1 visits today)
);