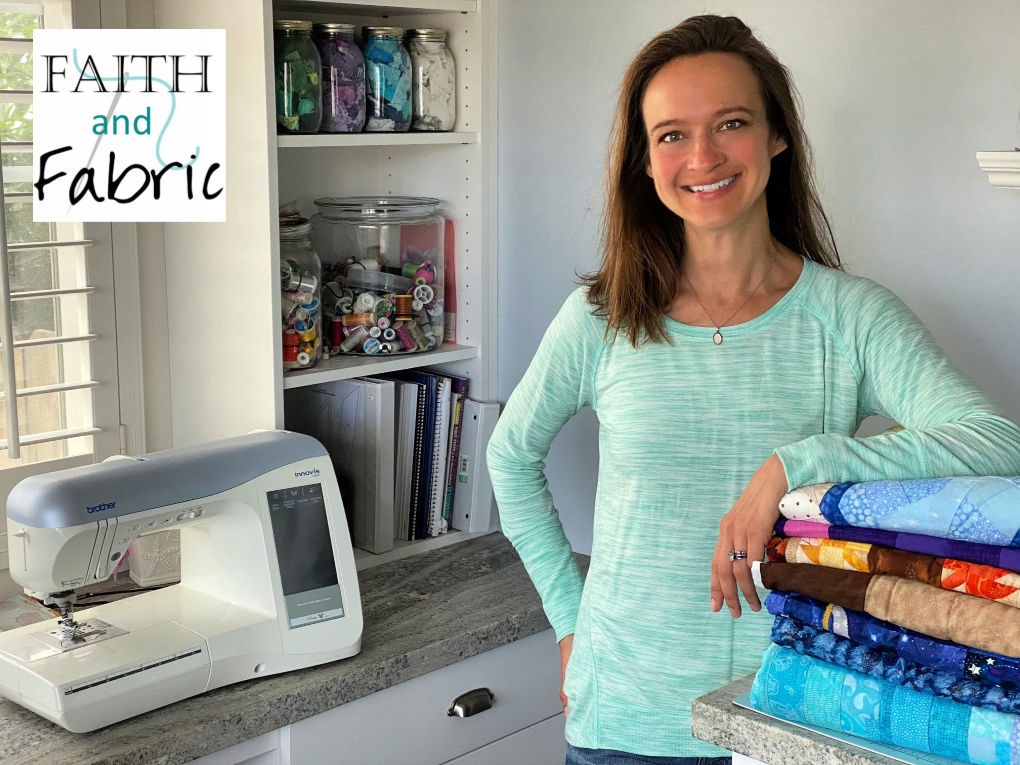 Hi there! I'm so glad you're interested in learning more about the lectures I offer. I live in San Diego, CA, and am able to teach at your next guild meeting either remotely (via ZOOM) or in person based on your guild's needs. I offer both lectures and workshops, and would love to discuss my offerings with you! To get in touch, email me at: faithandfabric <at> yahoo <dot> com.  As you've likely seen from my YouTube videos, I'm a relaxed, slightly goofy, always smiling instructor and I can't wait to connect with you!
LECTURES AND WORKSHOPS:
Studio Tour: This is a great live ZOOM lecture with open Q&A where I take you on a tour of my custom quilting space! I'll share all the tips and tricks I have for storing your sewing notions, fabrics, threads, odds and ends, and even your secret chocolate stash. We'll cover topics like "how to sort fabrics", "how to store scraps", "ruler storage", and even take a look at some custom cabinetry designs that *you* can make to keep those works in progress off the cutting table and safely stored away as you complete them. We'll also touch on ergonomics to ensure a safe and healthy studio set-up. (1.5hrs, includes Q&A, $275)
Creating, Running, and Growing a Pattern Business: Many quilters dream of making a business of their hobby, and this lecture will dive into how I turned my passion into a career! I'll share how Faith and Fabric was created, ways to get started in pattern design, what it takes to run an online pattern business, how your business model and revenue streams differ from traditional businesses, and more. This is one of my most popular lectures, and can be done either in-person or via ZOOM. (1.5hrs, includes Q&A, $275)
Sip, Sew, and Scripture: Perfect for in-person or ZOOM workshops, this three hour workshop gives us a chance to sit down and share as we sew a bit of our salvation story. Using our signature Scripture Quilts blocks (of your choosing), we'll begin the workshop with a discussion on the scripture verse that inspired the quilt block. We'll then enjoy a glass of water, wine, coffee, or tea – all in a spill proof bottle, of course! – and sew the block together. This is a wonderful workshop for those interested in growing their foundation paper piecing skills! (3hrs, includes in-print pattern for each participant, $500 for up to 20 participants)
Guild Workshops: I'm more than happy to create a custom workshop for your next guild meeting based on any of our Scripture Quilts! Most of my patterns can be taught in a six hour workshop; participants will leave with a complete (or near complete) quilt top.
I'm genuinely excited to work with you! While I'm on PST, and travel free-of-charge to any location within 90 miles of San Diego, I'm always happy to do live ZOOM lectures and can accommodate almost all time zones. Pricing for virtual lectures is not discounted, as the content is identical to live lectures (plus your guild benefits from not having to pay travel expenses!). All lectures include a discount code and special pricing on my patterns.
FEEDBACK FROM PAST PARTICIPANTS:
"Jen was a delight! Her love for her craft shined through her talk." – Rae P.
"I learn a lot from her presentation; she kept our group interested and focused – not an easy task! She made us laugh (priceless!), and the slide show was a very helpful visual aid (got to love visual aids!)." Linda P.
"I'm looking to start my quilting business, and made a point to attend her presentation. I left with a to-do list a mile long! Her talk was informative and helpful, and touched on all the areas I needed to know to get started." – Mary
(Visited 27 times, 2 visits today)