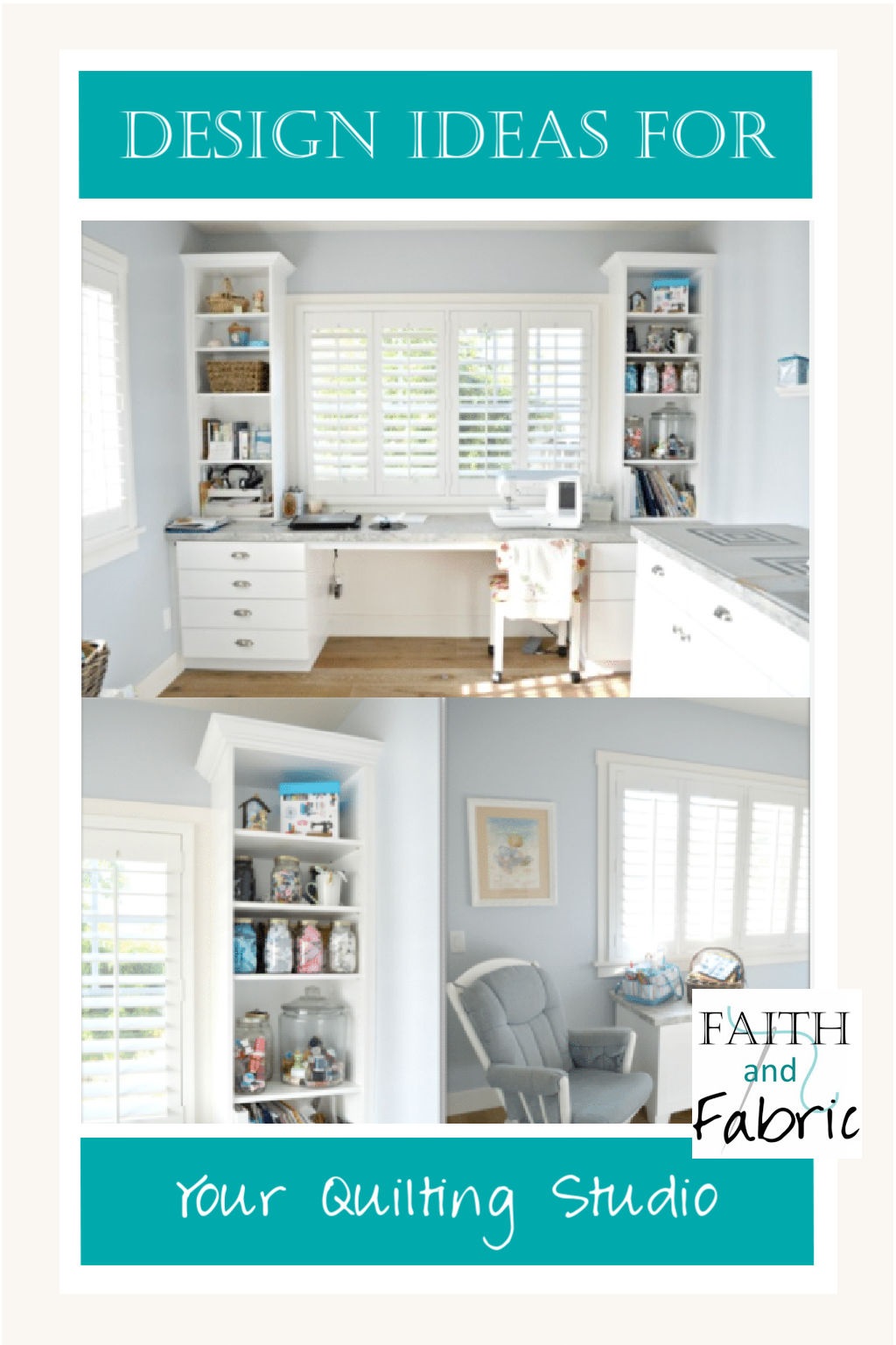 Hello, and welcome to Faith and Fabric! I'm Jen Frost, and am *so* happy to invite you into my newly-redesigned sewing space. Like you, there are so many different ways to reorganize and design your quilting room, and I'm looking forward to sharing my remodel with you here today.
We've long had a guest room that was used several weeks a year by my in-laws when they came to visit, but – the remainder of the time – served as a not-very-organized (at all) sewing space. My fabric was shoved into a closet, an ironing board sat in the middle of the room, *I* sat on the floor alongside a computer, cutting mat, and my son's favorite toys…it was a mess. I can't believe I'm going to share this with you, but we're all friends, right? Here goes: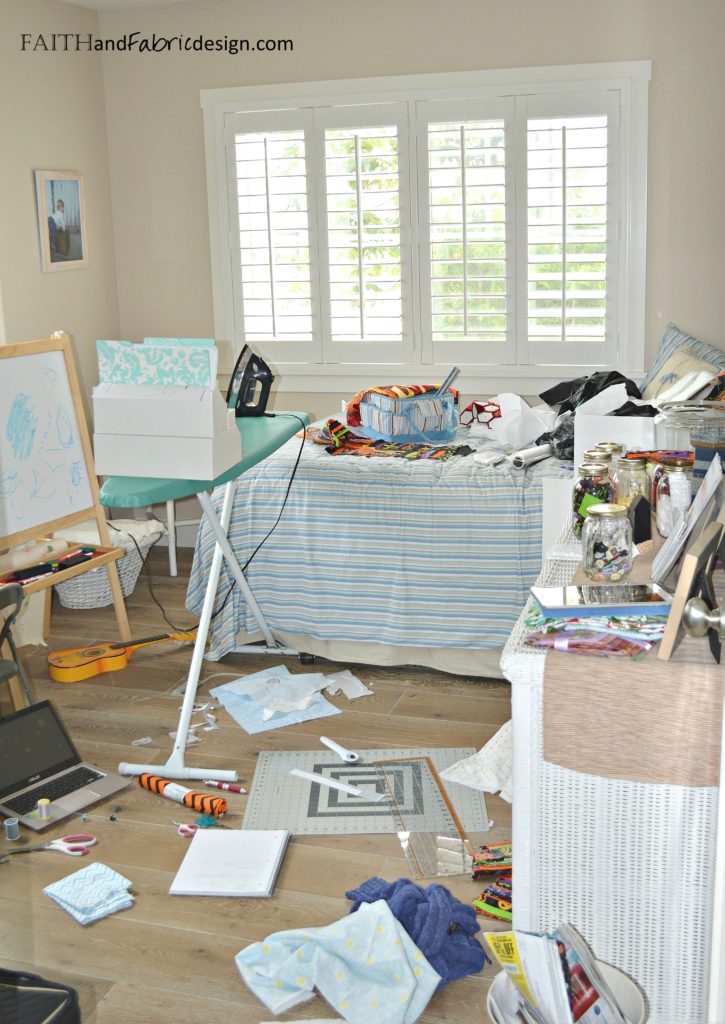 I'm an absolute minimalist and neat freak – though, looking at this space, you'd never know it. The challenge was there was just no where to put anything! The white dresser had the *tiniest* drawers, and it was full of mommy and me craft supplies. The bed, by default, became a storage area *and* design wall, which left the floor as a cutting zone. A very small side table held a sewing machine – and that's about it.


For Christmas, my husband mentioned that it might be nice to redo the room and make it more functional quilt studio…and I jumped at the chance! He's a general contractor, so rebuilding the room properly was definitely something we could take on. We sat down and sketched out all the ideas I wanted in a sewing space; to do this, I searched online for articles focused on how to design a sewing space *as well as* used this awesome book my mother-in-law found, Organizing Solutions for Every Quilter,  which recommended:
open wire baskets for fabric (both for ventilation and for easily seeing what I had)
storage for works in progress
ironing station
cutting table
large design wall
large desk space/table for both paperwork *and* sewing
soft muted tones on the walls, counters, and cabinets so the room colors wouldn't compete with projects
…and then the demo began! There's just something about a man and tools…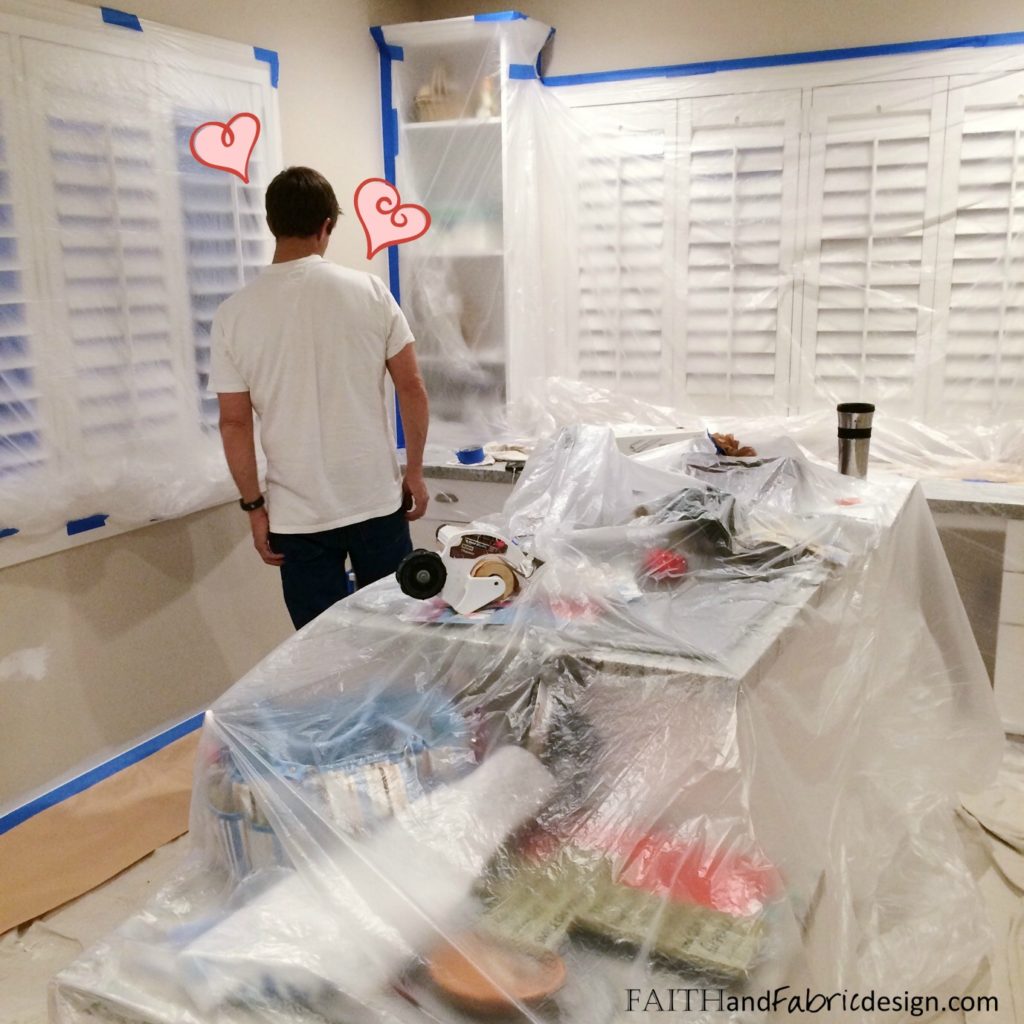 A few months later, it was done! Remember the wall the bed was against? It's now a gorgeous desk and sewing space. There is room for two people to sit side-by-side at the desk, and ceiling height cabinets on each side provide a *ton* of storage space. The chair is on wheels, which means I can easily slide from side to side when switching from pay-the-bills mode to sewing mode. One other change you'll notice is the walls went from tan to gray; I love gray. It's my favorite muted color, and it makes the space feel so clean and bright!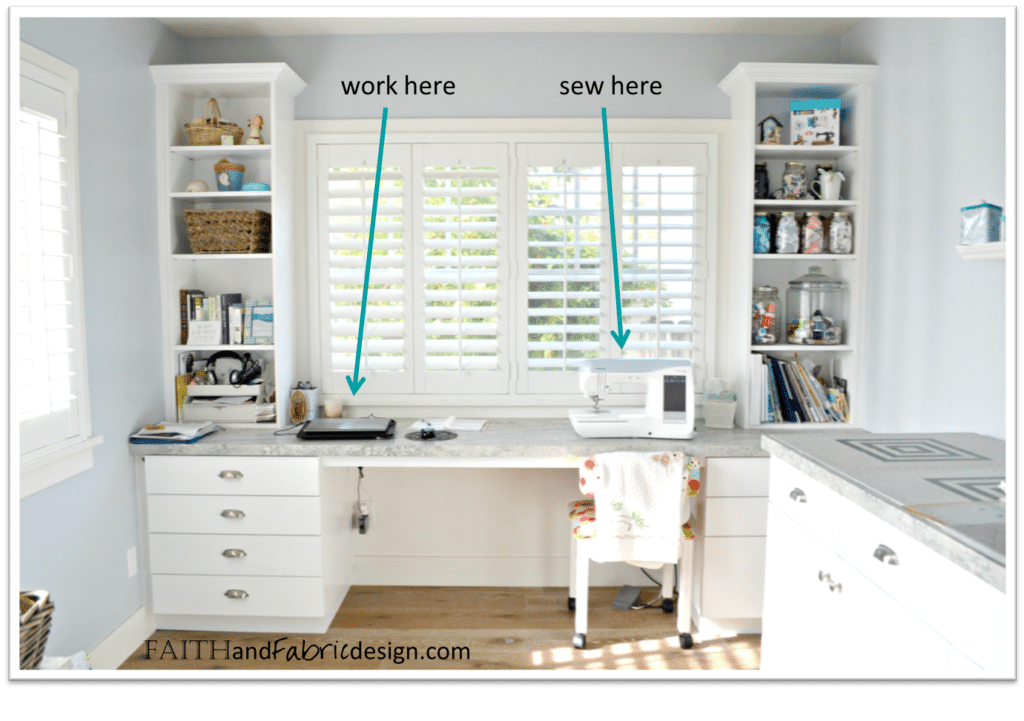 In looking closer at the storage on the sewing side, I wanted to have space for general sewing storage, scraps (as I love applique!), different types of threads (both those that are for embroidery and other specialty threads), and books.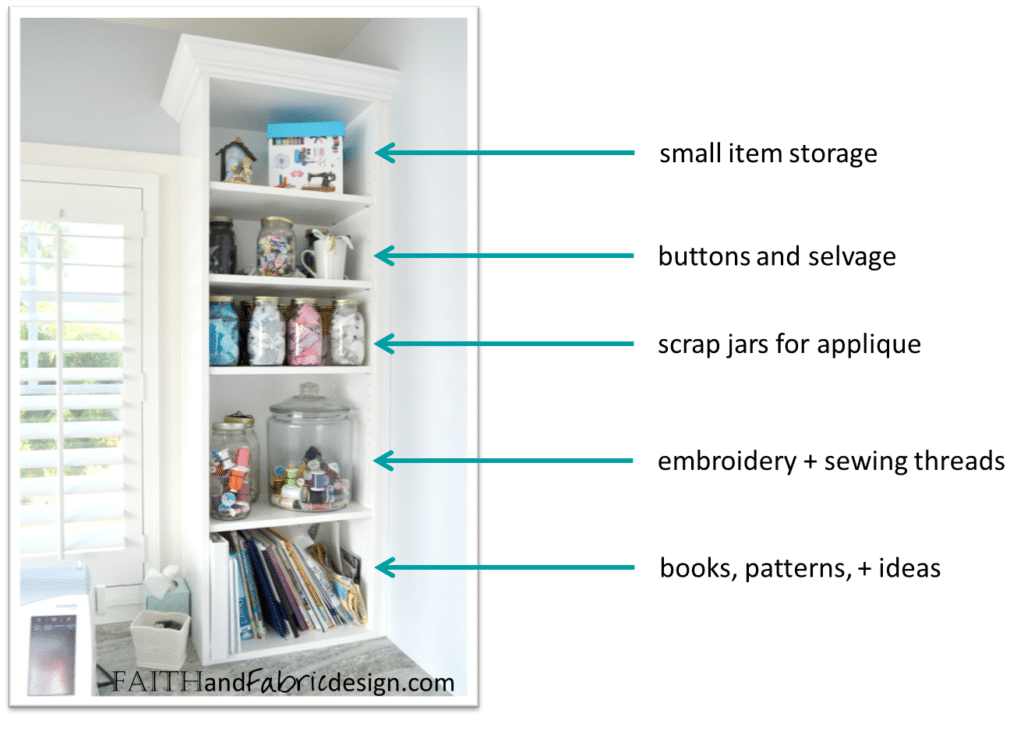 To the right of the sewing space is a large cutting and ironing table. It was designed at just taller than counter height (I like a taller table) and long enough to fit two cutting boards as well as an ironing pad.  Again, I didn't want to waste any space. Two shelves were put above the 62″ cabinet; the first holds pins and my favorite clips, and the second holds a basket for starches and an iron. Just to the right of the cabinet, you can see an almost floor-to-ceiling design wall.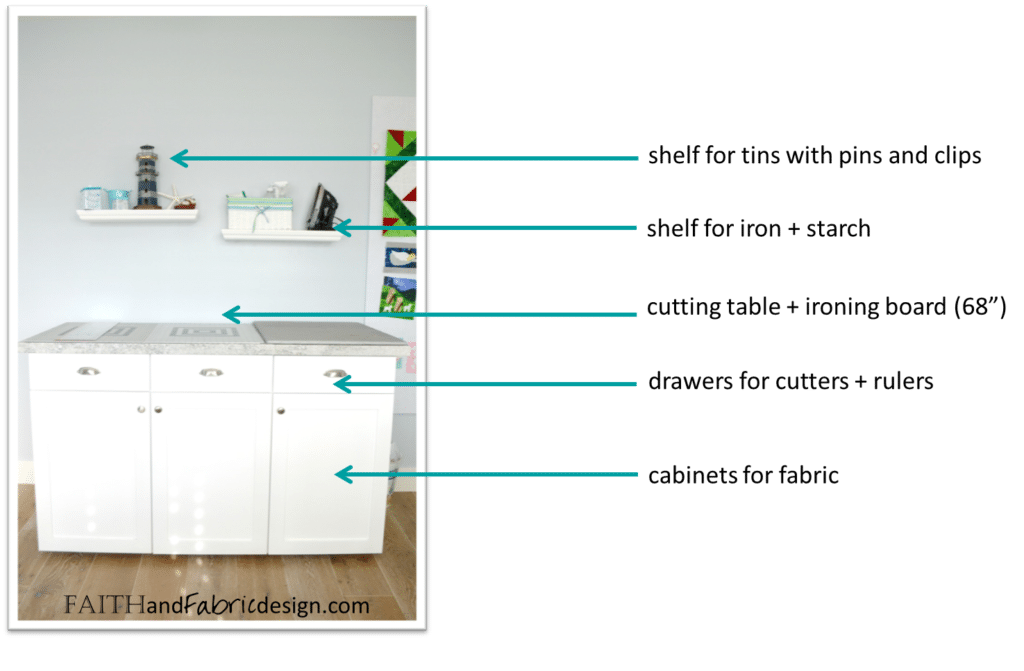 Inside the three cabinets are wire baskets – each of the 12 baskets are organized by fabric color and type, and come completely out so I can remove a basket if needed. (Clearly, I have a thing for blue fabrics!)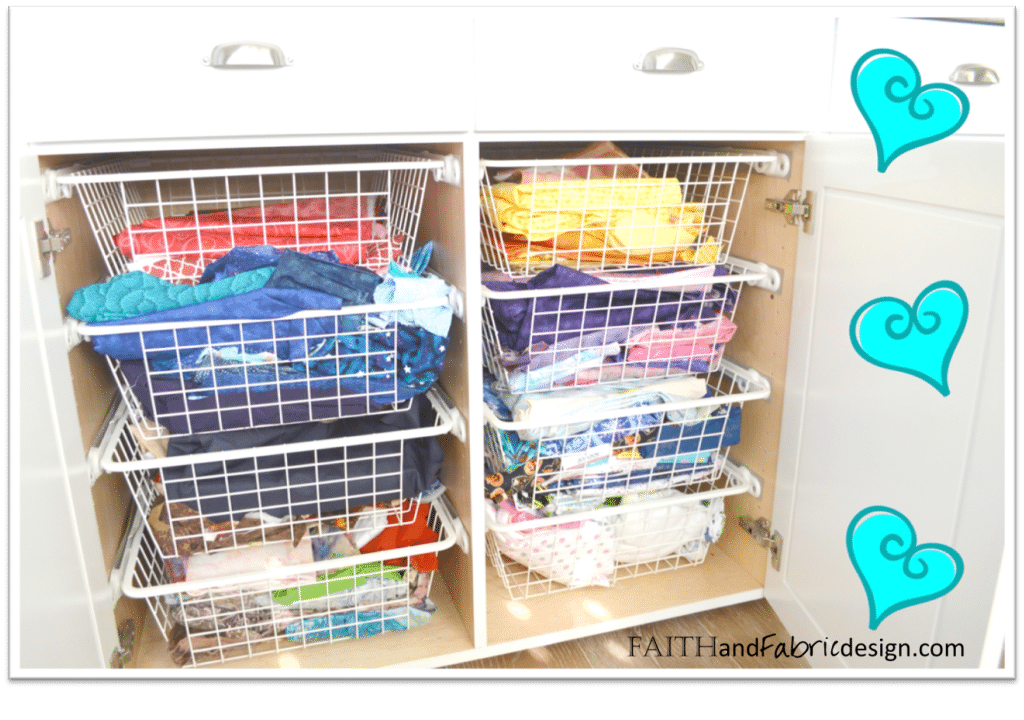 On the wall opposite the cutting table – near the "office" side of the desk – is a sitting area. I love (love) reading, so when we redid my son's room I kept the nursing rocker and moved it into here. I couldn't bear to part with the chair, and am so thankful it fits so perfectly in my room! I also kept his diaper changing station bag; I remember receiving it from my mom at my shower, and it has special meaning to me. I keep colored pencils, measuring tapes, basting spray, fabric glue, and scissors in it – everything is super handy, and organized.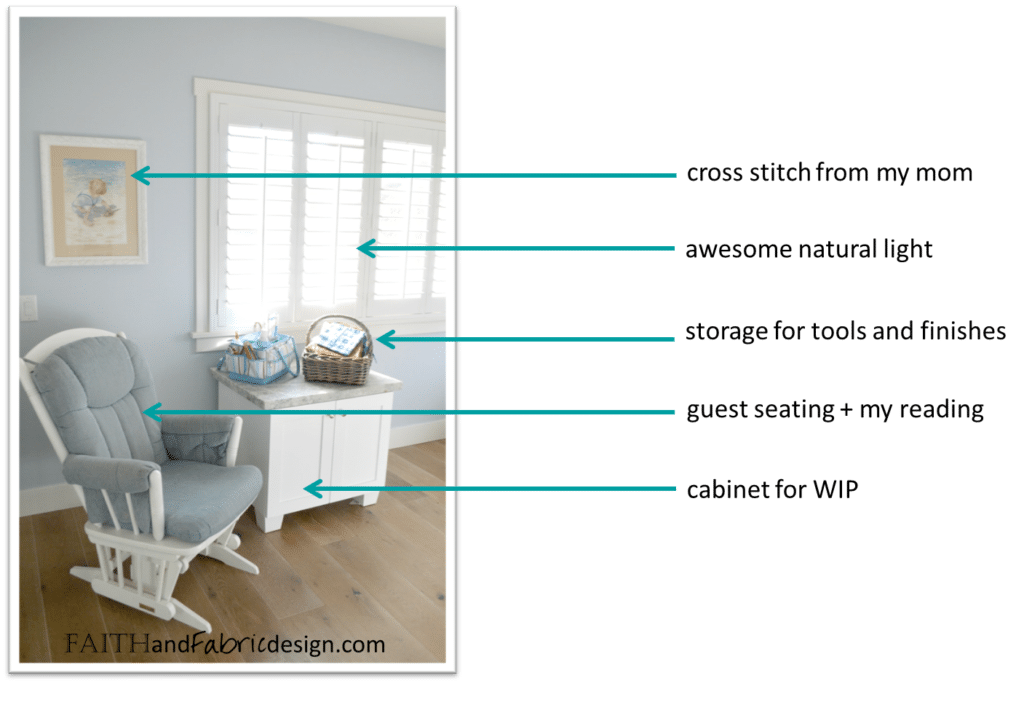 See that cabinet for works in progress? I was tired of them laying around everywhere, but needed a proper way to store them. So, I asked my hubby to design a cabinet that would have rails to hold industrial cookie trays – almost like a bakers rack. Each WIP has it's own cookie tray that easily pulls out, and I never worry about projects getting lost or ruined.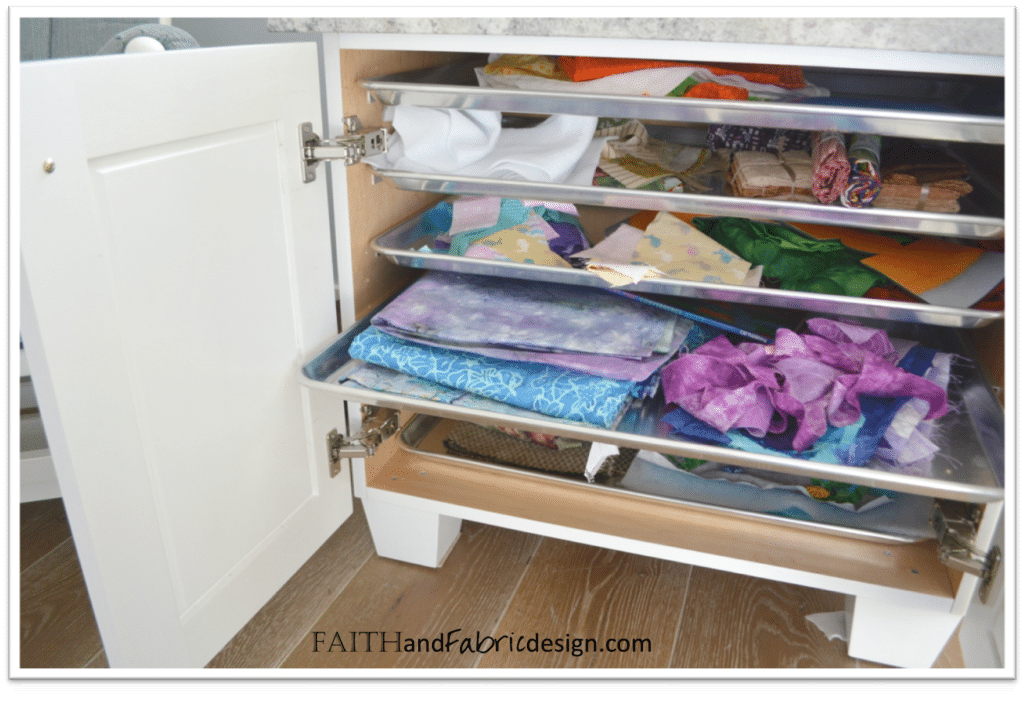 So there you have it – my quilt studio! I love this room for so, so many reasons. It's my quiet retreat, my happy place, my creative center. I'd love to hear about your space – leave a comment with how you organize and design your sewing space!


Just for fun…this quilt studio post links up at some of these great quilting and Catholic sites!
(Visited 14,765 times, 21 visits today)