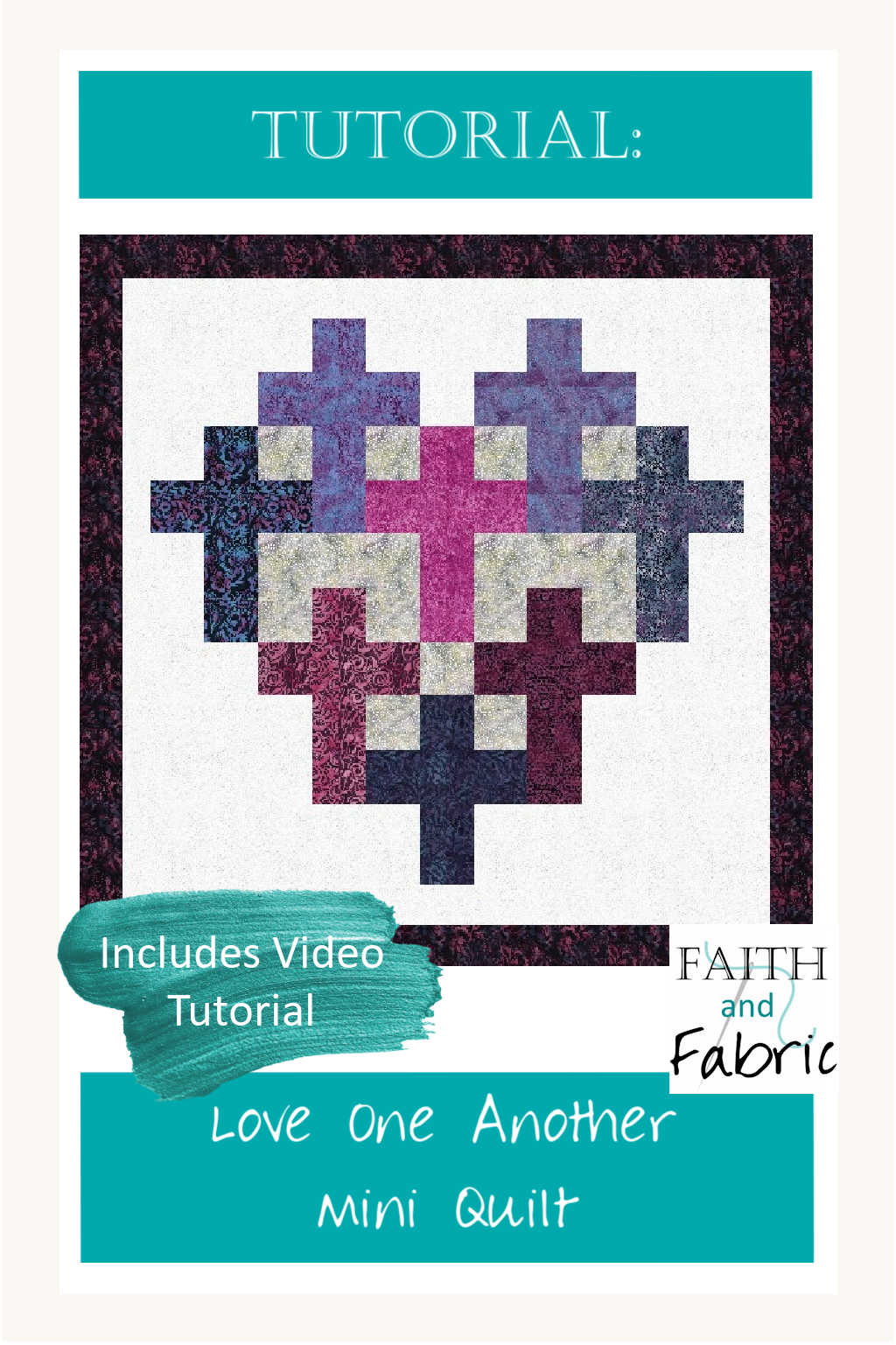 This quilt pattern is inspired by John 13:34, which tells us "A new command I give you: Love one another. As I have loved you, so you must love one another.". This creatively designed quilt is comprised of a colorful set of crosses, each arranged to make a heart! The versatility of this pattern means that you can make the crosses as light or as dark as you like, resulting in them either standing out or blending into the background of this heart quilt pattern.
The gorgeous fabrics in this quilt are from the Woodcut Blossoms line by Island Batik. As this is a newly launched fabric line (at the time of writing this!), I'm thrilled to join in a blog hop where you can see the work of other designers who, like me, created some lovely projects to share with you using these lush batik fabrics as shown at the bottom of this tutorial.
…so, onto the tutorial! The pattern itself can be downloaded free by entering your email address below; once entered, the pattern will arrive in your inbox. I *highly* recommend watching the video tutorial, as it will walk you through some key steps in making this quilt that are a bit trickier than you'd expect! Plus, we'll take a momentary stop in Italy about half way through the video at the Leaning Tower of Pisa as we talk through ways to make sure *your* quilt doesn't end up leaning 🙂  Another way to make sure your quilt is as precise as it can be? Use the 2.5″ Accuquilt die, as it will work perfectly with the Love One Another quilt block!
Let's talk about the video tutorial. It's broken up into chapters, and each chapter focuses on a different portion of this tutorial. Be sure to open up the description of the video, as that's where you'll find chapters!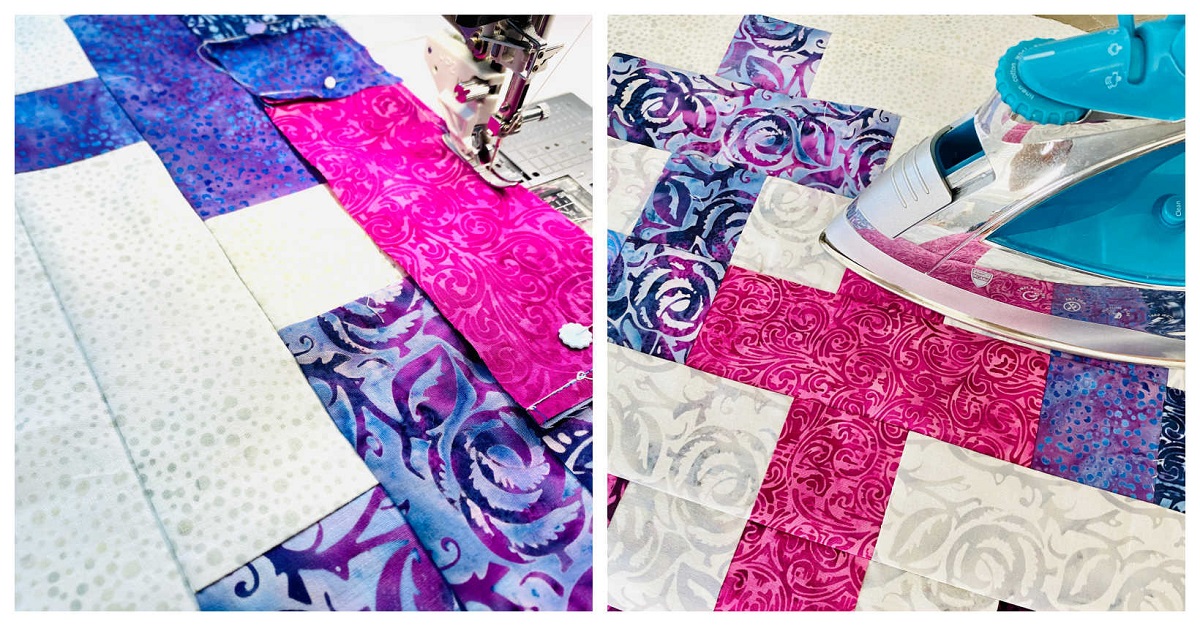 This pattern actually served as a spin-off of one of my other patterns, called Crosses: 3 Ways, which uses this same fabric line. You'll see how well these two patterns play together! The Crosses: 3 Ways pattern includes three patterns in one, as shown below. The variety of this pattern is what makes it so popular, as there's something for everyone. The negative white space in Modern Crosses leaves plenty of space to play for those who like to add quilting detail, the Fading Crosses creates an almost 3-D effect as some crosses shine forward while others fade to the background, and Puzzle/Camo Crosses is my absolute go-to for baby blankets and friends in the military.

Be sure to set aside some time to check out all these gorgeous products made by the talented sewists below. Each of the projects uses this same Woodcut Blossoms fabric line from Island Batik. One thing I love is the absolute variety here; so many ways to create so many projects, and – even though they all use the same fabrics – each looks so different from one another!

Heidi Pridemore https://heidipridemore.blogspot.com/2022/09/blog-post.html
Leanne Parsons https://www.devotedquilter.com/2022/09/storm-free-12-block-pattern.html
Tiffany Hayes https://needleinahayesstack.blogspot.com/2022/09/woodcut-blossoms_01776719211.html
Tammy Silvers https://tamarinis.typepad.com/tamarinis/2022/05/woodcut-blossoms-blog-hop-the-prickly-star-block.html
Laura Piland https://www.sliceofpiquilts.com/2022/07/woodcut-blossoms-blog-hop-free-woodcut.html
Kris Driessen https://scrapdash.com/nightshade-quilt-pattern/
Jen Frost <—you're already here 🙂
Laureen McMurry Smith https://tourmalinethymequilts.com/woodcut-blossoms/
Raija Salomaa https://www.quilterstreasurechest.com/blog—raijas-bits-and-pieces
Rebecca Lidstrom https://www.studiorquilts.com/woodcut-blossoms-blog-hop
Laura Lindsay Strickland https://orangeblossomquilt.com/blog/f/woodcut-blossoms-blog-hop
Lissa LaGreca https://lovinglylissa.com/2022/09/09/woodcut-blossoms-blog-hop/
Katie Mae Quilts https://katiemaequilts.com/blog/woodcut-blossoms
Sandra Starley https://utahquiltappraiser.blogspot.com/2022/09/woodcut-blossoms-blog-hop-free-patterns.html
(Visited 2,917 times, 49 visits today)