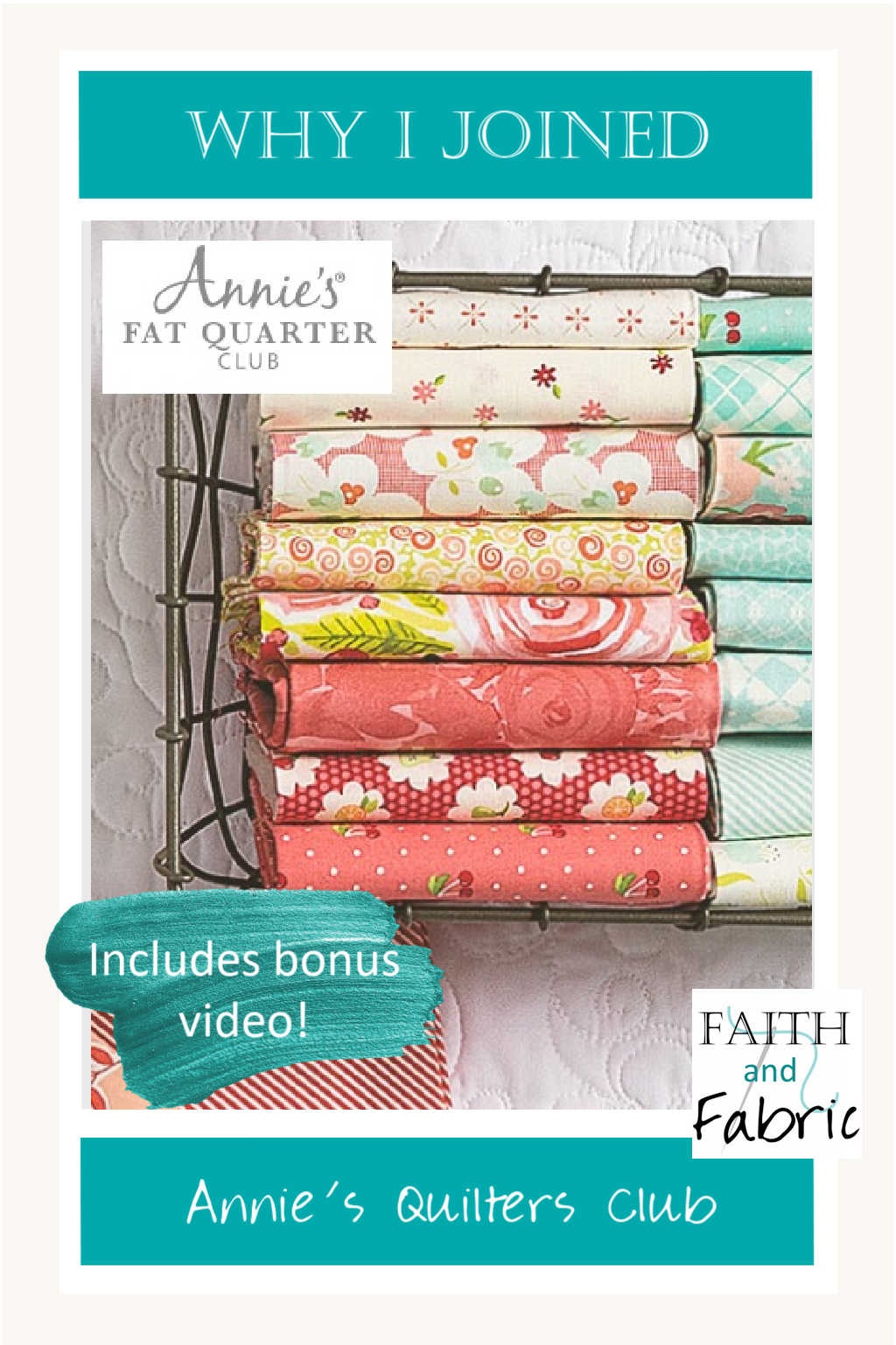 Have you heard of Annie's Quilt Club? It's a subscription box where, each month, you receive a package in the mail of the most lovely fabrics. I've recently joined one of Annie's clubs, and wanted to share the review of my experience with you, as well as share why I joined. (This is not a paid review…I pay for my own subscription, but did become an affiliate as I love them so much.) I'm a big fan of videos – I think you can get so much more out of them than just text and photos – so I created this fun unboxing of my latest Annie's Fat Quarter Club Subscription Box, where you can see first hand exactly what you receive each month:
Annie's Quilt Club offers "sew much variety" in their subscription boxes; this is what drew me to them in the first place! As shown below, their Quilt Club is actually broken up into three different subscription boxes based on your quilting and fabric interests: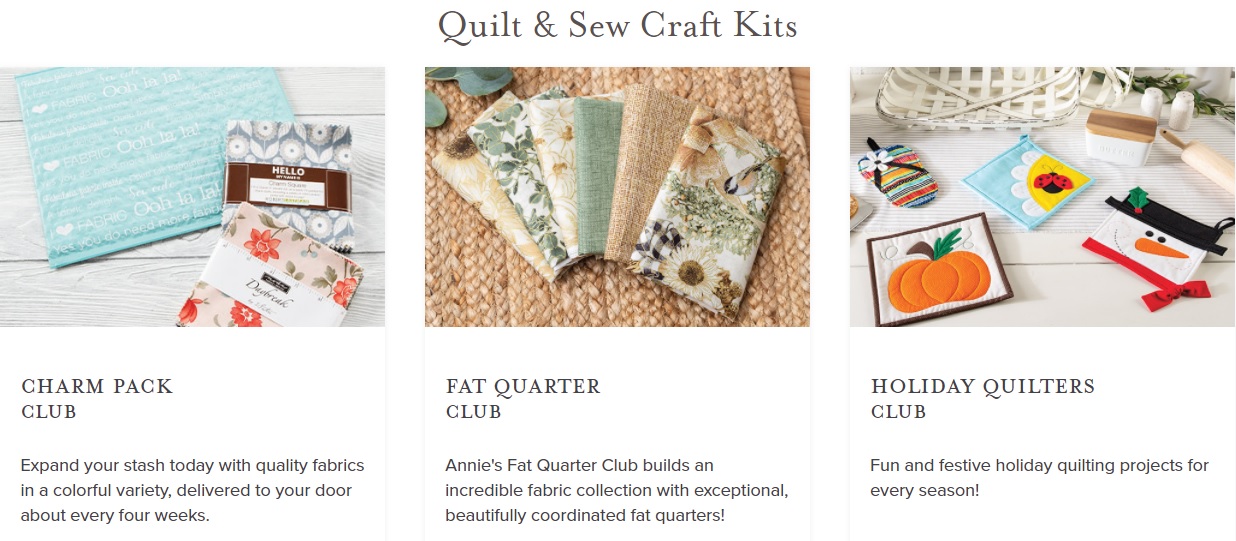 I joined the Annie's Fat Quarter Club, which delivers – each month – a subscription box with six absolutely gorgeous, high quality, coordinating brand name fabrics right to my doorstep! For me, there were three reasons why I chose to join Annie's Quilt Club and why this is such a positive review:
My Fabrics are Not in Fashion: I inherited many of the fabrics I have, which means that a few (a lot) are dated. While some vintage prints are fun to have, I don't always want to create a quilt that is inspired by trends of yesteryear. The fabrics that Annie s sends are all current, trendy prints that I can't wait to incorporate into my next project!
Not All My Fabrics Inspire Me: some of the fabrics I have were well-meaning gifts from family and friends, or were fabrics that I picked up on a spur that weren't quite as exciting once I got them home. Annie's strives to send fabrics that appeal to the broader group of quilters that subscribe, so the subscription boxes contain *the* loveliest fabrics that are trending now!
Many of My Fabrics Don't Play Well Together: As mentioned, most of my fabrics are inherited (which is a gift…I don't mean that in a completely negative way). However, this means I have many single line fabrics from a designer that are now out of print, making it challenging to pair them with other fabrics in my stash. The six fabrics that Annie's sends me each month are all from the same fabric designer and fabric line, so they are (literally) designed to coordinate. I store these six-piece fat quarter bundles together, and love having a gorgeous selection of bundles to choose from!
Annie's includes a bunch of extras in their Fat Quarter Club Subscription Box, too, in addition to the fabric:
With each shipment, I receive a new digital quilt pattern in my online library. These digital bonus patterns include colorful, step-by-step instructions for making a quick and fun project designed for using that month's fat quarters – which means the fabrics never end up sitting around for too long!
There are always a few extra added bonuses in each package…a quilting tip sheet, access to the Learn to Make a Quilt online video course, a digital stitch guide and more. It makes for a fun surprise each month to see what extra goodies are included!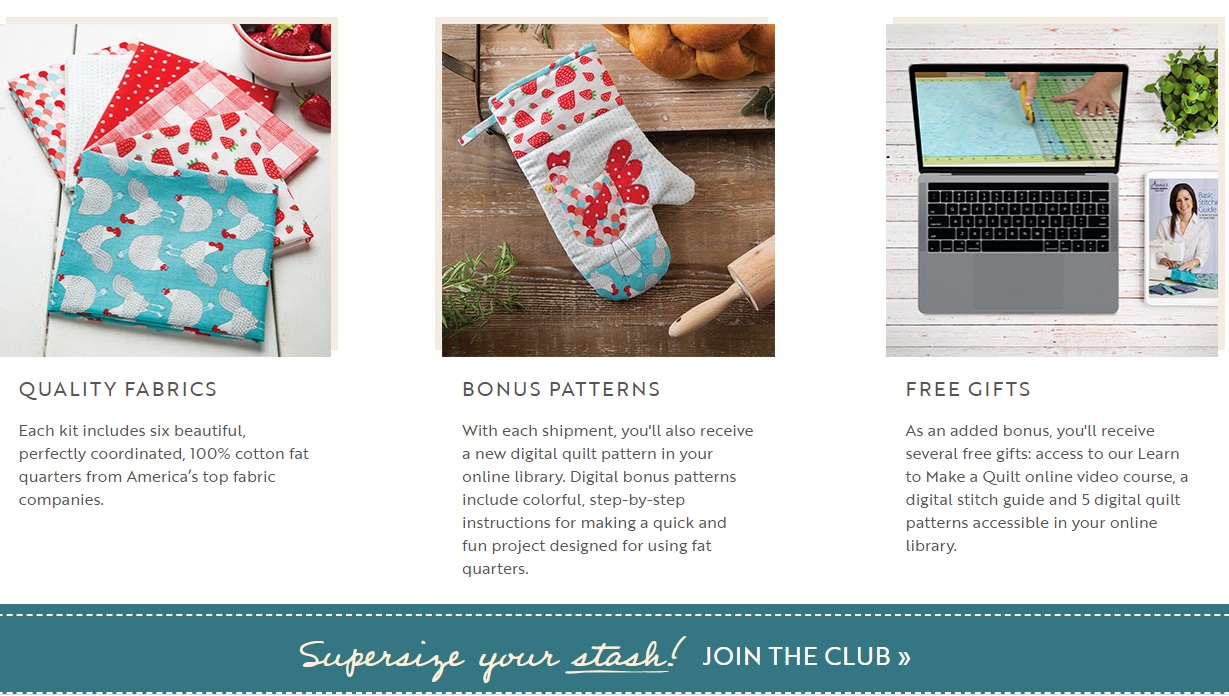 So what do you think? Sounds pretty amazing, doesn't it? I'm sharing with you here what finally hooked me in: 50% off your first month's subscription…and yes, you can cancel anytime. To get your first subscription box at half off, click here to select your Annie's Quilt Club Subscription Box and enter code JOIN50 at checkout. I look forward to hearing in the comments below which subscription box you purchased, how you like the beautiful fabrics, and – of course – seeing what you make!
(Visited 1,266 times, 7 visits today)