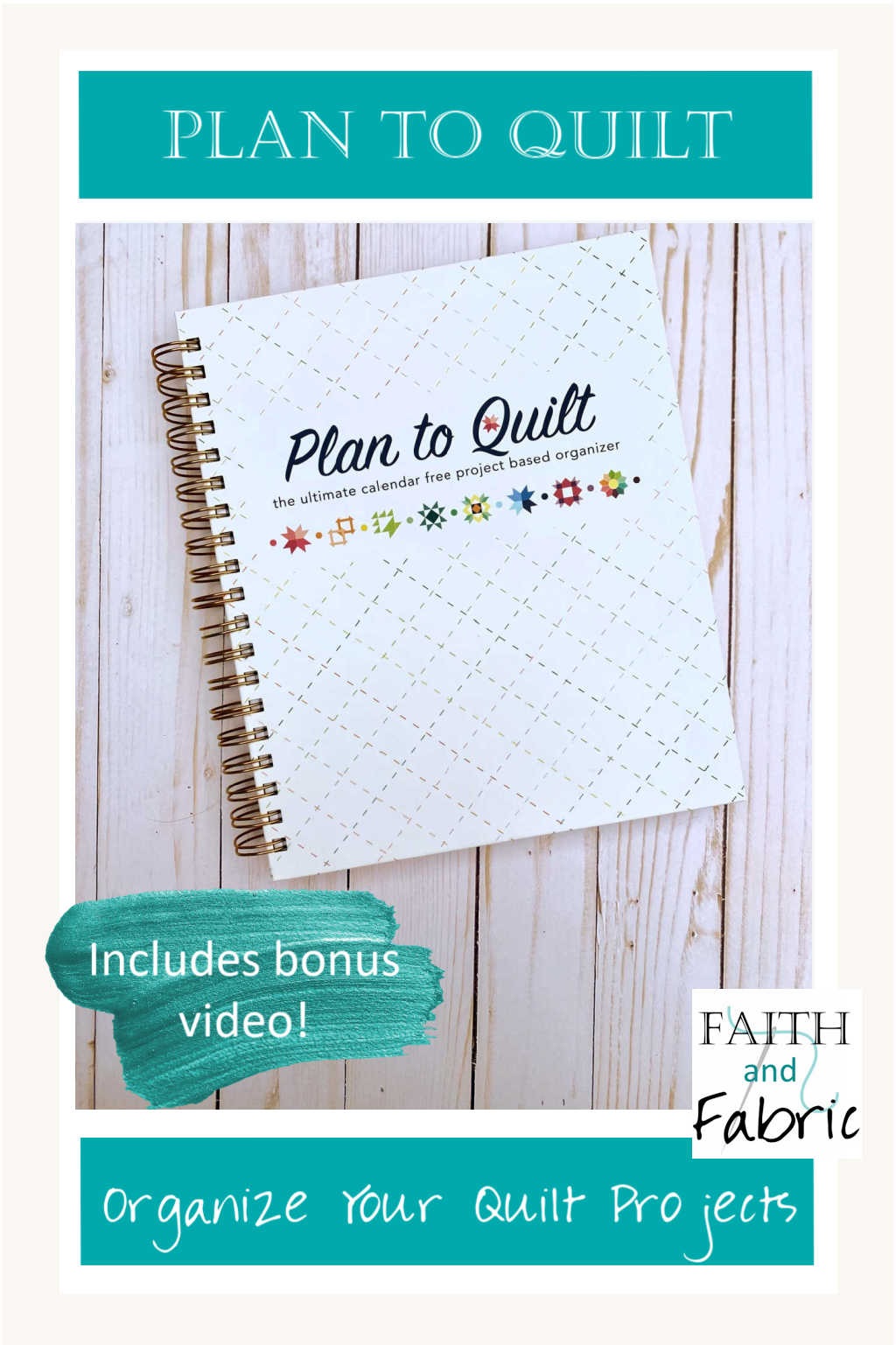 Every once in a while, a new product comes around that changes the way I quilt; the Plan to Quilt book was – for me – one of them (and I bet it will be for you, too).
Let's talk, first, about how I stored my ideas for new projects. The answer? Everywhere! I have a wall of Post-it notes near my laptop with future ideas, a grid notebook full of random sketches, torn out pages from quilt magazines with fabric that caught my attention, and half sheet notepads with project concepts partly drawn out. It's…less than ideal.
Enter Plan to Quilt – an undated planner that quite literally solves all these problems! I've prepared a full video walk through review of the Plan to Quilt book, so definitely check that out…but I'll capture a few key points here, too, on why this book was a total game changer for me. If you find it's one for you, too, after watching the video, you can save 10% on your book using code FAITHANDFABRIC when you pick up a copy of your own book here.
While the video goes into a deeper dive of this awesome planner, I thought I'd share five quick reasons why – for me – the Plan to Quilt book earns such a positive review:
Keep All Your Ideas in One Place: one of my favorite features of the Plan to Quilt book is the ability to keep fabric swatches and paper piecing patterns directly in the planner. I'm a huge foundation paper piecing quilter, and always have bits of paper patterns cut out and ready to sew! Now, I can easily put these papers inside the envelope dedicated to each quilt project, knowing the pieces are safe and waiting for me the next time I need them. You'll see below how our Love Notes FPP pattern pieces fit perfectly into the envelope within the planner, all ready to be sewn (and not lost in the mean time)!

Don't Lose Sight of Important Deadlines or Projects: invariably I will have ideas for a quilt for an upcoming baptism, or Christmas, or 4th of July, and in the whole hustle and bustle that is life I end up scrambling the week before the quilt is needed to get it done. Now that I have Plan to Quilt, I use the Project Checklist page's Due Date as my guide when working on quilts. Gone is the last minute rush now that all my projects are in one organized spot! It was super helpful when I was working on more than one project in January, like the Morning Glory quilt, as I really needed to keep track of all those deadlines and due dates.

Plan Your Quilts with the Same Detail that You Plan Your Life: remember that wall of Post-it Notes? It's a thing as you saw in the video…though, I'm thankful to say that because of the Plan to Quilt book, it's now much less a thing than it was before (I'm down to just 5 notes!) I always had Post-It notes listing fabric lines I wanted to check out, supplies I needed to pick up for a specific quilt, project ideas I didn't want to forget…and now I use Plan to Quilt to organize each of these little details. This book has become, to my quilting life, what my daily planner is to my daily life.

Remember the Story of Each Quilt You Create: So often I create a quilt as a gift, and then give the quilt away. If I'm lucky, I'll write up a blog post to share the quilt…though, more often than not, I barely remember to snap a photo of the quilt before it's off to its new home. With the Plan to Quilt pages dedicated to tracking both the final images and story of each quilt, I now have a gorgeous record of each quilt! What's funny is this is the section I thought I'd use the least when I started using my book, and now find it's one of my favorite parts. Having that story written down is so special, as the little details on why I made the quilt, the reaction to it, etc. are often some of the first things I forget once the quilt is finished.

Track Your Personal Quilting Growth and Development: One unintended benefit of this book is that – as I continue to add quilts to its pages – I'll be creating a lovely log of my personal quilting growth and style over time. Like fashion trends, quilt styles change over time. Having a record like this will give me the opportunity to see how my personal style changes over the years through the use of color, fabric, and pattern. I'll also be able to see how my level of quilting changes as my experience grows; for example, I'm looking forward to seeing – a year from now – how my free motion quilting skills compare to what they are today once the Free Motion Friday weekly challenge ends. Below you'll see the free motion style similar to Abraham's Stars, one of the first patterns we worked on this year.

…so there you have it! Top Five Reasons why this planner is now part of my regular quilting process. Let me know in the comments below how *you* see yourself benefiting most from this quilt planner – is it one of the ways I mentioned above? Or something completely new?


(Visited 734 times, 1 visits today)