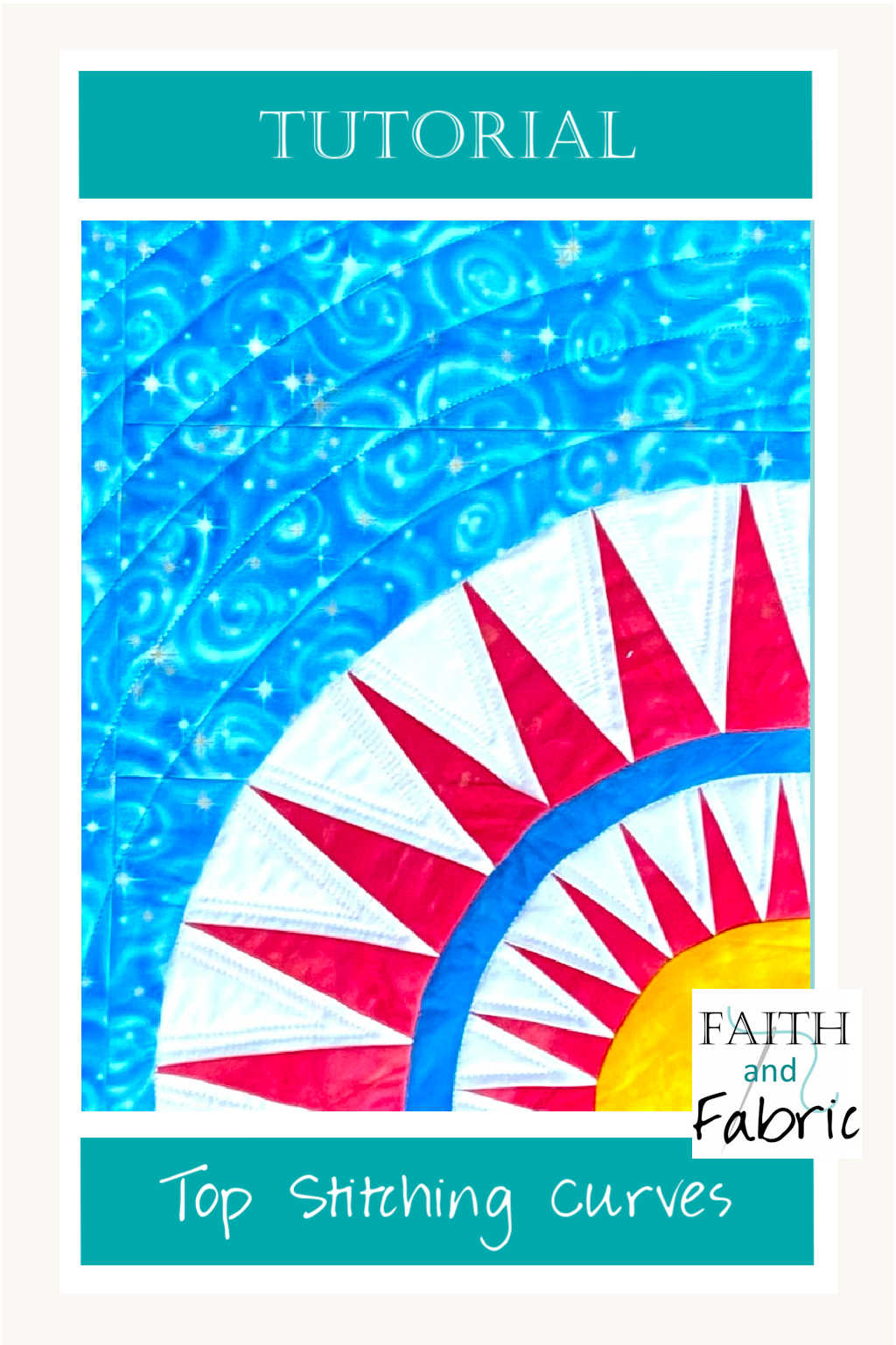 I'm excited to join you for *two* fun shares today: the first is the release of Cinzia White's latest quilt pattern, Dazzling New York Beauty Sampler, and the second is a great little tutorial on how to top stitch curves on your quilt when you don't have a compass to pencil in those lines. This short video teaches you everything you'll need to know in order to make those amazing curves, including some great tools to help get you started
…how beautiful is Cinzia's quilt block?!? I love the way the light seems to radiate from the design. This is only one of the blocks from her book, shown below, in her Dazzling New York Beauty quilt. I love the varying sizes of each of the blocks; the way one seems to overlap the other is just gorgeous. Each of these blocks are foundation paper pieced, which means the blocks come together quickly and perfectly pieced each time. You all know that almost every one of my patterns are paper pieced, so it was a joy to make these with Cinzia! This queen-size bed quilt pattern has 54 gorgeous New York Beauty blocks named for and inspired by Australian wildlife; with 54 designs, you can make the full quilt or use elements of the design to create something smaller yet lovely…
Monday 18th: Jen Frost (you're already here!)
Tuesday 19th: Bea Lee from https://www.beaquilter.com/
Wednesday 20th: Lissa LaGreca from http://lovinglylissa.com/
Thursday 21st: Laura Strickland from https://orangeblossomquilt.com/blog
Friday 22nd: Susan Smith from https://www.stitchedbysusan.com/stitchedbysusan.html
Saturday 23rd: Tammy Silvers from https://tamarinis.typepad.com
Sunday 24th: Laura Piland from http://www.sliceofpiquilts.com
Monday 25th: Audrey from http://www.theclothparcel.com/blog/
Tuesday 26th: Cinzia from https://www.facebook.com/groups/NYBSampler/

…which is exactly what I did 🙂 I quilted the block called "brogla". As mentioned, each of these blocks are named after Australian wildlife; a brogla is a bird in the crane family. I had just finished reading the book 33 Days to Morning Glory, so glorious morning sunrises were definitely on my mind. I chose to create my NYB block as if it were a morning sunrise, with the vibrant jewel-toned yellow at the center like a sun, bright red sunlight radiating out, and a beautiful blue sky as a background. I thought this would make a beautiful table top runner; I imagine a potted plant, small statue, or picture frame sitting in the blue space with the sun rising up to greet it.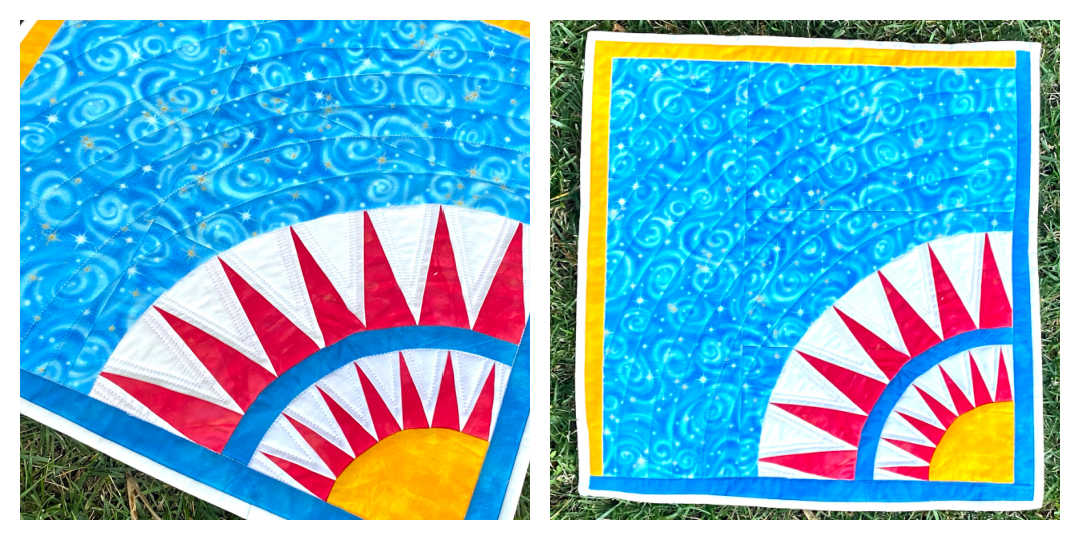 When it came time to quilt, I wanted to add echo top stitches throughout the negative space of the quilt as if the sun was continuing to radiate outwards. I used basic echo quilting to stitch around the rays in the sun, adding one set to the inner rays and two sets of echo to the outer rays. I love how this makes the white fade into the background and the red just pop!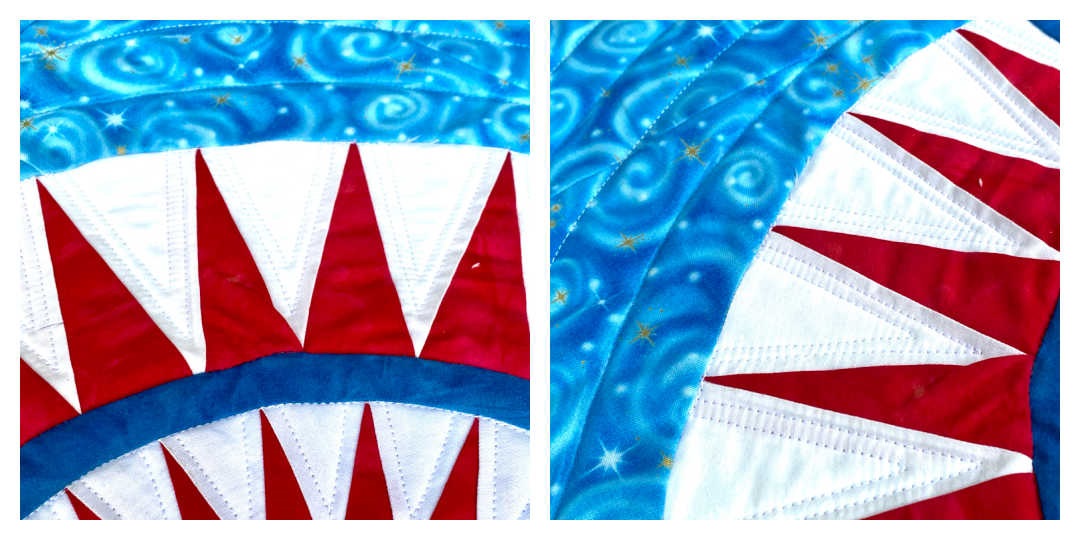 For trim, I added sashing of yellow on the top/left and blue to the bottom/right to pull the opposing colors through the quilt. I then added white binding to again tie in the same colors of the quilt…though, if I were to do it over again, I would have matched the binding to the sashing so that the colors appeared to bleed over the edges.
Making the echo curves around the "sun" was tricky, as I didn't have a compass at home. So, I came up with a way to create evenly spaced chalk lines that I'm excited to share with you in this video as seen above. Thank you for stopping by, and I invite you to not only check back in days to come as you visit the others on this hop, but to view our faith-inspired quilt patterns and quilt blocks as well as fabric line. I look forward to connecting with you again in our newsletter!
(Visited 1,306 times, 1 visits today)