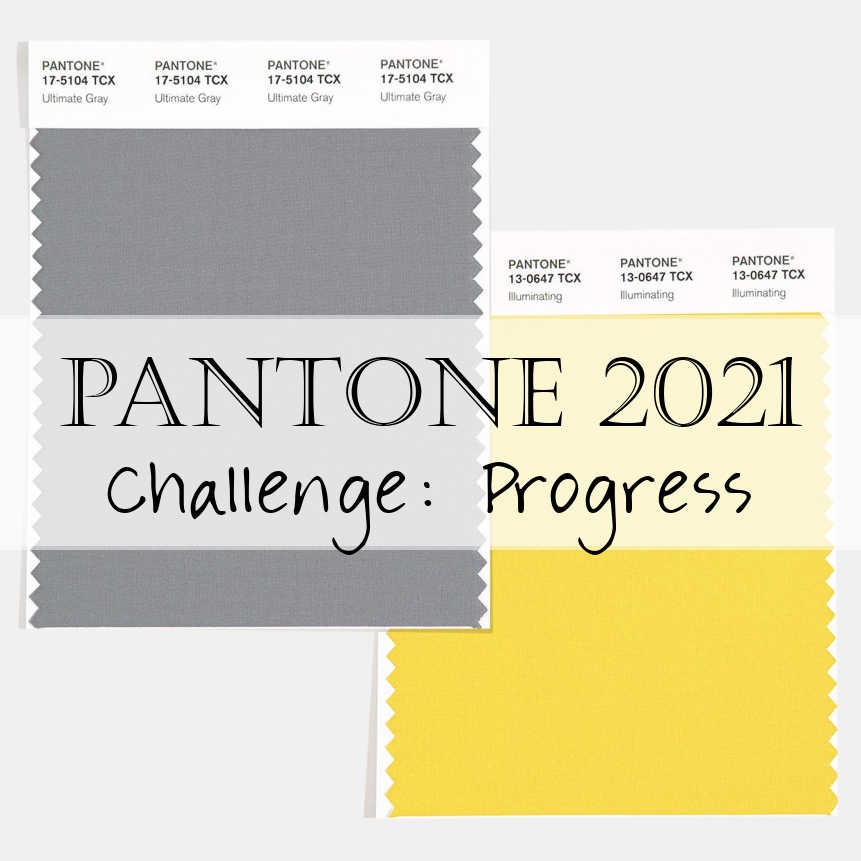 Welcome to the third week of our Pantone 2021 Challenge, and our second official linkup! I hope you've enjoyed cutting into (or breaking into, depending on your medium!) your materials. I had so much fun with mine, you guys! I'm making a quilt – no surprise there. The challenge for me this week is two-fold: not only is it a challenge in using these colors, but creating a quilt that's almost all curves. Yikes! As a quilter, the majority of sewing I do is straight line (especially with my love of foundation paper piecing) so working on curves is *definitely* a skill I needed to brush up on.

…and brush up on them I did in the form of creating 42 curves that each finish at just 4-inches each! The beginning of the week was spent like you see above, first tracing from the templates onto the background fabrics, cutting out background, tracing from templates onto the Pantone-themed fabrics, cutting out the inner curve, and then repeating 41 more times 🙂 Once everything was cut, it was time to pin – have you ever sewn curves before? The pinning is perhaps the most important part – first pinning the two centers together, then the ends – and ensures you're set up for success when it comes time to sew.

Sewing was a dream on my Janome M7 – I'm seriously loving this machine! The Acufeed walking foot is *just* unreal…it makes the smoothest stitches ever. After a bit (a lot) of chain stitching, it was time to press the fabrics. Freely admitting it was much more of an iron session than a press one, though; the smaller curves were tough, and I definitely pressed and stretched the fabric into that curve…42 times.
So tell me: how did your week go? I'm looking forward to seeing your progress updates in the link-up below, and your sneak peeks into your nearly-finished projects next week!
You are invited to the Inlinkz link party!
(Visited 291 times, 1 visits today)