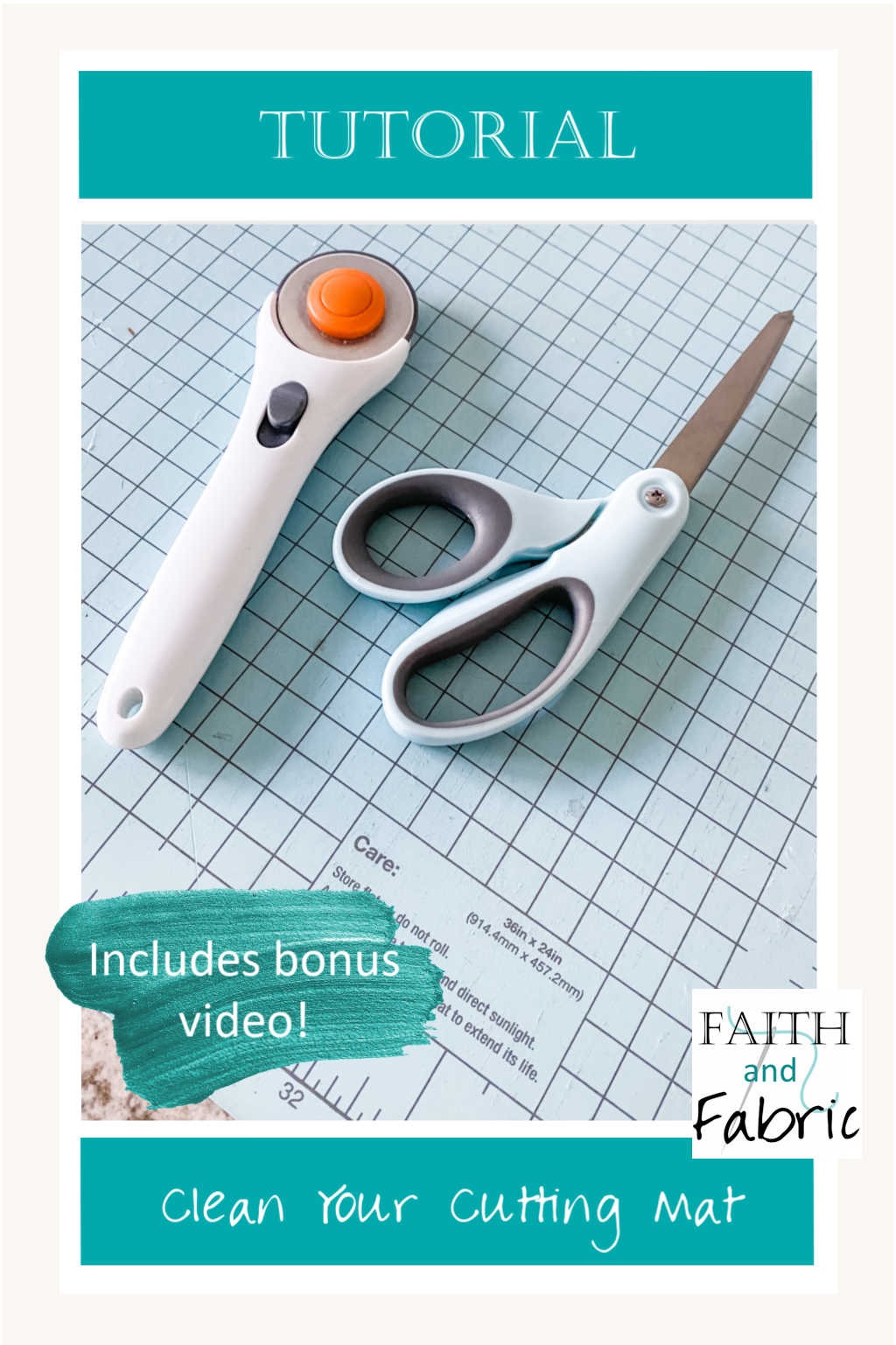 My sewing space looks soo good with all the spring cleaning and deep cleaning  that we've been doing! Of course, there's always something else to do: today we're going to take a look at how to clean your rotary cutting mat. Your rotary cutting mat gets *so much use*, and often uses that aren't necessarily intended (here's looking at you, coffee-cup-sitting-on-the-mat).
Now, there are photos below on how to clean your cutting mat but I *highly* recommend viewing the video as that will walk you through, step by step, how to clean each bit of your cutting mat in greater detail than what is shown below:
…and if you're not the video type, no problem! Here's a photo step-by-step for you, along with a supply list. Keep in mind, though, that the second half of the video above has a section on long-term maintenance that is not covered below.
eraser (I use a Seam Fix as it's three tools in one!)
warm water


STEP 1: REMOVE LOOSE FIBERS FROM YOUR CUTTING MAT
Using either the rubber end of your Seam Fix or an eraser, rub the threads away from the top of your cutting mat

Gather the loose threads, fibers, and fabrics and toss them into the trash

STEP 2: REMOISTURIZE YOUR CUTTING MAT WITH VINEGAR/WATER MIX
Fill your tub with 3″ of cool /room temperature water, and add vinegar (roughly 1-2 cups per gallon of water)

Depending on the size of your cutting mat, you may need to first soak one half, and then the other. Soak each side for :30min, and rinse with cool water when done.

STEP 3: USE YOUR MAGIC ERASER TO REMOVE ANY REMAINING DIRT AND STAINS ON YOUR CUTTING MAT
Thoroughly dampen your Magic Eraser, then gently rub over stains and dirt to remove any remaining spots that didn't rinse off with the water/vinegar soak.

STEP 4: ENJOY YOUR NEWLY-CLEANED ROTARY CUTTING MAT AND APPRECIATE HOW PERFECTLY IT SELF HEALS WHEN YOU ROTARY CUT!
NOTE: This post contains affiliate links to Amazon for the Sew-Steady glider mat. If you purchase it through my link, I receive a small amount from Amazon as a thank you at no cost to you. Thank you for supporting my small business!
(Visited 668 times, 12 visits today)