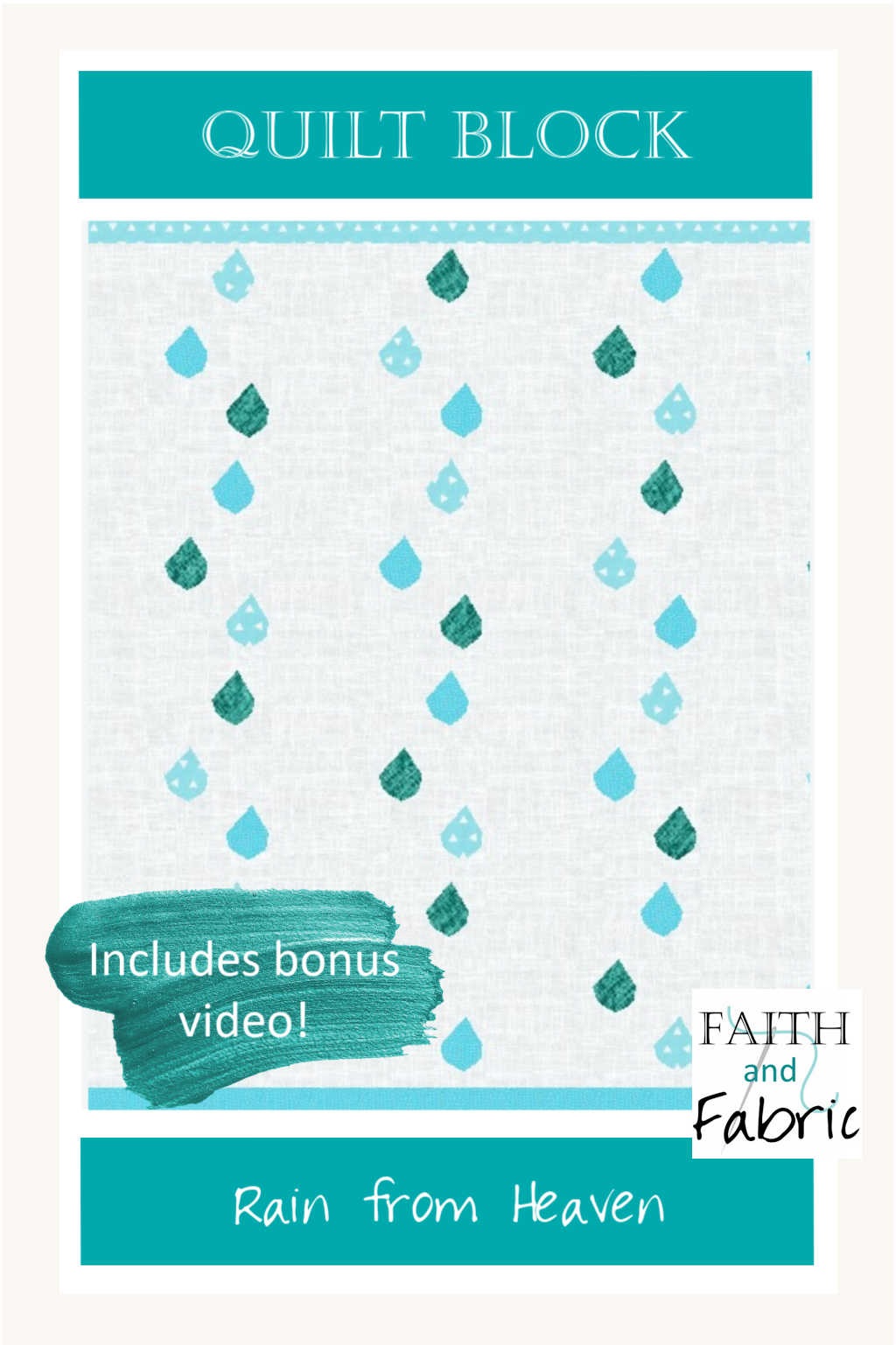 Welcome to Quilt Block Mania, and welcome to Faith and Fabric! I'm Jen, and here you'll find Christian-inspired quilt patterns, quilt bocks, and fabrics. If you're new here, I invite you to stick around for a bit, or even learn a little more about Faith and Fabric here.
This month's block is themed "rain", which I love – there's nothing more cozy than staying indoors with a warm cup of tea on a cool, rainy afternoon. Of course, living in San Diego, we don't get many of those! In fact, I think we're on track to have our driest season yet. It's not so dry with all these rain quilt blocks, though – be sure to check them all out:
Rainbow of raindrops by Carolina Moore
Raindrops by Perkins Dry Goods
Rainy Day Walk Home by The Quilted Diary
Raindrop by Blockofthemodotcom
I Love Rainy Days by Heidi Pridemore
Petrichor by Althea Gyde
Gray Skies are Gonna Clear Up by Blue Bear Quilts
Rain from Heaven by Faith and Fabric
Umbrella and Gumboots by Duck Creek Mountain Quilting
April Showers by QuiltFabrication
Pouring Rain by Patti's Patchwork
Spring Crocus by PhoebeMoon Designs
Playing in the Rain by Puppy Girl Designs
Rainy Day by Studio R Quilts
Rain Showers by Slice of Pi Quilts
Rain by Oh Kaye Quilting
Doves in the rain by Sara Flynn
April Showers by Inquiring Quilter
Rain Will Make the Flowers Grow by Devoted Quilter
I've Got Sunshine on a Rainy Day
Let it Rain
Splish-Splash by Pretty Piney Quilts
April Showers by Cotton Street Commons
Rain on the Window
In creating this quilt block, I drew inspiration from one of the quilt blocks in the Jesse Tree Quilt, an Advent quilt pattern that shares 25 blocks to correspond to the 25 days of Advent (complete with devotions!). Here's three blocks from the quilt…can you guess which one the inspiration came from?

Haha – yes! The third block is the John the Baptist block!
I played off the theme of the three baptismal water droplets and baptismal sea shell. In today's quilt block the three drops are recreated, this time larger and further spaced apart. I love how they're offset to the right, creating negative space to play in…in fact, I think rain drops will have to be our Free Motion Friday theme this week! (Have you been following along? Here's all the free motion designs we've done so far.)

This block is free this month as part of Quilt Mania, but will be added to our list of Scripture Quilts™ patterns come month end. Until then, you can download this block for free by joining our semi-monthly newsletter:
This bock is foundation paper pieced, so if it's been a while since you've foundation paper pieced, no problem! Here's a quick tutorial on how to foundation paper piece. It uses the Easter Chicks quilt block, but the process is 100% the same:
One of my latest obsessions is to turn my quilt blocks into pillows! This rain drops quilt block pattern would make gorgeous toss pillows for April, don't you think ? Using some of the extra fabric you have on hand, you can add some sashing and have a great envelope pillow that you can use year round…and re-cover whenever needed 🙂
Like many of our quilt blocks, this block is foundation paper pieced and the pattern includes three sizes: 8″x8″, 10″x10″, and 12″x12″ as well as a coloring sheet. Pick up your quilt block before month end at which point it will become $3 per pattern, same as all our quilt blocks. Happy sewing, and enjoy the April rain showers!

(Visited 1,955 times, 4 visits today)