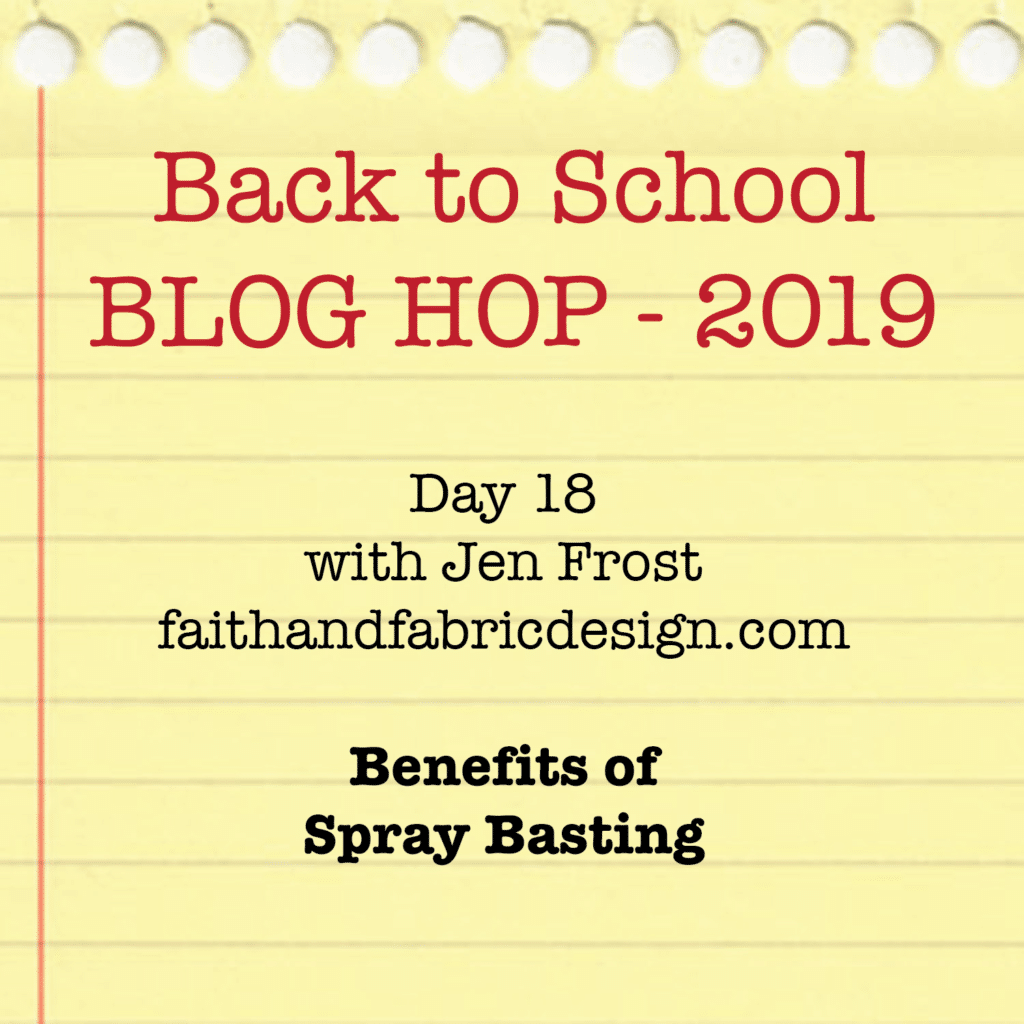 Welcome to Faith and Fabric's stop on the Back to School Blog Hop!
It's been a great two weeks so far, learning along with some of my favorite quilters about fussy cutting techniques, binding joins, y-seam tips, and more. I'm excited to be stop #18 on the tour, and am here to tell you about *my* favorite tip: Spray Basting!
Like all good lessons at school, let's start with the basics. Spray basting is a wonderful way to create a temporary adhesive layer between your fabric and batting when you create your quilt. Simply spray your basting spray on the wrong side of your fabric, press onto your batting, and voila! – it's basted. I started spray basting a few years ago when making my Advent Wreath quilt, and it's something I do now with every single quilt I make. It holds the layers perfectly in place as they are (gently) moved through the neck of my machine, something my pins alone can't achieve. It's simple, it's temporary, it eliminates the need for pins, and it washes out. What could be easier?
Ready to spray baste your first quilt? Awesome! Let's get started:
Bring your quilt top, quilt back, and batting outdoors *or* lay down an old sheet on your floors. Spray basting, well, sprays! As you spray right up to the edges of your quilt, you don't want to get the spray on your carpets or hard wood floors.
Lay your quilt back right-side down, and lay the batting on top of the wrong side of the quilt back. Gently smooth. Fold the batting back half way, either corner to corner or top to bottom (see image below using our Mary fabric).
Apply a coat of spray basting to the exposed bottom-side of the batting. Gently roll the sprayed batting onto the fabric, smoothing with your hands as you go.
Next, move onto the other half. Fold the batting on the lower half of the quilt, and repeat step 3.
Lay the quilt top wrong-side down on top of the batting. Fold back half the quilt top and spray the batting, then smooth the quilt top onto the batting with your hands. Repeat for the bottom half of the quilt top. (TIP: always spray the batting and not your fabrics, as the loose threads and seam allowances can get bunched up)
For an added "stick", press your quilt sandwich. The heat from your iron will not only smooth out any remaining wrinkles, but will set the basting spray.
You're done!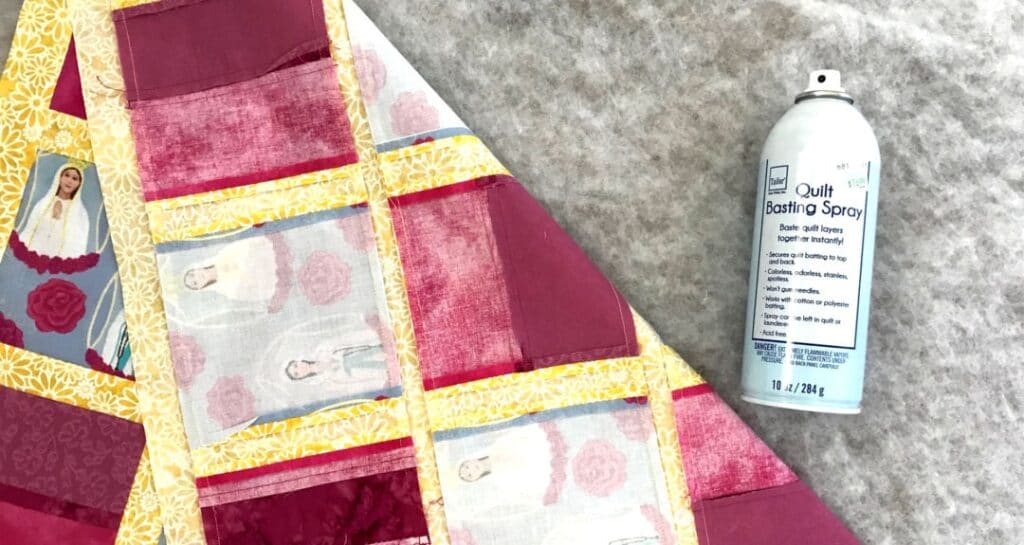 Let's dive into the amount of spray basting needed:
Depending on the type of batting you're using, the amount of spray basting you'll need to spray varies. Some fabrics are thicker and just require more – and others seem to suck it right up.
If using 100% cotton batting, spray lightly over entire area
If using a cotton blend or wool, spray moderately over entire area
If using 100% polyester, spray two coats/thicker; the polyester batting can be a bit fussy and not stick quite as well to your fabric
Favorite spray basting brands:
As a spray basting lover, I've tried several different brands over the past few years. Here are two of my favorites:
Sulky KK-2000: this spray baste comes in a small, convenient spray bottle making it perfect for taking to quilting retreats and guild meetings. It comes out in a soft spray with little over-spray, making it great for working in small spaces.
June Tailor Basting Spray: this is my every-day go-to basting spray! Twice the size of the Sulky spray (and nearly the same price), you get more bang for your buck. As opposed to a liquid spray, the spray generated with June Tailor is fibrous – making it ideal for working with all types of batting. The fibrous spray locks onto the batting, creating the perfect adhesive seal!
Ready for a few more Back to School Tips? Here are a few posts you don't want to miss!
(Visited 928 times, 4 visits today)