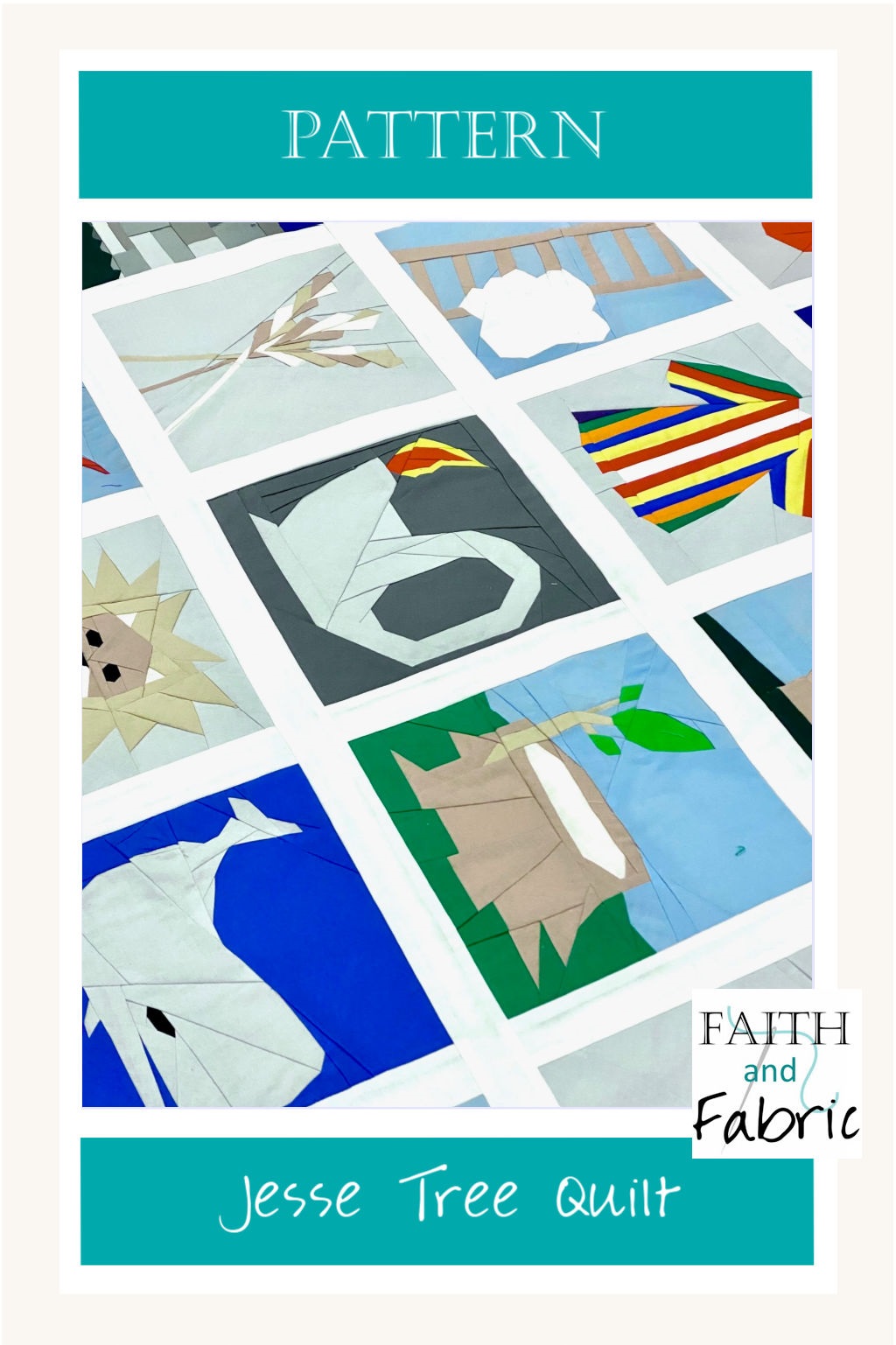 YOU'RE INVITED
Have you ever had that quiet whisper in your ear, nudging you forward, inspiring you to create? For me, the whisper started this summer: create a quilt sharing our salvation story. The basic groundwork had been set in the writing of Our Family's Jesse Tree several years back, so I prayerfully listened to the whisper, and am now inviting you to join me as we continue this journey together. Designed just for quilters, these Advent quilt blocks with accompanying Advent devotions will become a special part of your faith journey!
Are you familiar with a Jesse Tree? Isaiah 11:1 tells us that "A shoot shall sprout from the stump of Jesse, and from his roots a bud shall blossom." As you continue reading Isaiah 11, it becomes clear who this sprout is: Christ, our redeemer.
As you create this Advent quilt, you'll journey – and sew – our salvation history. Together, we will travel from Genesis to Bethlehem, block by block through 25 quilt blocks, first sewing the story piece by piece, as we read the devotions, reflections, and scripture verses included in the pattern for each individual block. This way, as you sew your quilt blocks, you'll also be growing in faith, too.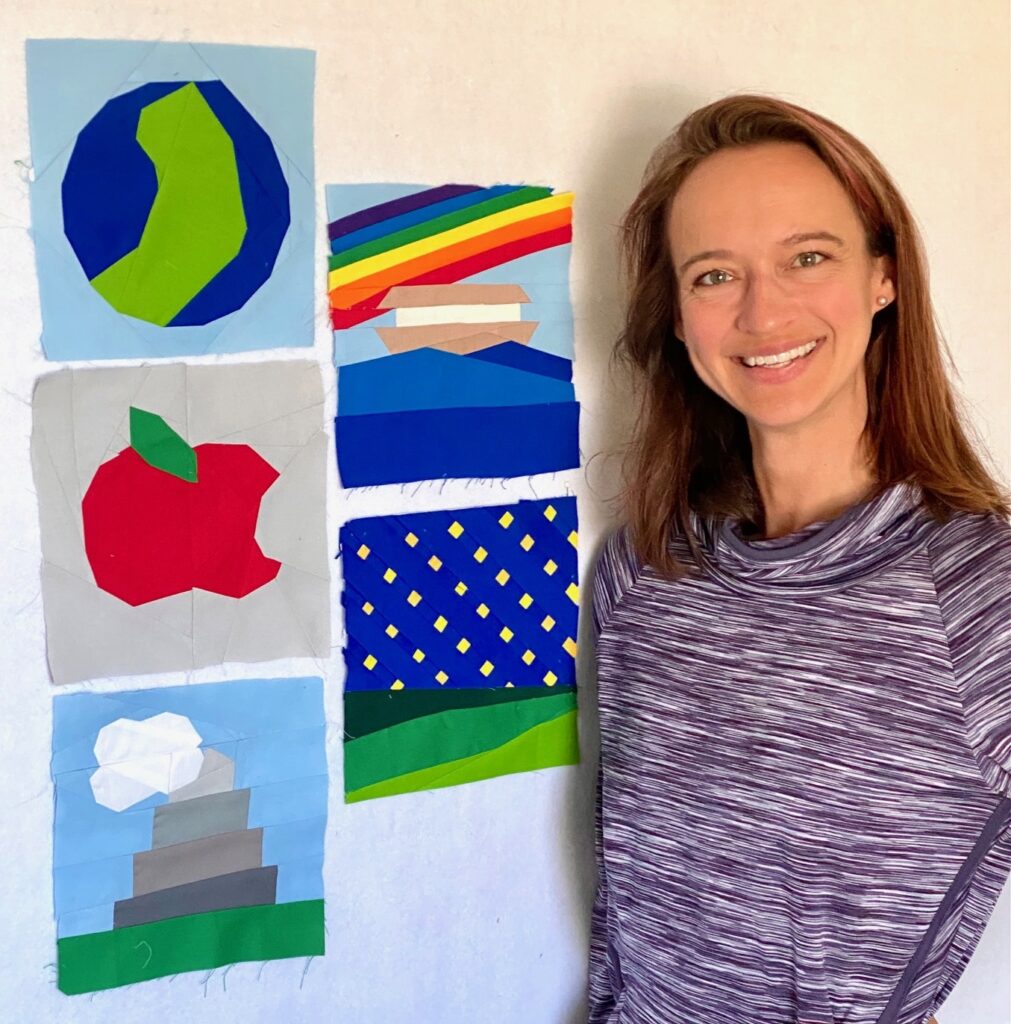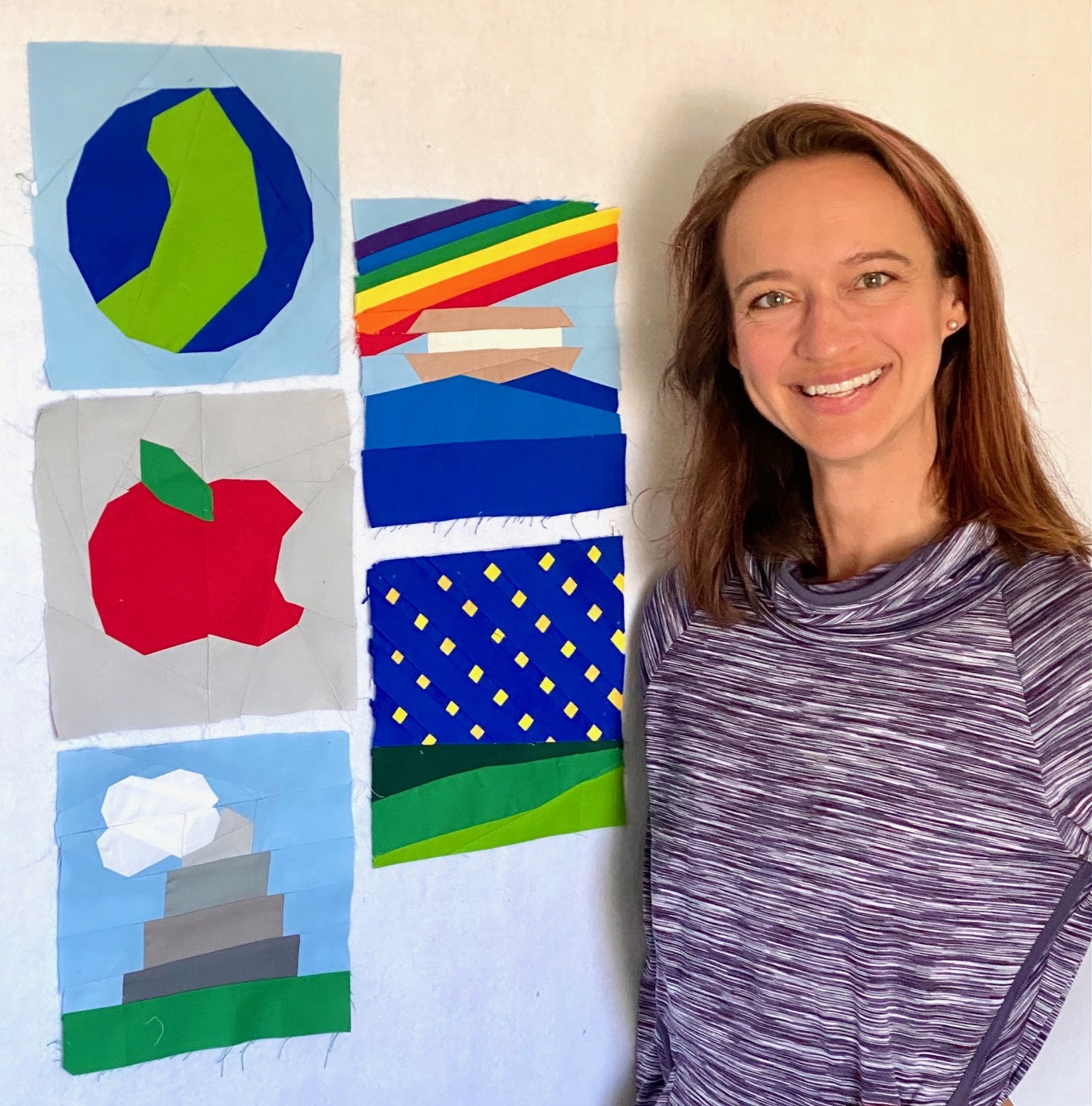 THE NITTY GRITTY
This digital quilt pattern includes 25 individually foundation paper pieced blocks that finish at 8″x8″. Each block corresponds (nearly) identically to the designs in Our Family's Jesse Tree, making the book an invaluable tool if you already have it. If you don't, no worries – you don't need it as devotions are already included in each page of the pattern.
Each block is individually available for download, letting you work at your own pace if that better suits your style.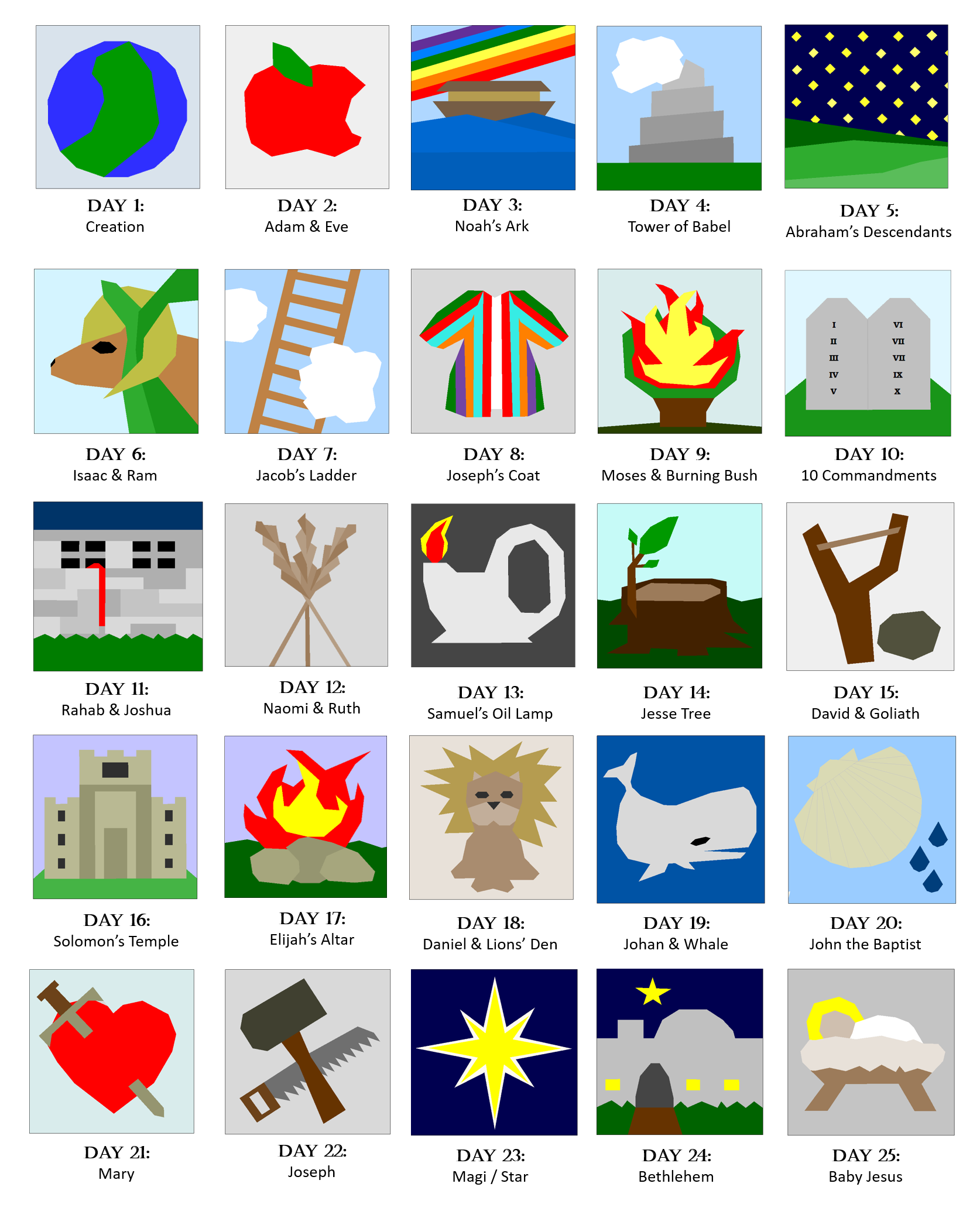 As each block finishes at 8″x8″, you'll be able to assemble them in any way you desire. The final quilt suggestion is to create a 5×5 block grid, using 1″ sashing and border, but you can rearrange the blocks any way you like depending on how many you choose to make. In terms of fabric requirements, I recommend using either your stash *or* a double fat quarter pack in a rainbow of colors (24 fat quarters) that is heavy on the blues and greens as you'll be using those colors a lot. You'll need a minimum of the following colors in your pack: red, orange, yellow, light green, dark green, light blue, dark blue, purple, black, white, light gray, dark gray, tan, light brown, medium brown, and dark brown. Here is the fabric pack I purchased to make this quilt.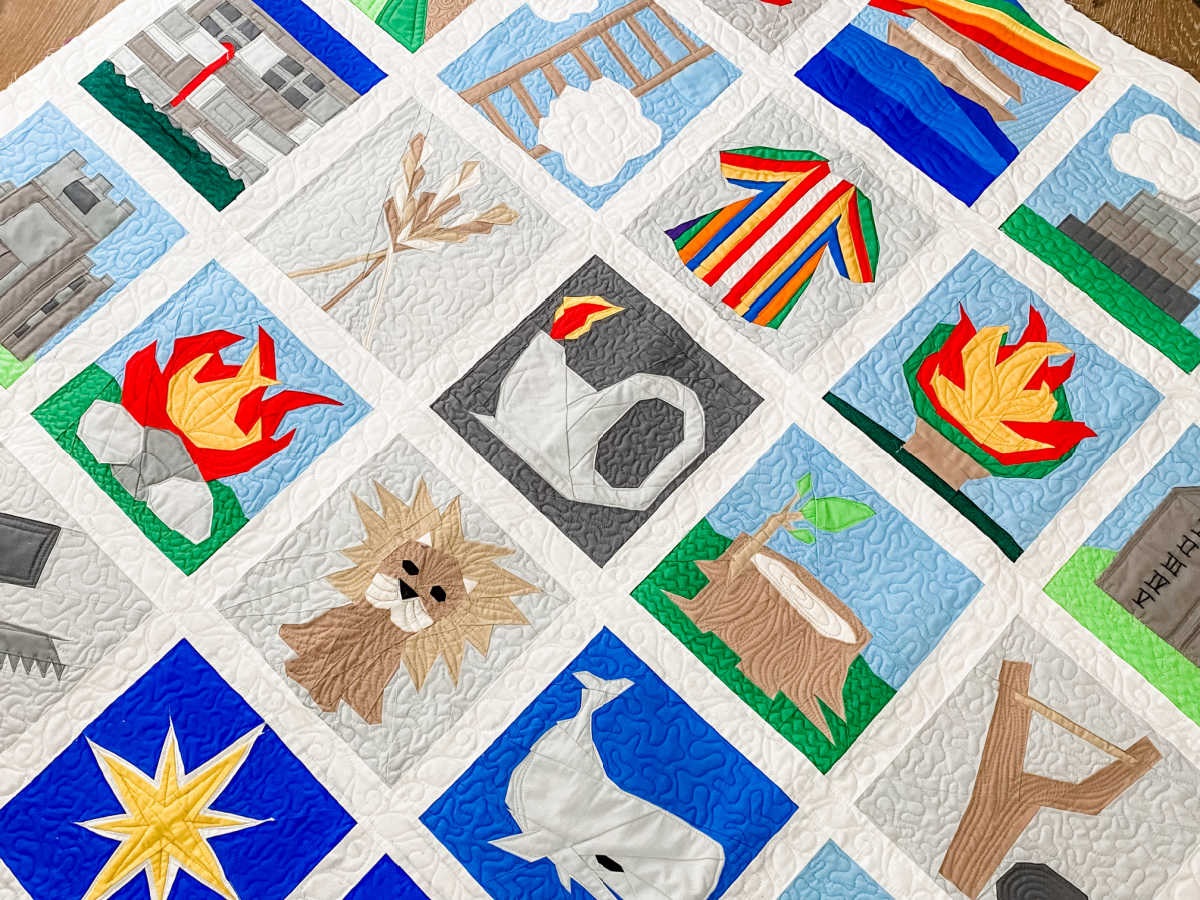 I can't wait to join you on this amazing journey; here's to each of us growing as we explore our salvation story together! In the spirit of togetherness, I encourage you to share your blocks on your favorite social media using the tags @faithandfabric and #jessetreequilt – I look forward to being inspired by you and everything you create!


Now, I know not all of you are foundation paper piece quilters. So, if you are all excited about making this quilt, but are not wanting to foundation paper piece this, no problem! I have a beautiful 1-yard fabric panel with each of the 25 blocks printed onto the panel. You can either use it as a whole cloth quilt using the white spacers between the block as sashing, or you can cut out the blocks and either add your own sashing *or* turn this into something completely different! I can't wait to see what you make!

Would you like a refresher on how to paper piece?
Here's a short tutorial on how to create the blocks in the Jesse Tree quilt.
Prefer to just make a few of the blocks in this quilt? Great!
I'm slowly releasing each block as a stand-alone pattern that comes in three sizes (8″x8″, 10″x10″, and 12″x12″).
View the quilt blocks here. 

(Visited 6,675 times, 42 visits today)