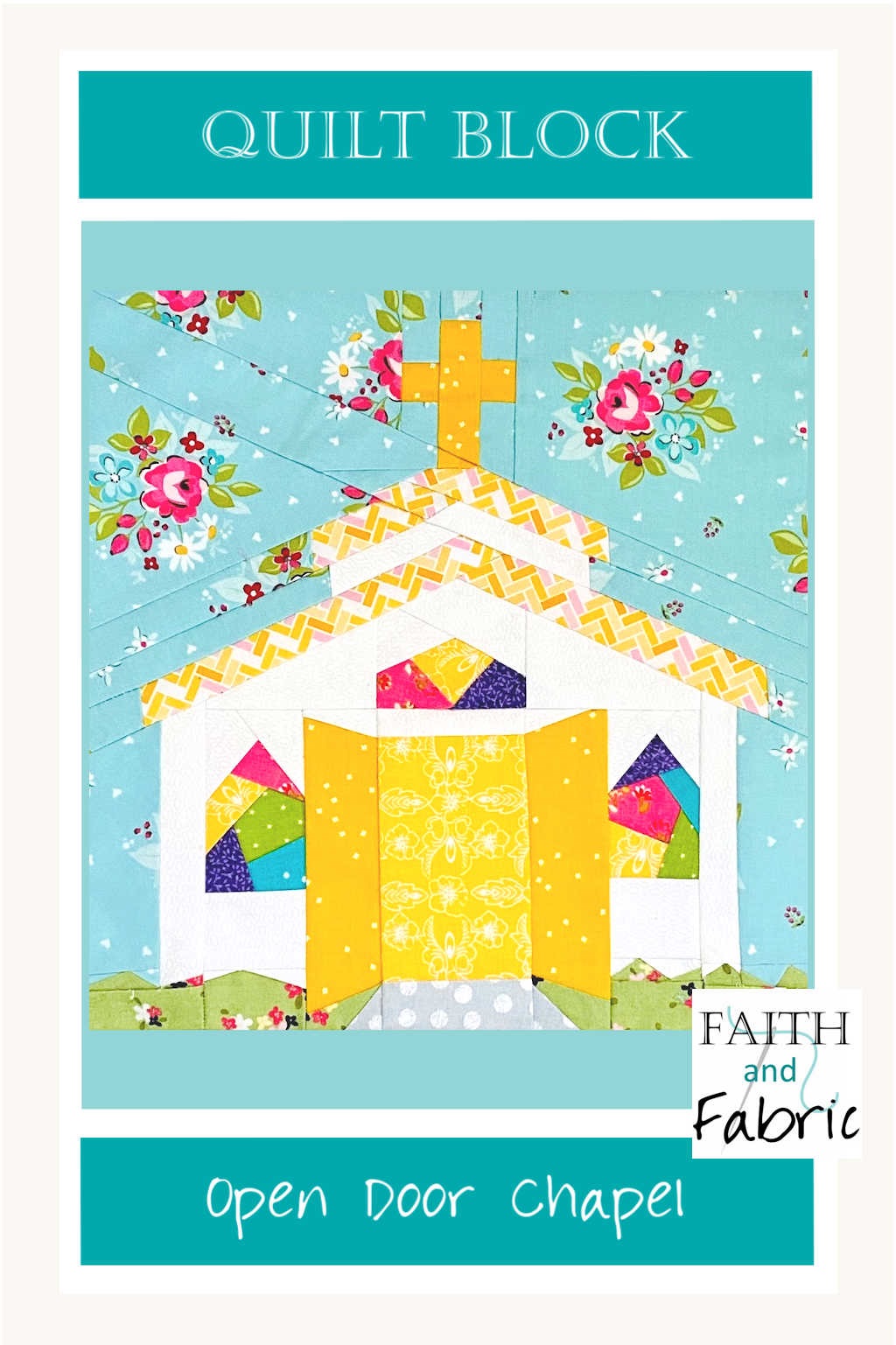 Have you been enjoying the Hope Quilts blog hop, hosted by Sarah Marcina of The Quilted Diary? There have been so (so) many lovely quilts shared, and – honestly – such beautiful moments of *hope* that everyone has shared. I've enjoyed seeing all the inspirational quilts pop up on my screen each day, but the truly special part for me has been reading the messages that everyone has been sharing.
Today, I'm sharing a special quilt block with you that I've turned into a mini quilt. It's one of the growing collection of scripture-inspired blocks that I've been releasing throughout the month; each block is inspired by a line of scripture, and the blocks themselves come in three sizes: 8″, 10″, and 12″ giving you the flexibility to turn them into just about anything you like. Bundle a group of blocks together to make a quilt, pick a few to make a runner, or find your favorite and make a pillow…the possibilities are limitless! Here's a peek into some of my favorite blocks that have already been released or will be coming out in the days to come:

The block I'm excited to share with you today is based on Isaiah 22:22:
"And the key of the house of David will I lay upon his shoulder; so he shall open, and none shall shut…".
I love this verse, and it brings such hope when you read it: no matter what's going on around us, no matter what we're experiencing, the doors of heaven remain open to us. I took this concept and applied it to what many of us are going through today: the doors of our local churches being closed as we continue battling the pandemic. My hope for this block comes from anticipation of the day when we can all return to indoor services, the doors of the church thrown wide open, ready for all to enter once again.In creating this mini quilt, made at the 12″x12″ foundation paper piecing size, I used these bright and cheerful fabrics from Riley Blake. These are my go-to fabrics when it comes to sewing (though I recently developed a love for solids as you'll see here). The bright yellows, floral pinks, and vibrant blues just make my heart sing! They also look pretty darn cute even before they get pieced, don't they?

Once pieced, it was time to begin the free motion quilting. I'm so happy with how its turned out! I stitched zigzag lines into the grass in green, bricks into the chapel in white, and wind into the sky in blue. I also added some stitch-in-the-ditch using clear microfilament thread. I've been practicing my FMQ lately, and – while I still have a long way to go before I'm completely comfortable with larger quilts – am so happy with how this turned out. (…and I invite you to join me in Free Motion Friday, a year-long quilt along where we'll practice our FMQ skills every Friday of the year.)

If you'd like to make a little chapel for yourself, a friend, or your parish, I invite you to check out the pattern below in our shop. As mentioned, each of our scripture quilt blocks comes in three different sizes, all included in the same pattern. You'll also receive a coloring sheet included with each pattern that lets you try out colors before committing to fabric. Nice!

As we continue the Hope Tour, I encourage you to check out some of the beautiful quilts that others have made…links below. Additionally, Sarah is hosting a lovely quilt along in January for her own hope quilt. You can purchase Sarah's pattern now. As an added bonus, when you purchase it in December you'll also get a few special offers from some of the bloggers below!
(Visited 1,378 times, 5 visits today)