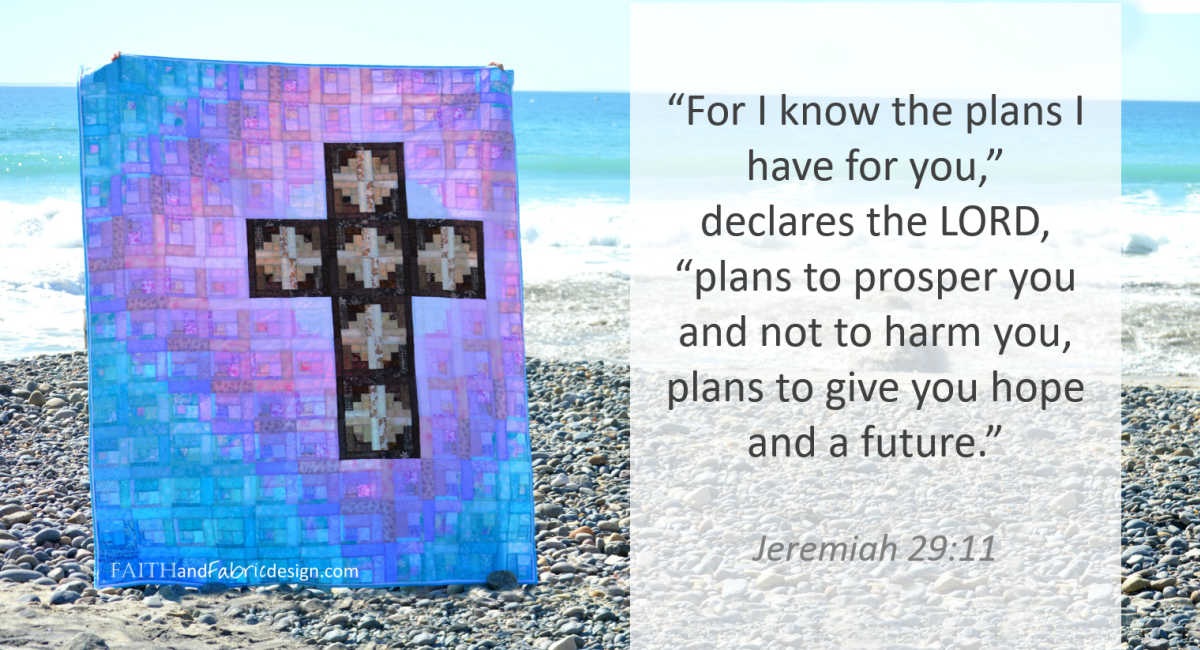 This has been quite a year, hasn't it? I doubt any of us expected things to turn out – or to continue – the way they have. Each day the news can feel so tough, yet – each day – we are given the gift of hope. The gift of knowing that this isn't it, that we are created for something more and meant for something beyond the challenges we face on a particular day.
It's this hope that inspired Sara Marcina of The Quilted Diary to start this blog hop: HOPE. Together, throughout the month of December, we will be sharing 25 different quilts that bring each of us hope. If you're new here at Faith and Fabric, welcome. I'm Jen Frost, a pattern designer who seeks to infuse faith into the quilting world through Christian quilts. I'm very happy to be part of Sara's quilt along; when I first heard her mention it, I immediately thought of the passage in Jeremiah 29:11 – "…plans to give you hope and a future." You have no idea how many times I've relied on this single verse these past few months! …it's even printed it out (as shown above with my Risen quilt) and hung on the wall in my studio.

Today, as part of the Hope tour, I'm sharing my Jesse Tree quilt. It's a quilt that I started late this summer as a way to dive into scripture and find hope in our shared salvation story. From the very first block of creation to the last block of Christ's birth, I found moments of quiet calm and comfort as I dove into God's word each day. There was joy in bringing to life so many stories from scripture, and in creating images to represent each story.
One of my favorite blocks was Noah's Ark. My son loves (loves) Veggie Tales, and our favorite episode is their comedic spin on Noah. I kept thinking of the story as I sewed this block, and how much hope Noah and his family must have had to keep tucked away in their hearts rainy day after rainy day. Truthfully, each block tells a story of hope: whether David, Mary, Joseph, Naomi, Abraham, or Ruth, each person's hope is what makes them – and their story – so inspirational.
…but seriously, these blocks. Don't the colors just make you smile?  It was my first time working with solid prints, and that alone brought me joy – you guys, I never once had to worry about directional prints 🙂 Sometimes, it's the little things, isn't  it?

I invite you to join in all 25 days of this wonderful, hope-filled quilt along. Each day, you'll learn the story behind a quilt that brought hope to us – and maybe to you, too. If  any of the patterns here inspire you, bring you joy, or fill you with hope…wonderful. I invite you to use code HALFOFF in our shop for half off all patterns that move you. I also invite you to join me for bookclub in two weeks, on Monday, December 16th, as we dive into the biblical history of the Christmas season. Lastly, I invite you to Free Motion Friday, a free quilt-along each Friday beginning in 2021 on Instagram, where we'll be exploring a new free motion quilting technique. It's sure to be Fridays full of sewing, quilting, and seam ripping as we learn together!
May we all find some peace, joy, and hope – especially this Advent season.
VISIT THE HOPE BLOG HOP EACH DAY THROUHOUT DECEMBER
(Visited 437 times, 1 visits today)