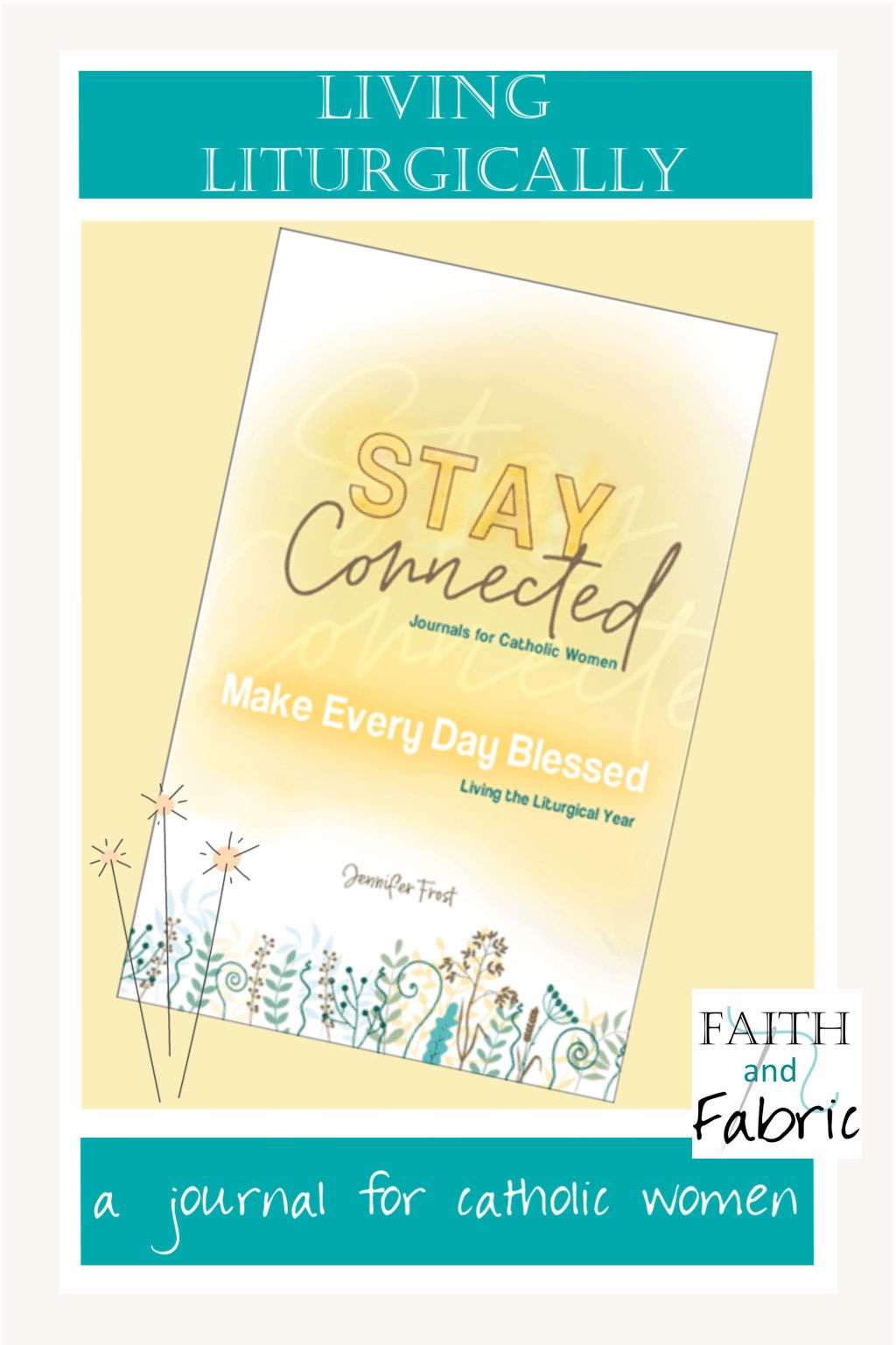 Once in a while, a really amazing person is placed in your life that forever changes the trajectory. For me, this woman was Allison Gingras. Allison and I had the pleasure of connecting several years ago on her podcast, A Seeking Heart, where we chatted about Catholic artisans. A connection grew, and when she started the amazing project of creating a Catholic scripture study for women, she reached out to me to see if I would prayerfully consider writing an edition on liturgical living. Yes! A thousand times yes!
That's how this book, Make Every Day Blessed, published by Our Sunday Visitor, came to be. Make Every Day Blessed is written for women, and designed to inspire each of us to live liturgically. What does living liturgically mean? It means living each day in a "Christ first" way that is in line with the changing seasons of the church.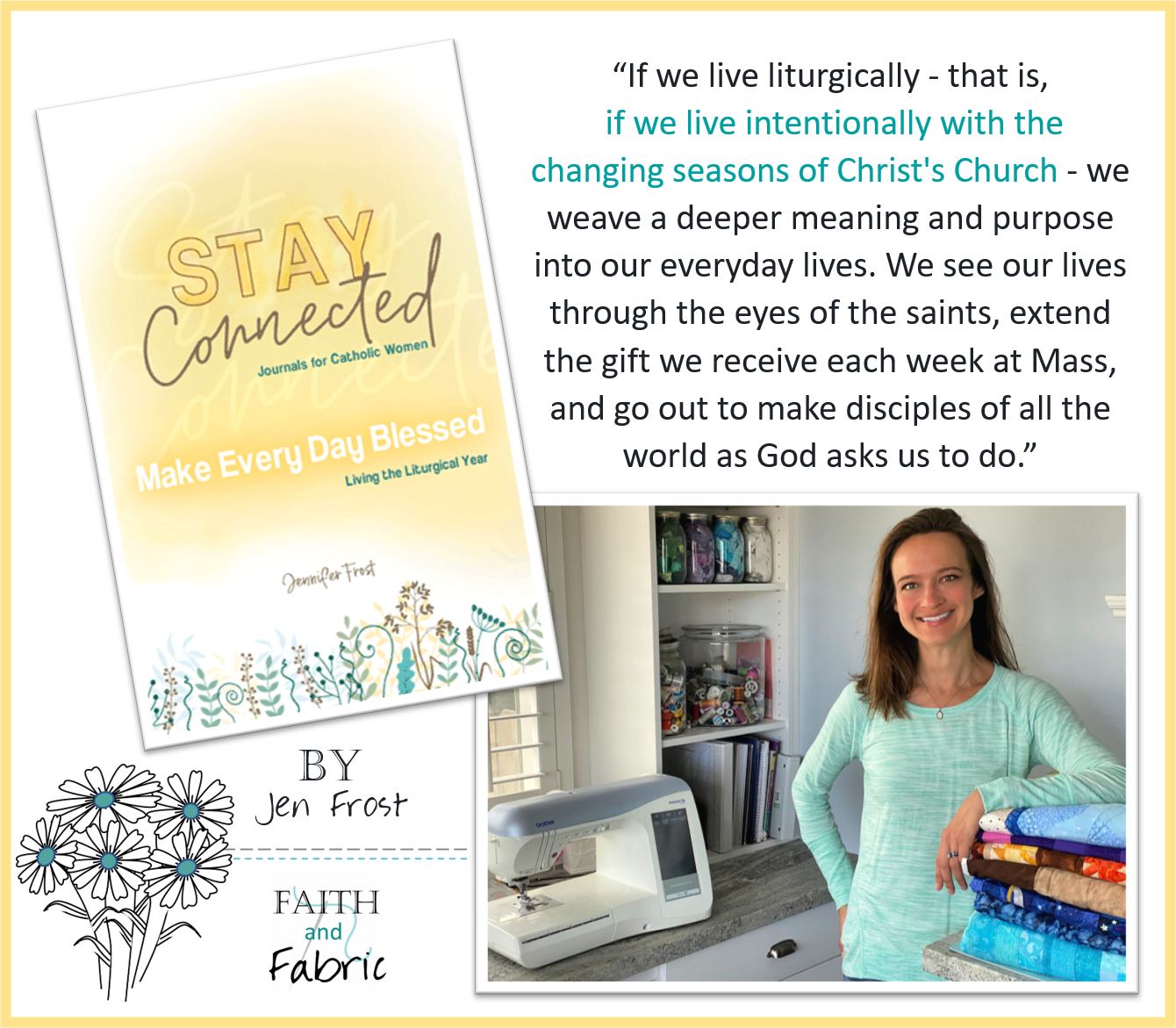 Have you ever heard the words "live liturgically" but weren't sure what they mean? Have you ever wished you could live your faith life with more intention, and follow the changing seasons of Christ's Church every day of the year? The Catholic church is full of rich tradition, enabling us to experience the world as God intended through the beauty of each liturgical season: Advent, Christmas, Lent, Easter, and Ordinary Time. Together, we will explore in depth each of the liturgical seasons. You will learn the significance of the season, how and why it is celebrated, and ways you can live the season in your home. By understanding the why's and how's of living liturgically, you will have the opportunity to grow in faith with our creator and share it with those around you all year long.
Throughout the journal you'll find thought-provoking questions to guide your journey; you can record your own responses and insights right in the journal. As with all the Stay Connected journals, guided prayers and space to journal provide opportunities for you to forge a deeper connection with Christ.
The book is broken up into seven chapters; each chapter gives us an opportunity to not only learn more liturgically, but to see how everything we do is rooted in scripture *and* give us an opportunity to reflect on how we celebrate that particular season in our home. Each chapter also includes a section on "Let's Decorate" where we look at how (and why) the visual decor in the church changes, as well as "Traditions in Our Home" where ideas are shared for ways *you* can celebrate within your domestic church. We had so much fun at the book kickoff, that I'll be having a book club throughout the next year as we discuss each chapter together with a SPECIAL GUEST!
Stay Connected Journals for Catholic Women help you deepen your connection with Christ through inspiring stories, reflections, Scripture study, and prompts for prayer and journaling. Each journal explores a different path to spiritual growth in seven short, easy-to-complete chapters—perfect for individuals or small faith-sharing groups!


I'm so excited to start sharing reviews with you as they come in; I've asked some of my favorite Catholic women to share their thoughts on the book over the next few weeks, and I'll be linking to their reviews here!
–  "This is one of my favorite topics! How we can incorporate the Church seasons into our daily life is something I think is so important. It truly helps us to live out our faith every day. I also loved the way Jen said it, it helps her make "my faith my own."" Deanna Bartalini, Not Lukewarm Podcast (listen to the podcast here)
– "A lot of families will be cultivating new rhythms this year, especially new homeschoolers. What better time to start observing the liturgical year than right now? Jen gently guides you through what it means to observe the liturgical year, how you can ease yourself into observing those age-old traditions of the Church that have fallen out of practice, and how to manage it all without getting overwhelmed at the sheer number of possibilities!" Rosie Hill, A Blog for My Mom
– "I'm excited that this book can sit on my nightstand and serve as a reminder to think about, plan and prepare for the liturgical season before it happens. Even though I read through the whole book, my plan is to go back and focus on the journaling before each season begins, so I can plan out how we want to intentionally celebrate. What I love about this book, is that Jen doesn't make it [liturgical living] overwhelming or unattainable." Sara Jonckheere, Sara J Creations
– "It's fun…we've got young kids, and to allow these feast days to come alive – even through an extra scoop of ice cream or talking about Our Lady – makes them [your children] inquisitive and wonder." Jon Leonetti, Jon Leonetti in the Morning on Catholic Radio (8/28/20 at 7:20am)
– "Jen gently offers the Catholic activities and devotions her family has embraced throughout the Seasons, and entices us with personal stories of her own Faith journey growing up and within her family today." Monica McConkey, Equipping Catholic Families
– "We are a sensory people. We love to taste and touch and hear and see and smell. And celebrations let us do that! Whether it's crafts or food or music, we can jump right into our faith with all our senses. I think the more ways that we can make our faith tangible and real for our kids, as well as fun and interesting, the less likely they will be to walk away from it when they get older. Make Every Day Blessed is full of ideas for doing just this." Bonnie Way, The Koala Mom
– "Right in the first chapter, Jen is speaking my language. She talks about integrating the liturgical calendar with your planner and your family schedule. And she makes sure we know that liturgical living is personal and unique, and varies from family to family." Sara Estabrooks, To Jesus Sincerely
(Visited 2,429 times, 1 visits today)