Quilting is a beautiful craft that, like all crafts, works best with the right tools. Have you ever asked yourself, "Self, what are the best tools for quilting?" …if not, now you have 🙂  While you'll likely get a few different answers depending on who you as, there are some key sewing notions for quilters that will make your quilting life so much easier. Here are the top quilting tools I use in action!
First up? My sewing machine. One of the most common questions I get is, "what kind of sewing machine do you use?" I sew on two different Brother machines. Why two? Glad you asked! The first one is my workhorse. It's a BrotherPC-420 (plus my Brother 1500D), which they don't make anymore. Brother replaced that model with this one, which several of my students have purchased – and they love it! One thing I love about Brother machines is their history; they began in 1908 and have continued to release amazing products both in the sewing world and beyond since then.
Here's my Brother in action, piecing some quilt blocks for our Lent table runner: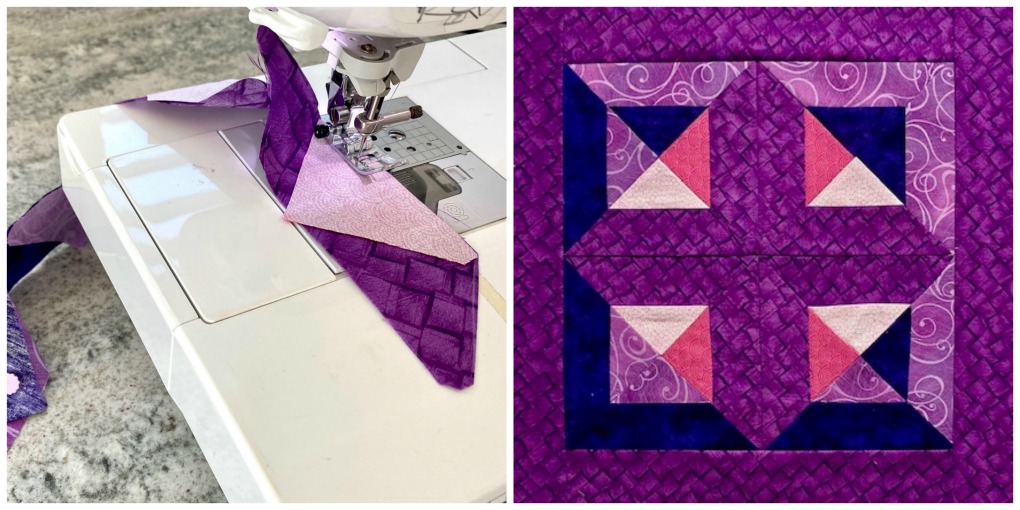 My second favorite quilting tool is my 3-in-1 Sewline Pencil. Can you love a pencil? Of course – especially when it's this one. This Sewline pencil has three tools: a graphite pencil, a chalk pencil, and a ball point press. So, no matter what kind of fabric I'm working with – darks or lights – I only need one pencil. Truth? I actually have four of these pencils, and keep one in my travel sewing bag, one on my cutting table, one near my sewing machine, and one in my pattern folder.
This pencil came in especially handy when making the Good Friday quilt pattern. It seamlessly transitioned between working with the dark black fabrics (with the chalk setting) and the white/light fabrics (using the graphite setting). Seriously, my favorite sewing tool!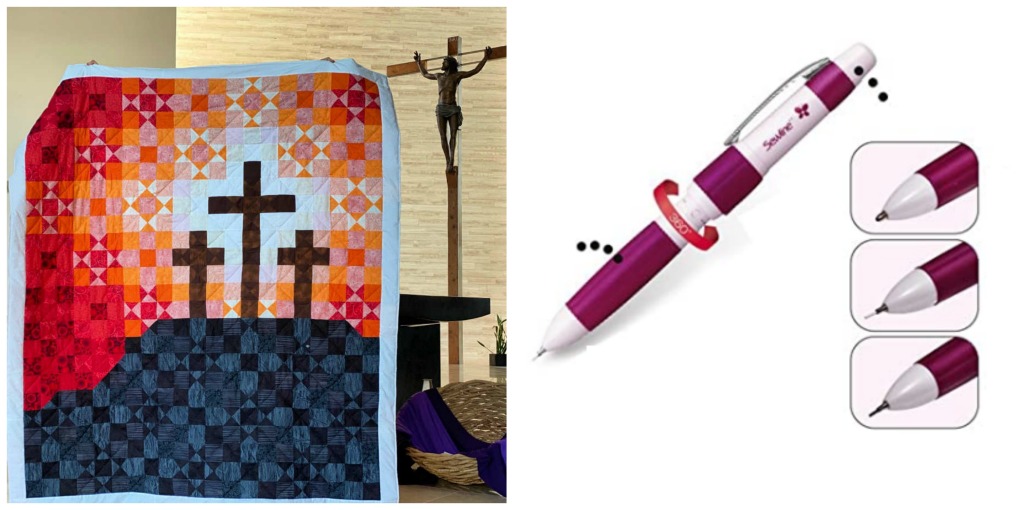 My next go-to quilting tool is my iron. I bought this Sunbeam Steammaster Iron a few years ago, and am genuinely impressed by it. It heats up quickly, has a retractable cord for easy storage, doesn't "spit" water or scorch fabrics, has a great weight to it for pressing fabrics, and includes just enough (but not too many) fabric settings.
I especially like how it works on the combination of paper and fabric. I love paper piecing, and often need to press multiple layers of paper and fabric…like when making the Mary and Jesus quilt.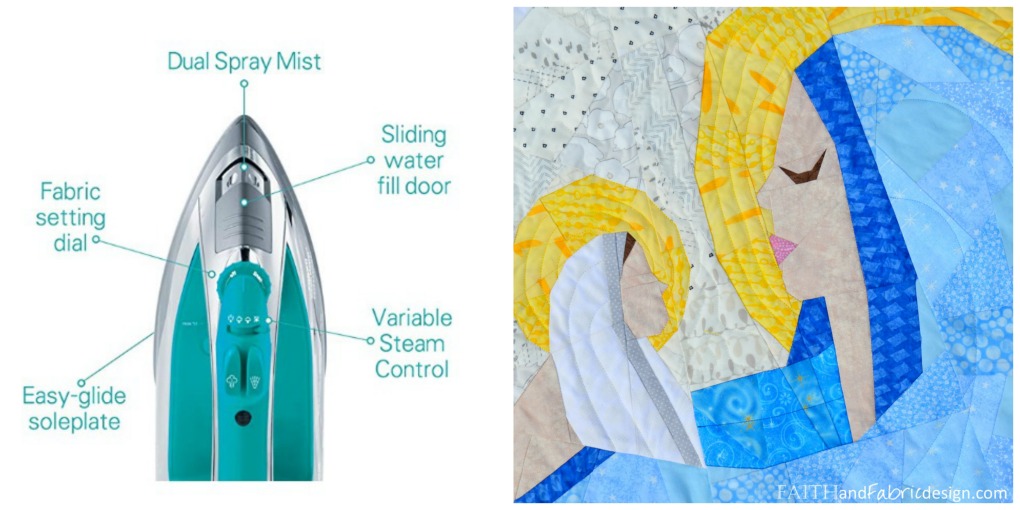 Do you have a long arm for quilting your quilts? Yeah…me neither. I push my quilts through my domestic machine, and found that they were getting all bunched up whenever I pinned the quilt sandwich together. A friend recommended using a spray baste, and YES! I've never looked back. Do you spray baste? I do (here's a post with some tips on how to spray baste), and this is the spray baste I always turn to: Taylor Quilt Basting Spray. This 10oz bottle lasts a long time, it doesn't stink (some do), sprays a contained spray (as opposed to overspraying), and is just my all around go-to for basting.
I find it especially helpful on quilts with a lot of seams…like those in the Sand Crab quilt pattern. So many little seams! I press the seams with my iron (see above), and then spray baste the quilt top to the batting. Voila! Ready to quilt.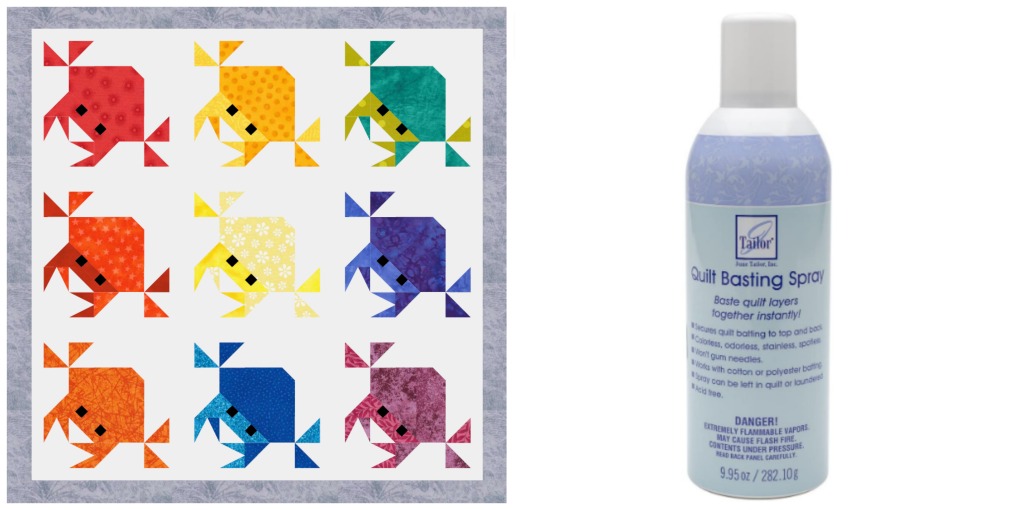 Have you ever used Washi Tape? It's a soft-stick (think "just sticky enough") tape that comes in a rainbow of colors. I always have a few rolls on hand, and use them when I do the final quilting on my quilts. It makes it *so* easy to create straight line patterns on your quilt! For example, when I wanted to create the radiating lines on the Easter Risen quilt, I used Washi Tape to tape out the lines originating at the center of the cross. There's no way I could have gotten such clean lines had I not used this tape! My family loves playing with it too – it always ends up taping pictures to walls, as embellishment on the back of envelopes to keep them closed, and as a fun part of art projects.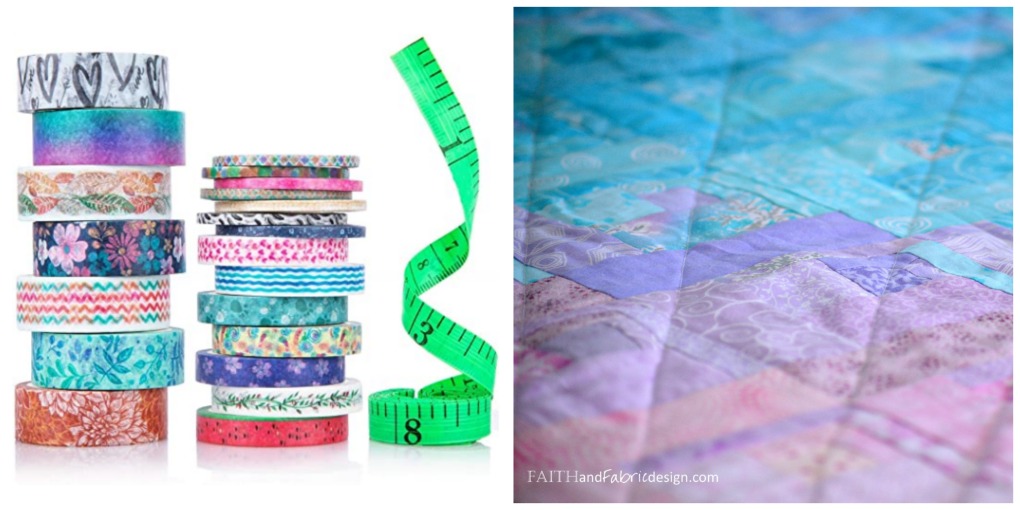 My entire family knows the difference between mom's sewing sheers (which are only hers!) and scissors, which always seem to be in short supply around here. I have a few pairs of Fiskars fabric sheers – their flat bottom makes cutting through fabrics a cinch! I recommend them over traditional scissors, as their sharp blade, coupled with the perfect weight balance, slices through fabric – like our Sew-a-Saint doll fabrics. These dolls are the perfect beginner project, and the sheers snip the form of the dolls out without leaving any tears or snags.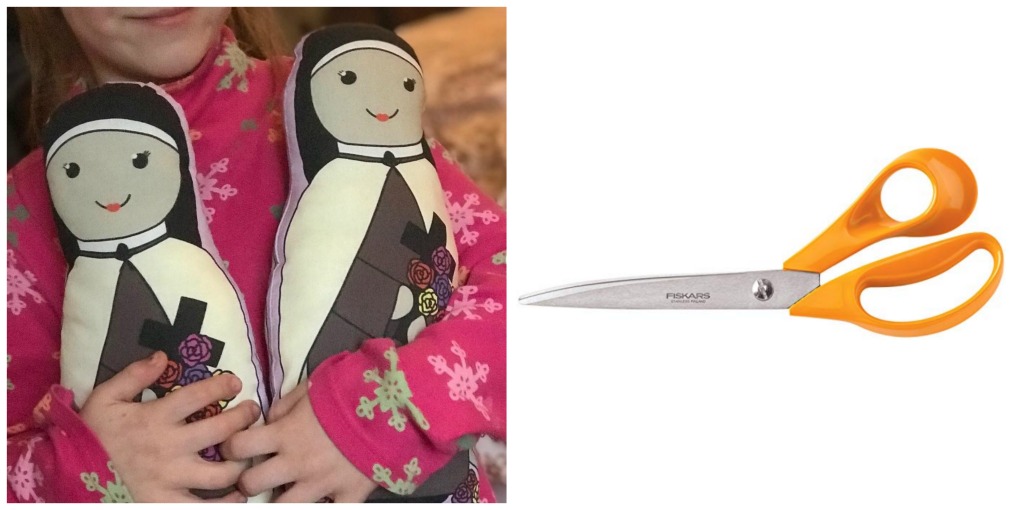 Do you applique? I do – it's a really fun way to add elements to a quilt that you couldn't otherwise add. Whenever I applique, I always use HeatNBond LITE – it's an iron-on, sewable, double-sided adhesive for bonding fabric without extra weight or stiffness. I use it in place of pinning or basting, as you can stitch right thru the adhered layers of fabric without gumming up your needle. I used this product *a ton* in the Silent Night quilt pattern shown below; so many elements were appliqued on. HeatNBond made things so much easier!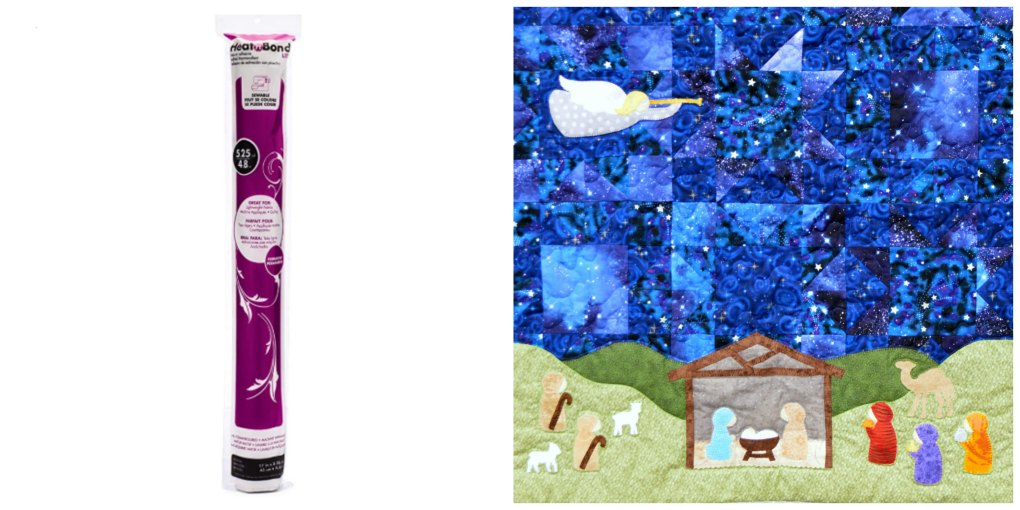 My final favorite product are these Clover flower-head pins. Why these specifically? Two reasons: first, the flower heads lay flat, which means there's no bumps in the fabric when you pin (and you can sew right over them). Second, I've had them for years and the flower has never popped off. They're a great quality pin, and after using a flat pin head, too, I bet you'll never go back to the little round ball ones! They come in handy regardless of what you're sewing – I use them on pretty much every single project, especially ones like the Give Thanks and Praise quilt which combined traditional piecing and applique. Lots of use there!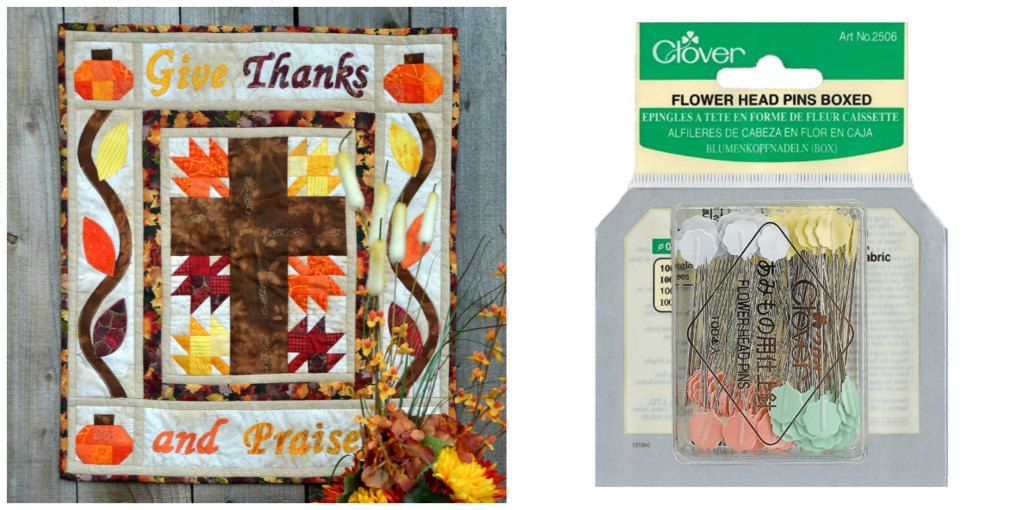 So, there you have it! Some of my favorite quilting tools and notions. I'd love to hear about your favorites, too – leave a comment below with what you use when you sew.
If you've arrived here as part of the Shop Hop, welcome! I'm so glad to have you here. On Day 1, I shared a bit about what Faith and Fabric is all about.  On Day 2, I shared a bit more about the patterns I create and the inspiration behind them.  I hope you had fun joining us these past few days, where we've been meeting some great group of quilters, like those mentioned below:
Also, in case you missed them, here are some of the great shops from Day 1 and Day 2:
(Visited 728 times, 1 visits today)