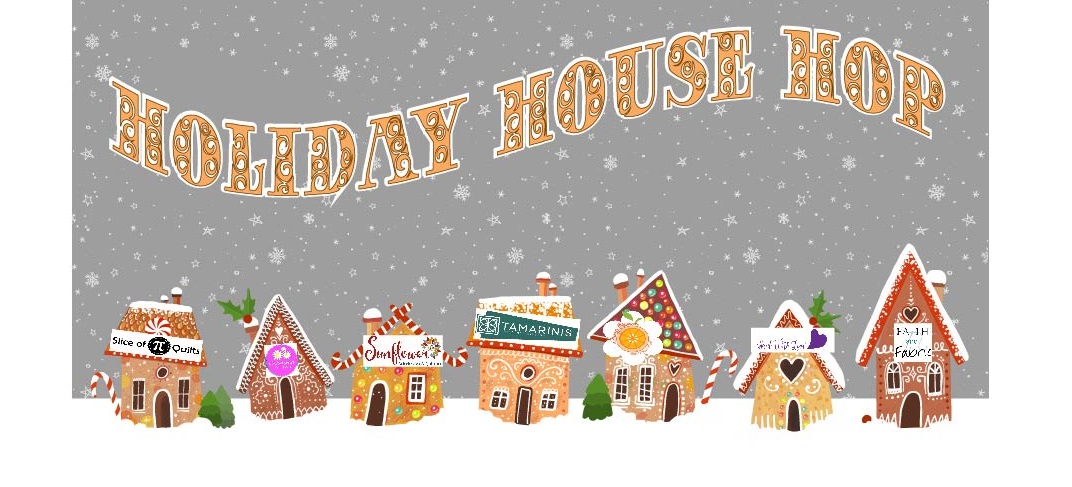 Welcome to the next stop on the Holiday House Hop! I'm Jen Frost, and am so excited to be here with you today. As promised, please relax and grab a peanut butter ball cookie – these are my favorite Christmas treat, hands down (plus they're no bake *and* can be made gluten free. Win!).
I have so much to share with you today! First, and most exciting, is our NEW Advent Devotional for Quilters. This is something that I'm BEYOND excited about, you guys!! Seriously, so much time and love have gone into this, and I'm so excited to share it with you today.

The Advent wreath has long been a Christian tradition, with one candle being lit each of the four weeks of Advent. Recreate your own Advent wreath with this versatile quilt pattern, which includes three different ways to assemble: as a vertical banner, as a horizontal runner, or as a wall hanging. The pattern is a mix of applique and traditional piecing. View the Advent Wreaths Quilt Pattern here.

We each have fond memories of Advent calendars from childhood; each day of the calendar brought us one day closer to Christmas Day. This gorgeous Jesse Tree quilt mirrors those Advent calendars; each of the 25 blocks in the quilt take us from Creation to Christ's Birth, telling our salvation story one beautiful quilt block at a time. View the Jesse Tree Quilt Pattern here.

Advent Wreaths are beautiful, but sometimes the flames aren't the safest to have in your home. Create a beautiful interactive quilt with the Advent Wreath panel! Together, by following along the step-by-step video, you'll create a wall hanging with candles that can be velcro'd on each week of Advent. You and your family will enjoy "lighting" a candle each week with this sure-to-be treasured quilt for generations to come! View the Interactive Advent Wreath Quilt Pattern here.

There is no love like that between a mother and her newborn baby. Capture the beauty of that first moment between Mary and Jesus on Christmas morning with this absolutely stunning quilt! View the Mary and Jesus Quilt Pattern here.

Inspired by the events that transpired so long ago, the Silent Night Quilt Pattern is created from a combination of both traditional piecing and applique. The star of Bethlehem shins bright from above, while angels bring the Good News to the shepherds in the field. Nearby, the three wise men arrive bringing gifts to the newborn king. View the Silent Night Quilt Pattern here.

If you've missed a week, no problem! Here's links to each house on the tour…links will be updated each week as that new house welcomes you in and opens its door to you:
(Visited 1,765 times, 2 visits today)