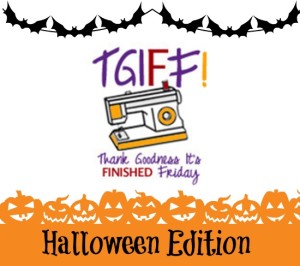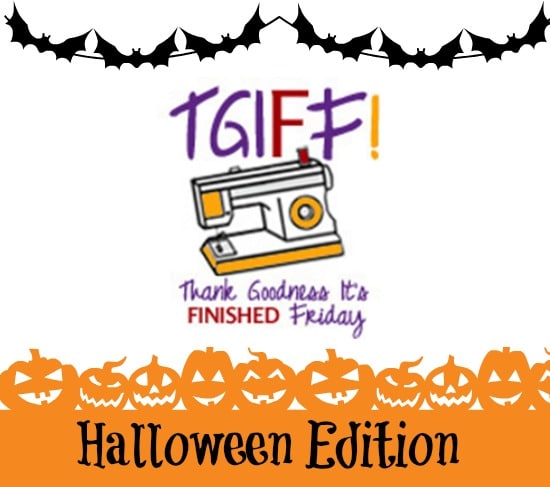 Welcome to TGIFF at Faith and Fabric – with tomorrow being Halloween, thought it would be fun to highlight some of our boo-tiful Halloween projects! Of course, any finished project is more than welcome. If you're new to my site, take a look around. I'm a Christian quilter and pattern writer, and love sharing my faith through fabric and crafts. I also just published my first book: Our Family's Jesse Tree!
Sharing two Halloween-inspired quilt patterns today. I've had a few quilting goals this year, and two of them were to (1) continue refining free motion quilting skills and (2) use up some of those scraps.
The FMQ is a continual learning process. One fun surprise of FMQ is how lovely it looks completely on it's own. I stitched this pumpkins and spider web pattern in a semi-transparent white thread to a basic black fabric, added a sparkly spider, and BOOM – called it a day. I think I like it even more on the solid fabric than on a print as it really makes it's own statement. Ha – does anyone else find themselves holding their breath when they FMQ? Not intentional, but every time I take a break in stitching it's like, "Phewwww…."!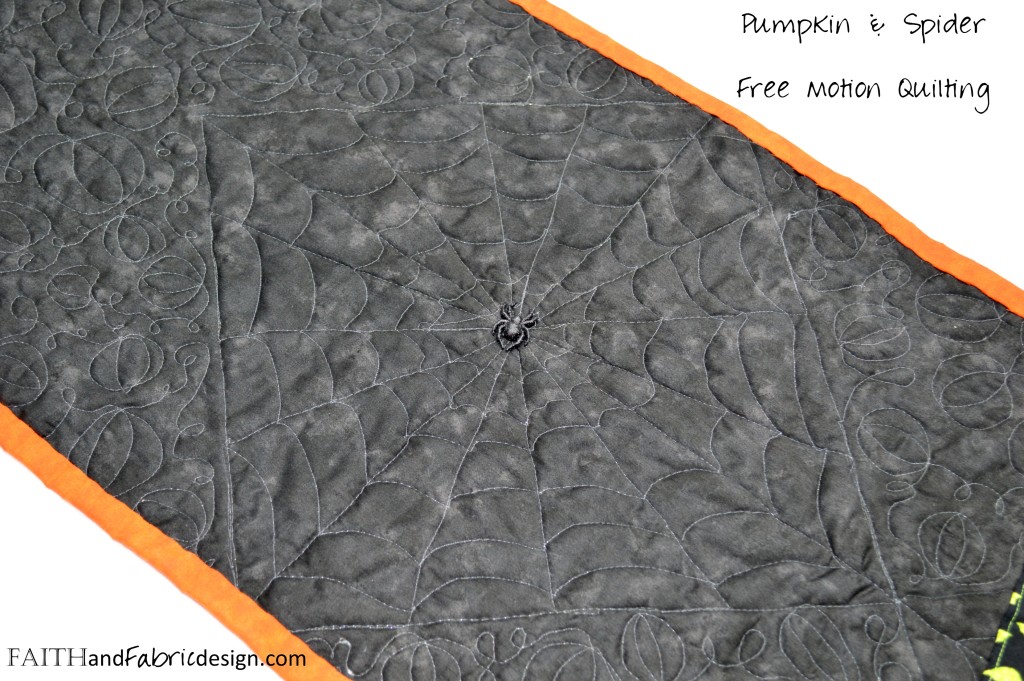 When it came to using up scraps (I had a ton left from the Yuma QAL), I pulled them together into a fun scrappy runner pattern. I'm loving the embroidery on my sewing machine, so added the line from Psalm 23: "Though I walk through the valley of the shadow of death, I shall fear no evil, for You are with me.". It seems the perfect piece for Halloween and is a great reminder that no matter how scary things get, we are never alone. Applique – especially for holidays – are fun to add, so stitching on a few ghosts and bats made it even more festive.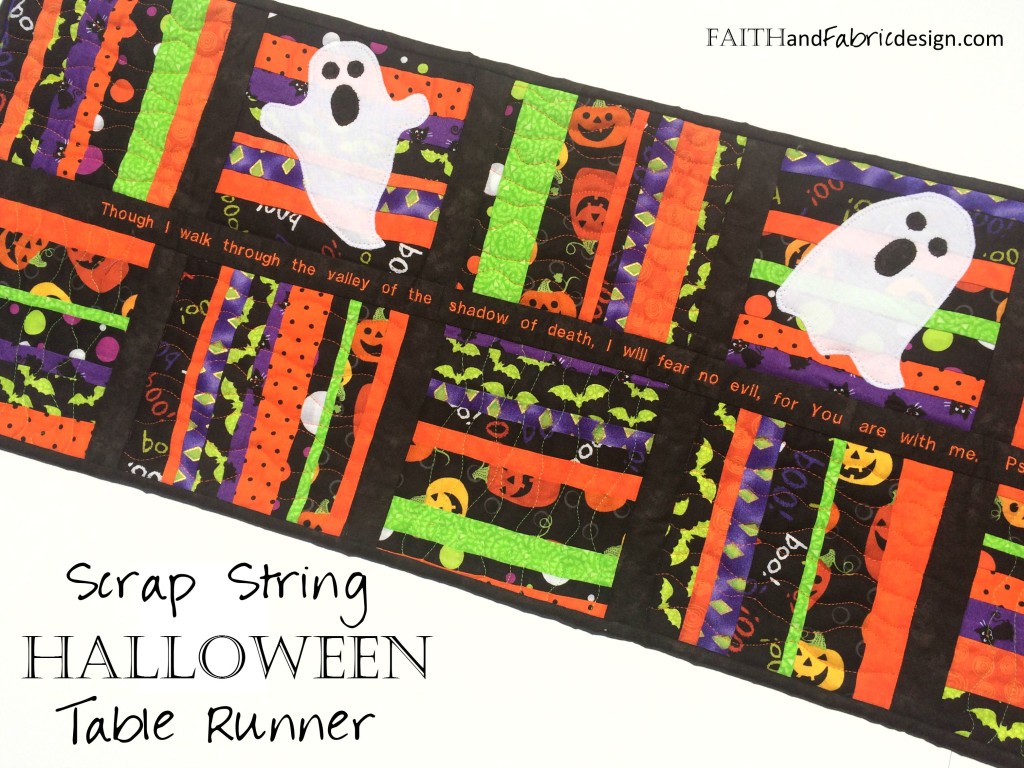 Lastly, sharing a yummy pumpkin brownie s'mores recipe. It tastes as delicious as it smells, and is an easy treat to whip up on Halloween night. Wishing you all a wonderful and safe night of Trick or Treating!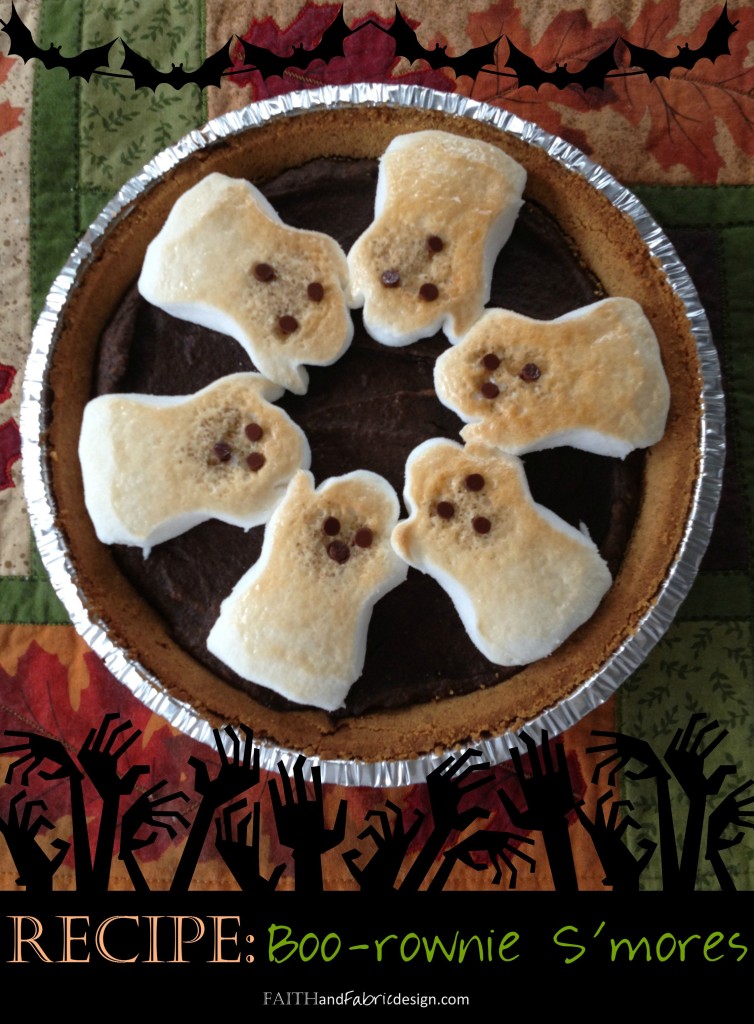 Just for fun…this post links up at these great Catholic and quilting sites!
(Visited 2,513 times, 3 visits today)