Happy October! I can't believe it's fall already here in the US. That means it's been nine months already since I shared the January Color Challenge with you! Time flies, doesn't it? Before we get started, welcome to those of you who are new here at Faith and Fabric. If this is your first time stopping by, hello! I'm so glad to have you here. Faith and Fabric is a Christian quilt pattern and fabric company, designed to sprinkle our faith into the sewing world. If you're a regular around here, welcome back – and thanks for being part of the crew.
One of my favorite parts of this color challenge has been seeing – and sampling – the delicious recipes that show up each month. Yum! This month is all about grapefruit – that tangy sweet citrus that's just starting to come back in season. I'm all about delicious salads year round, so this Grapefruit and Avocado Salad from Food and Wine is on my list!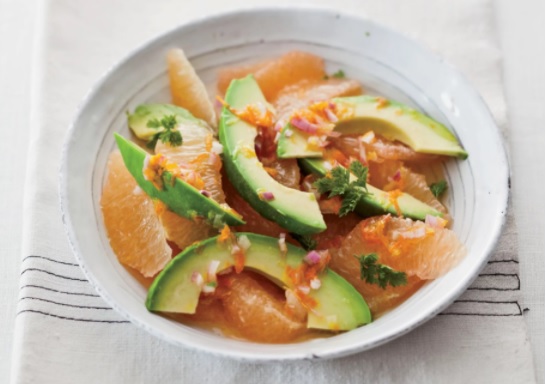 When it comes to selecting the color grapefruit for quilts, I was thrilled because I have an entire drawer full of rose colors. Since rose is the secondary color to both Advent and Lent, two of my favorite seasons, I had plenty to choose from. The hardest part, I found, was picking a citrus toned one. So often, grapefruit comes in a range of pink to almost orange, you know? I went for the ruby red pink hue…in fact, I used very similar colors a while back to create this simple reversible runner for Lent/Advent.
Onto the block! I used Jen's block pattern to create the ruby (red) pink block shown here. Didn't it turn out lovely?

I then took the quilt block and turned it into a table runner for Lent/Easter. I love making things easy, so having a double-sided table runner was *one less* decoration I had to change when the season changed. Forty days of Lent with the pink and purple, and then flip and voila! It's Easter 🙂 Here's a video on how I connected both the eggplant block from January with this grapefruit block for October and used my Accuquilt to make the strips for the back/Easter side of the runner:
The thread I swear by is made by Sulky; while I normally opt for their Cotton + Steel thread line, I had this one on hand. This is their rayon 40wt  and has a beautiful gloss to it; I loved how it really popped in the quilt itself.

There are so many other talented quilters here to share their blocks with you this month!
…and last but not least, thank you to the sponsors of this fun year-long event! To join in the fun, and enter to win a prize, enter a picture of your completed block into the Link Up party that will be hosted on Jen's blog the last week of each month. There's a sneak peek into some of the sponsors below. Remember, you can only enter that months block (i.e.: you can't enter January and February in February's link up party). An added bonus? If you finish each month's block, you'll get three chances to win! Drawings are held each quarter, so get sewing and good luck!


(Visited 763 times, 10 visits today)