*HAPPY 2021* Here's to a new beginning, a new start, and a new year full of possibilities and growth. Before we get started, welcome to those of you who are new here at Faith and Fabric. If this is your first time stopping by, hello! I'm so glad to have you here. Faith and Fabric is a Christian quilt pattern and fabric company, designed to sprinkle our faith into the sewing world. If you're a regular around here, welcome back – and thanks for being part of the crew.
Now, I know you already like to sew – after all, that's why we're all here, right? Do you like to cook? I have to admit…it's not my favorite thing. Given the choice, I'd choose a chef over a house cleaner any day! These days, I've been following the Auto-Immune Protocol for a few months now, and feeling *so* good as it's really helping keep a medical issue in check. Amen for that! …but what does this have to do with quilting? Glad you asked. This year, I'm again excited to join up with Jen from Patterns by Jen for the Monthly Color Challenge, and this year's challenge is all based around tasty foods and recipes. Yum!
January's color challenge was based on the color eggplant. Now, I love eggplant – whether you bread it, grill it, or throw it in a curry, the versatility of this delish vegetable made it a favorite in our house. This is definitely one of the foods I'm missing most on the AIP!  That won't stop me from sharing my favorite recipe with you, though – Thai Eggplant and Chicken Green Curry. This is on the Paleo diet, which I'm slowly moving towards (step by step) from AIP, and can't wait to add nightshades back into an occasional rotation in our home.
When it comes to selecting the color eggplant for quilts, I focused on those rich purple hues that eggplant always has. Lucky for me, I have an entire drawer full of purples as they come in handy for Lent and Easter each year…in fact, I used very similar colors a while back to create this simple reversible runner for Lent/Advent.
Now, as eggplant is a deep plum hue, I selected two fabrics and created them into these lovely matching blocks:
I'm planning on turning them into a runner for Advent, so instead of making just one, I made three (one for each of the three weeks that we use a purple candle in our Advent wreath). The lighter purple makes such a great contrast to the darker purple, don't you think? It's from Island Batiks…they make some of the loveliest batiks, and they're headquartered just a few miles away here in Southern California. The thread I swear by is made by Sulky; while I normally opt for their Cotton + Steel thread line, I had this one on hand. This is their rayon 40wt  and has the nicest gloss you've ever seen! Yes, yes, I know it's traditionally used for embroidery…but the color match was too good to pass up, don't you think?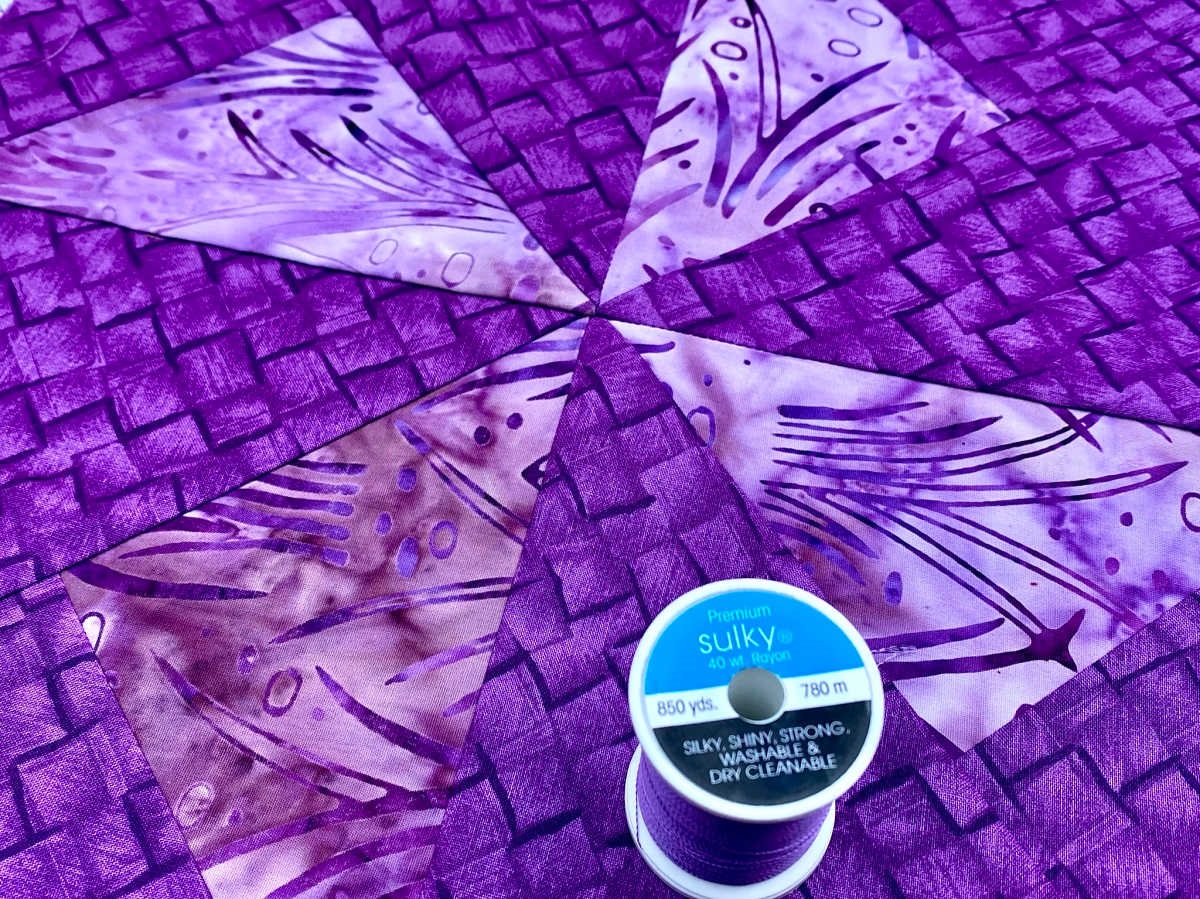 I even turned the quilt block into the front of a quilted table runner, using my Accuquilt for the back:
There are so many other talented quilters here to share their blocks with you this month!
…and last but not least, thank you to the sponsors of this fun year-long event! To join in the fun, and enter to win a prize, enter a picture of your completed block into the Link Up party that will be hosted on Jen's blog the last week of each month. There's a sneak peek into some of the sponsors below. Remember, you can only enter that months block (i.e.: you can't enter January and February in February's link up party). An added bonus? If you finish each month's block, you'll get three chances to win! Drawings are held each quarter, so get sewing and good luck!

(Visited 908 times, 1 visits today)