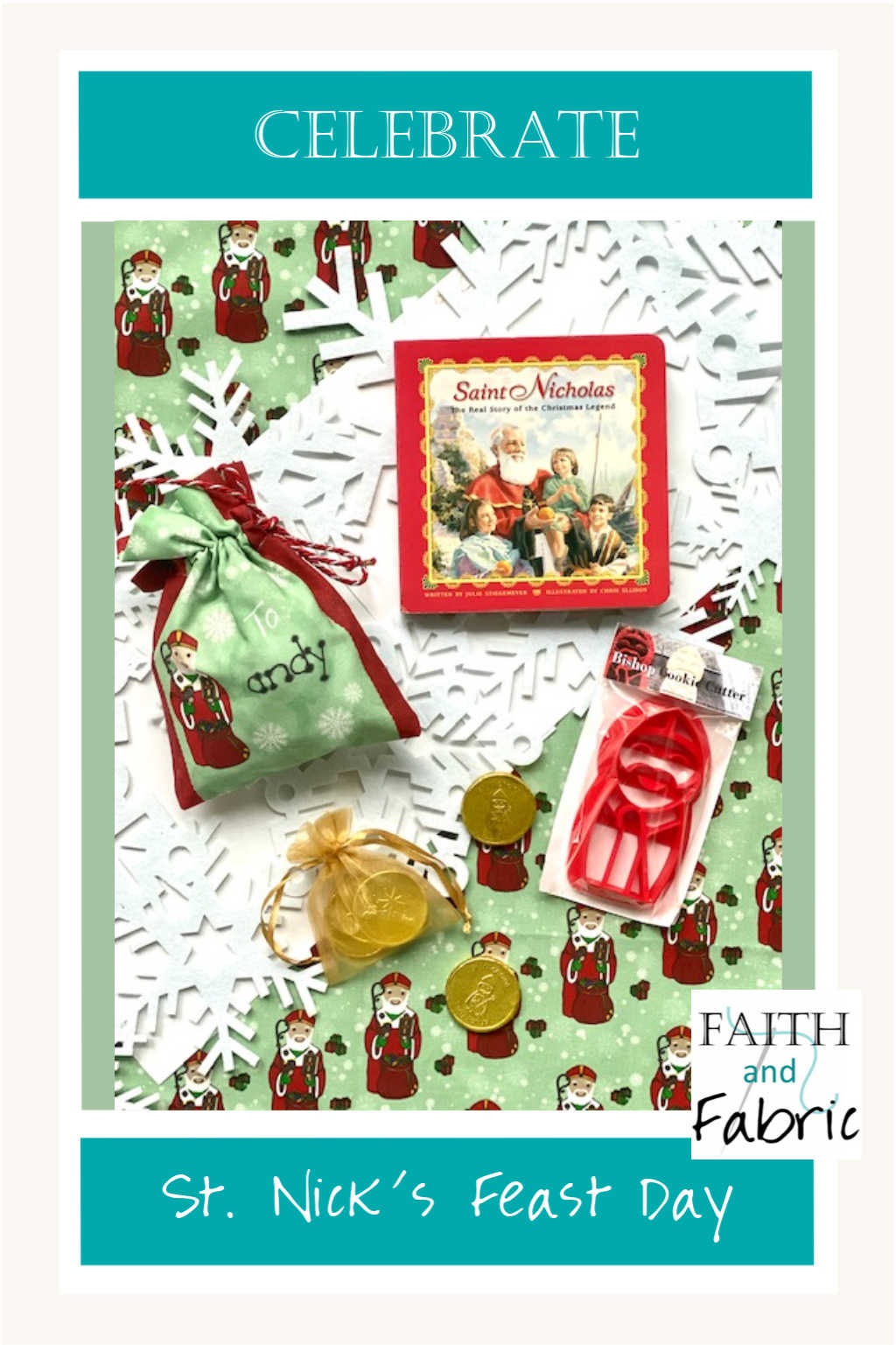 Saint Nicholas, or St. Nick if you're on familiar terms, was a Christian bishop who consistently provided for the poor and sick throughout his life. His life is celebrated in the modern, and popular, Santa Claus – where even his name (saint translated as Santa, Nicholas shortened to Claus) reminds us of who we are truly honoring.
Born in 280 in Patara, Lycia (modern-day Turkey), Nicholas was the son of wealthy parents who died young. He used his inheritance to provide for the poor, and it's in our giving today that we continue to honor his giving spirit.
In our home, we have quite a few ways we celebrate St. Nicholas on December 6th:
Of course, we read a book honoring this wonderful bishop! The Miracle of St. Nicholas is our favorite book; we pull this out each year and truly enjoy both the animated story and the gorgeous graphics in the book. It's part of our Advent book basket, and I'm thankful that we open it early in the season so we can enjoy it all Advent long.
My family loves baking (even if I'm not as much into the eating of the cookies), so we pull out our Bishop Cookie Cutter from Catholic Curio -I mean, seriously, how cute is this little guy? He works just as well on playdough and kinetic sand as he does cookies, *and* he makes a re-appearance on St. Patrick and St. Valentine's day, too. The cookie cutter stamps the dough *just* right, leaving the perfect impressions for decorating once it bakes.
St. Nick makes a visit to our home, as I'm sure he does to yours, too. On the eve of the 6th (the night of the 5th), we put our shoes out by the front door. Now, we have a small family, so there are three shoes there – mine, my husband's, and our son's. That night, I leave some gold coins and tangerines in the shoes…each is reminiscent of the coins and fruit that St. Nicholas gave to the poor in his community. When it comes to gold coins, my favorite are the ones from Shining Light Dolls – not only do they come in either dark or milk chocolate, but they are each stamped with the cutest image of St. Nick and read "St. Nicholas, pray for us" on the coins. Love!
Now, shoes – at least the ones in my house – are, well, pretty darn gross inside. Putting food (even if it *is* inside a tangerine skin or candy wrapper) just seems ick. So, our treats go inside these little St. Nick bags, each personalized with our name. It's so fun to pull these out each year and be able to reuse them! For me, having a special (and reusable) tradition each year helps give our family something to look forward to and leaves us with all kinds of warm fuzzies.
My mom always stops by with a treat from St. Nick, too – each year she writes a letter to my son (from St. Nick, of course), talking about how he's grown this past year, commenting on a few things he's into at that moment, etc. These letters have become such a treasure for us to go back and see each year! I hope to one day do this with my grands, too, God willing.
Of course, we have our St. Nicholas Sew-a-Saint dolls. Sewing is a staple in our home, and having him sitting at our shoes in the morning is gives us a great laugh! If you're in for more of a sewing adventure, our St. Nick yardage would make a beautiful quilt or table runner, too.
Your turn! How does your family celebrate St. Nicholas's feast day?
(Visited 404 times, 7 visits today)