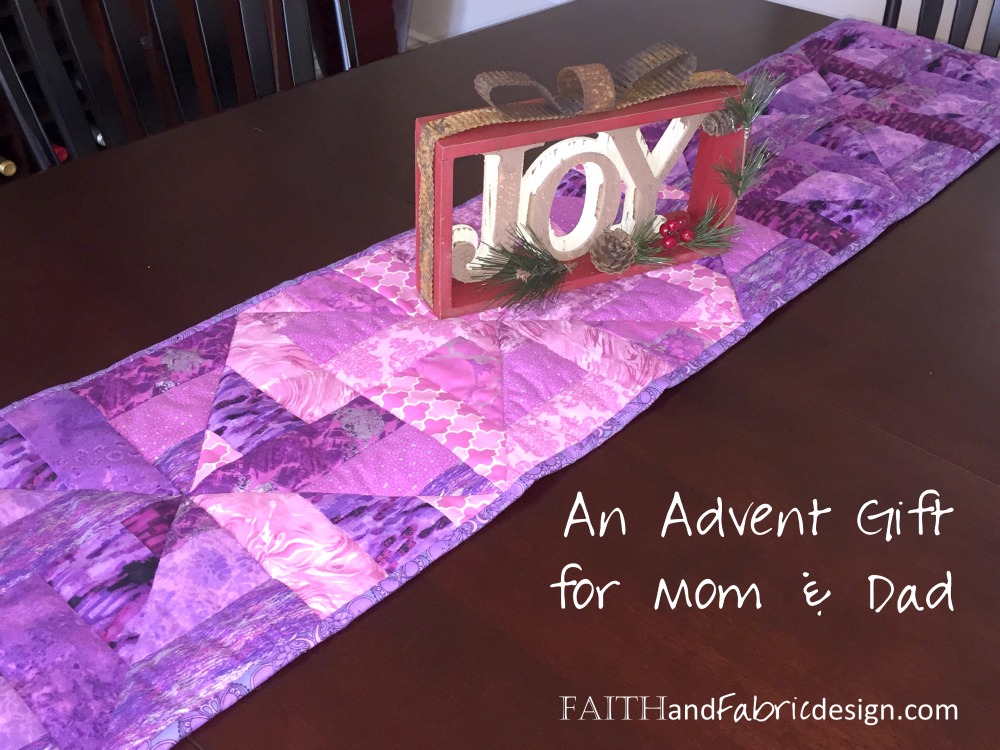 I learn something with every quilt I make. Every single one. Whether it's as big as a completely new technique, or as small as trying out a new thread line, there's always a chance to learn something new.
Sometimes, it's completely by accident.
Like most quilters, I have a laundry list of family projects I want to make to give out as Christmas gifts. Now, four weeks before Christmas, I'm finally getting started. Can you say rush job? I can.
I created two projects with a similar style, which made things easy: an Advent table runner for my parents, and a pink baby quilt for an expecting family member. They came together beautifully; the points were all there (which was a beautiful thing in and of itself and quite unlike the Yuma quilt), the colors blended better than I had hoped…both quilt tops came together at the same time without a hitch.
For this Advent table runner quilt top, I wanted it to follow the color palette of the Advent wreath: 1/4 purple, 1/4 purple, 1/4 rose, 1/4 purple (each 1/4 represents one week of Advent with four weeks in total). I used a jelly roll in purples as a base, and then mixed in a few other shades of purple as well as on-hand rose tones to make it blend. Achieving the blend was a trial and error process…I originally broke the quilt top into strict 1/4 pieces, but didn't like how abruptly one section ended as the next started. To fix this, I added an extra two columns – one at either end of the rose blocks – that was a mix of rose and purple. This gave me the smooth transition I was looking for.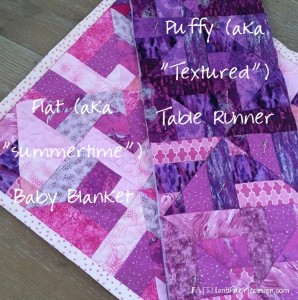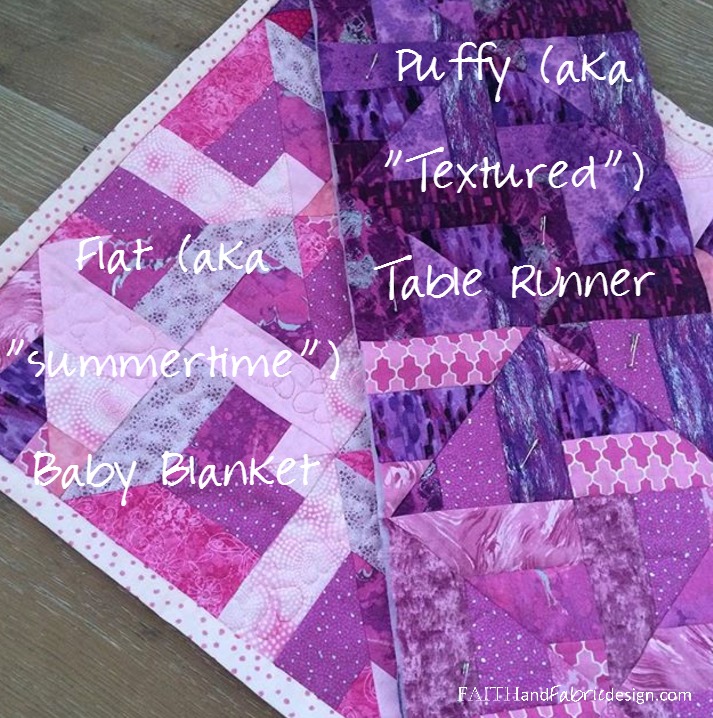 Once this and the pink baby quilt top were done, I selected backing for each quilt, spray basted batting beneath the quilt top, pinned, and quilted. Loving the mix of the striped HSTs, I stitched diagonally and between the lines so they would remain the focal point. Love! It was when I was about 80% finished when I noticed something wasn't quite right…
…in putting my two quilt sandwiches together – a blanket and a table runner – side by side, I had
inadvertently swapped the batting. So, I ended up with this extra fluffy Adven table runner and flat baby blanket – which of course then became a textured Advent table runner and a summertime baby blanket. It's all perspective, no?
Thankfully, my parents really liked it – that's the runner on their table in the picture at top. It's fun seeing a project of mine in their home!

(Visited 599 times, 3 visits today)