A few months ago, our sweet neighbor Mimi passed away after a long battle with cancer. She was the neighborhood matriarch, always ready with a meal when a new baby arrived, gifts for the children on Easter and Christmas, and devoted to her bunnies. The last time we visited Mimi was when she was on hospice – a few days before she passed away. I'll never forget seeing the ghost of the woman laying in the bed…not the eclectic, strong woman we had all come to know.
Mimi was a quilter – and a very accomplished one at that. When she passed, her family generously gifted me with some of her quilting supplies. Mixed into one of the boxes was a plastic bag full of fleece scraps. I set it aside, intending to iron it another day.
Another day came, and inside the bag were definitely fabric scraps – as well as a partially started quilt with those scraps. It turns out Mimi had already cut the squares and started piecing it together into a fishing quilt.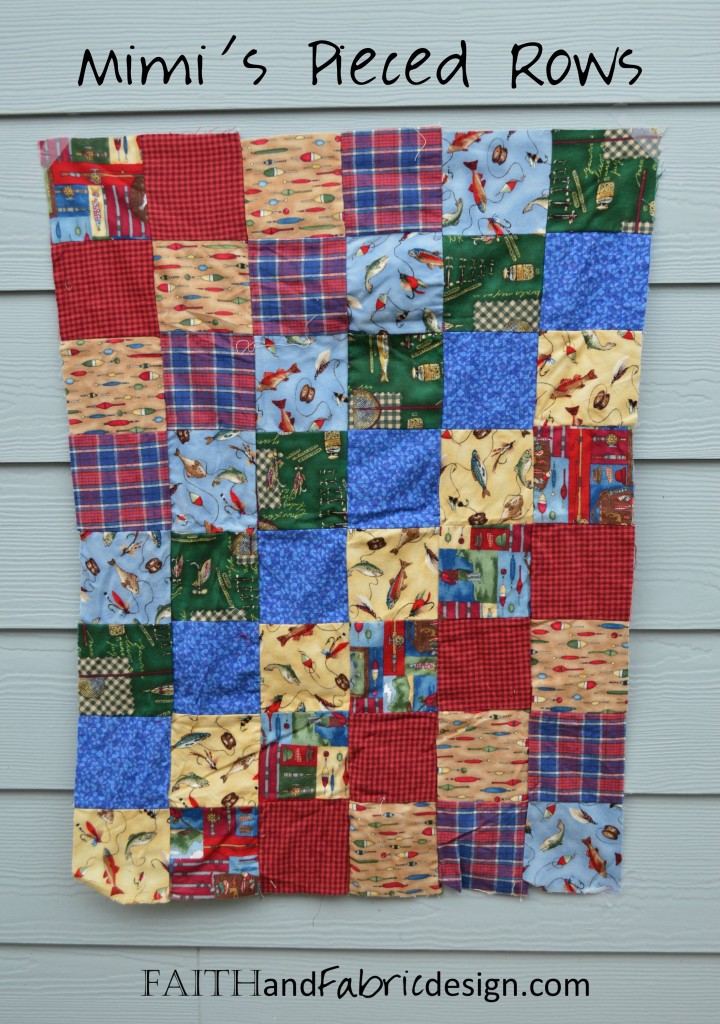 After Mimi passed away, her grandchildren moved into the house (they're adults themselves). Her grandson and his wife are expecting their first baby – Mimi's first great-grandson – in early August. I couldn't think of a better gift to give this family than to finish this quilt and give it back to the family – a gift from Great Grandma from above.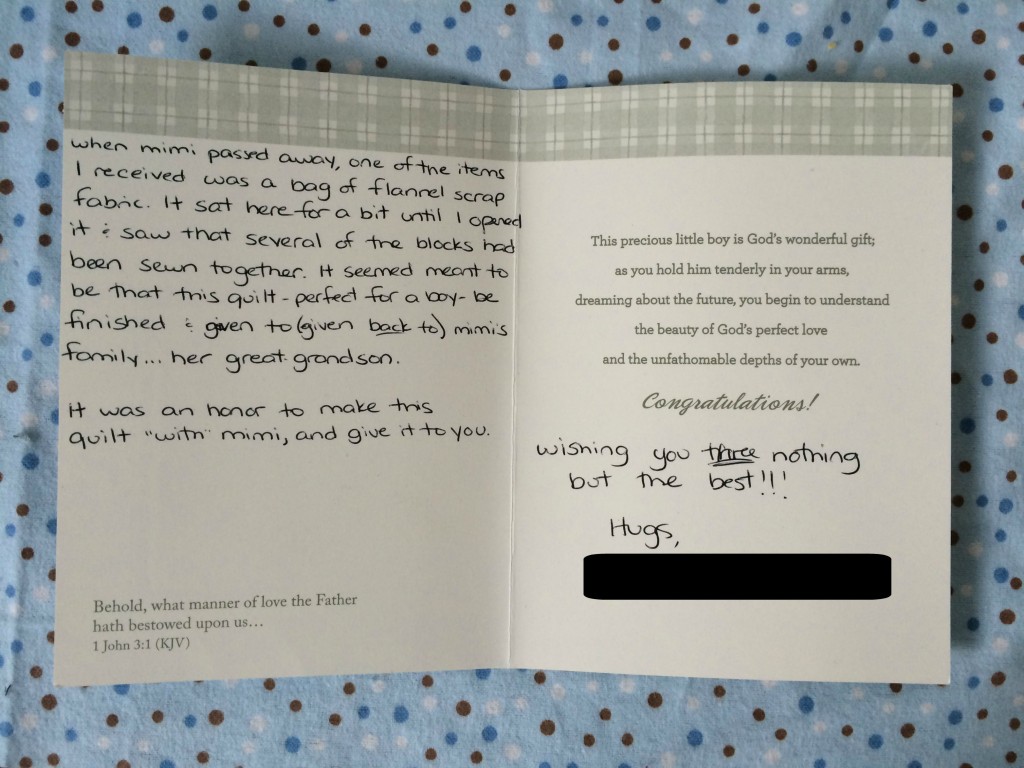 As for the quilt – the fabric was definitely baby soft fleece, but the colors were a bit more adult man than baby boy. I wanted to add some light blue, so bought a few yards of a white and blue snuggle soft fleece to be used both as a border and backing. The light blue was a little too light to be used only as a border though (I didn't like the way it looked alone as the trim) so I added another outer border using the same fishing fabric squares and extending the pattern through the border itself.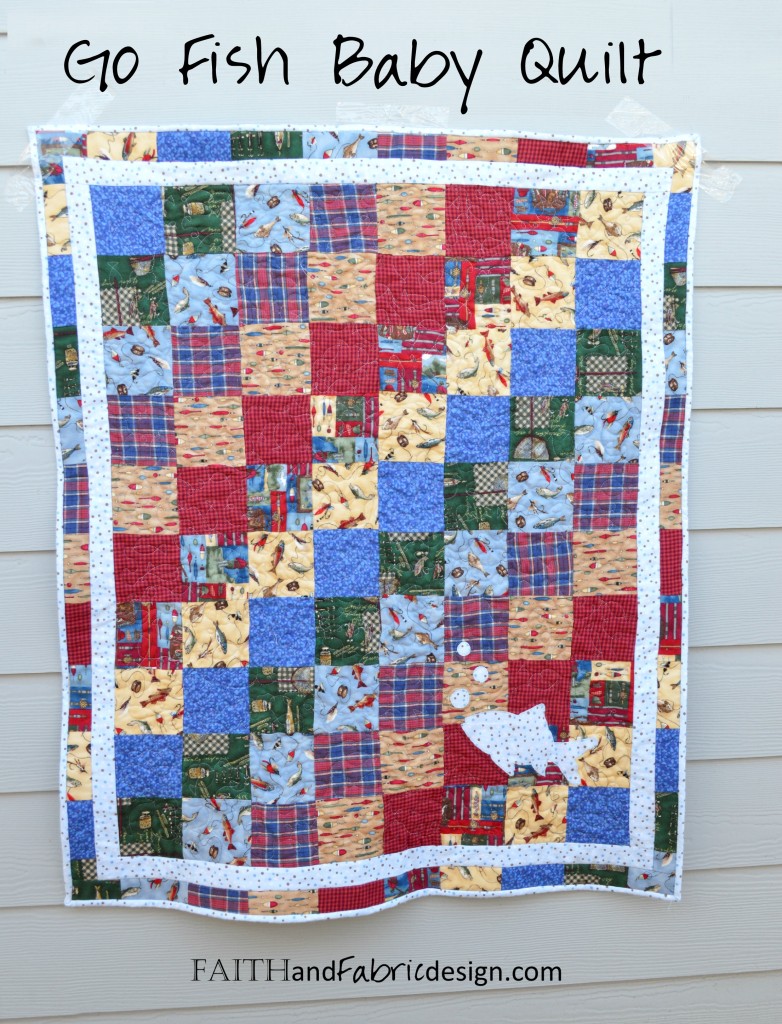 I also added an applique fish with bubbles to the inside of the quilt using that same fabric…it really pulled the light blue into the quilt and made for a younger, more playful tone.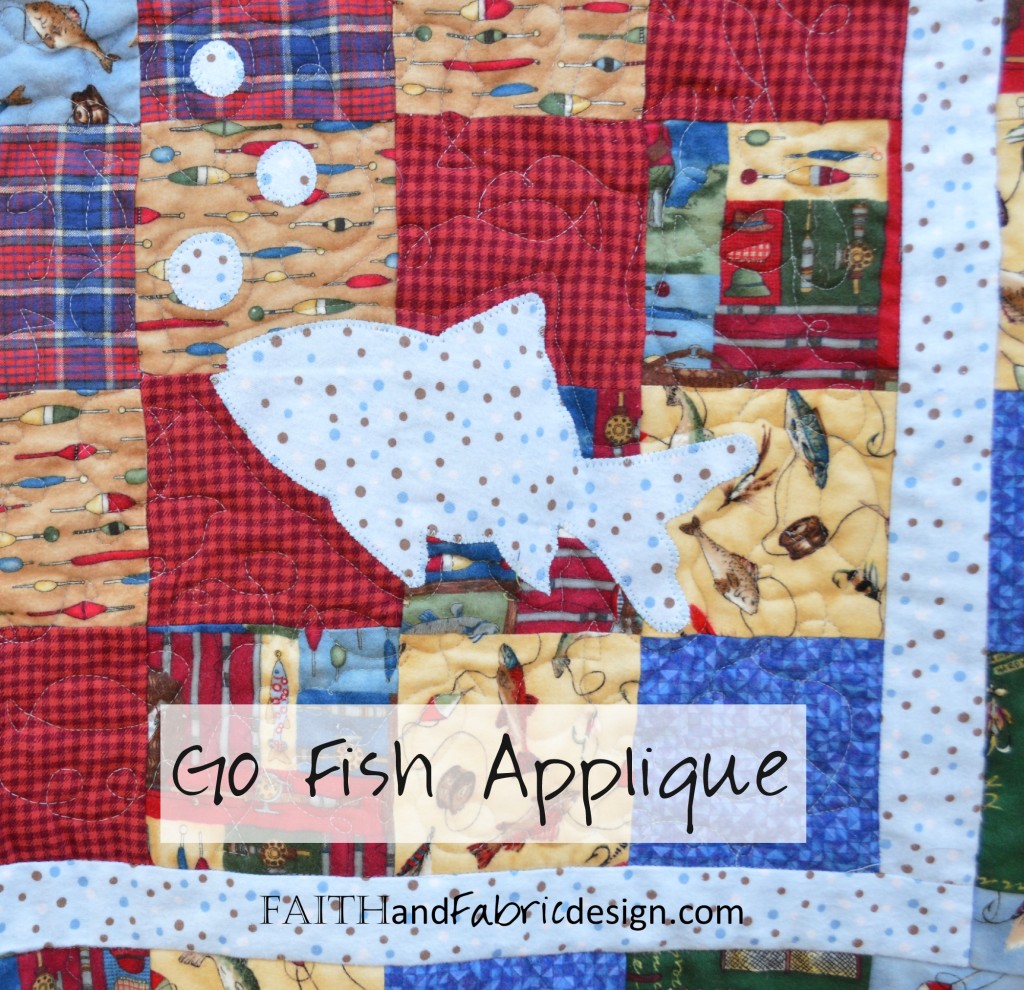 When it came to quilting it down, I really wanted to play off the fish theme. After messing around with a few sketches, I came up with this free motion quilting fish pattern – it took a bit of practice to get the curves and sizing right, but I'm so happy with the way it turned out – as well as the way the fishing theme is carried through the quilt in the stitches themselves.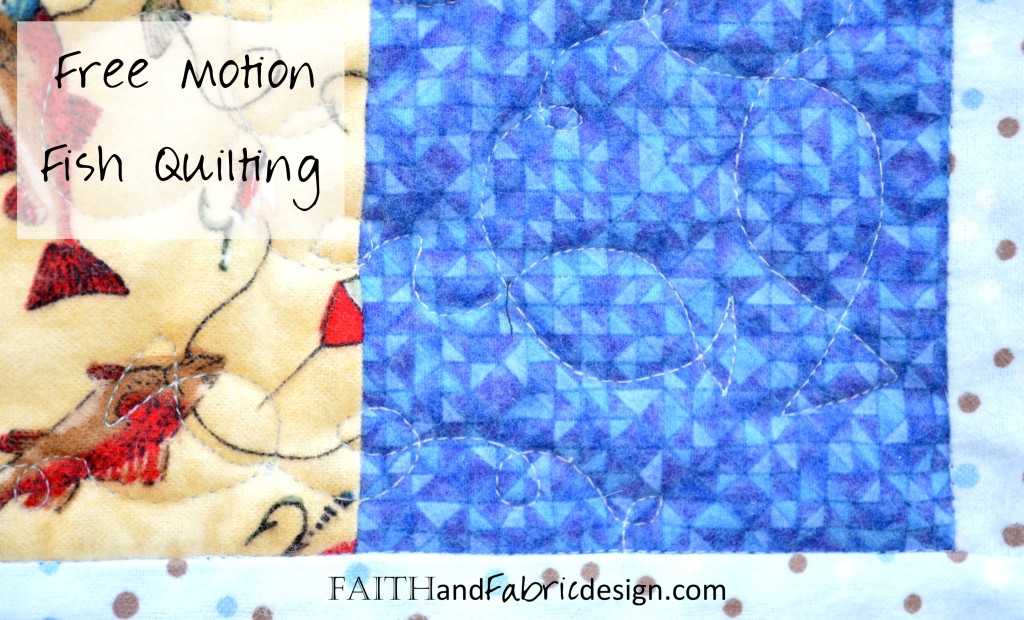 On the back, I added an embroidered heart with the words "Made with Love by Great Grandma Mimi & Jen Frost".
It was such an honor to work on this quilt "with" Mimi and to be able to give it back to her family…truly a gift from above. To be there to give it to her grandchilden…the gift was in the giving, and I cried right along with them. Hugs!

Just for fun, this post links up at these great Catholic & Quilting sites!
(Visited 932 times, 2 visits today)