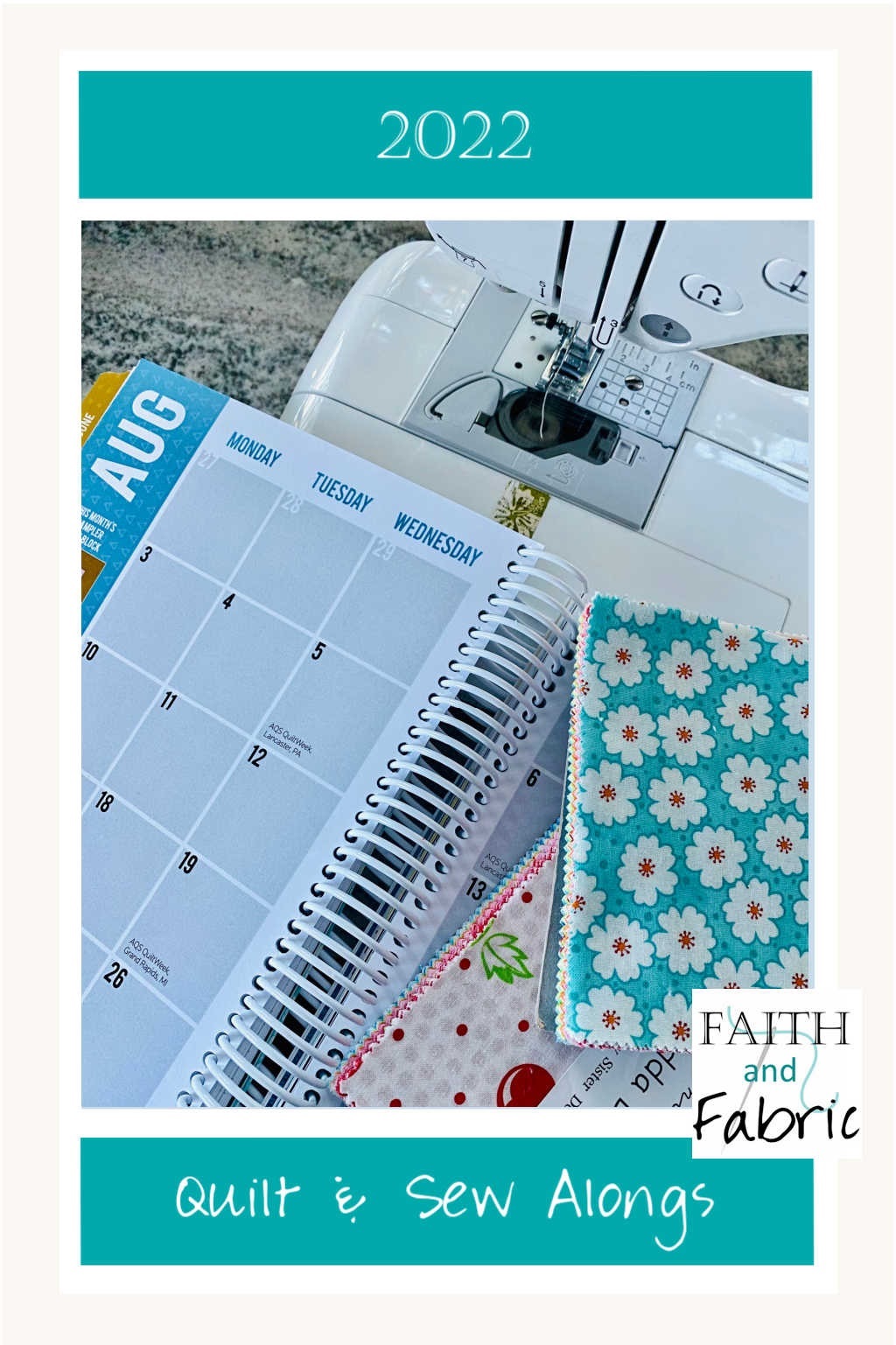 The new year, 2022, is almost here, and that means that a whole host of new quilt-alongs (and sew-alongs) are about to begin! For the past few years, I've been collecting a list of all the upcoming quilt and sew-alongs coming up in the new year, and this year is no different. There are so many amazing quilt alongs happening in 2022, which means the challenge is on for you to find your favorite ones!
The wonderful variety in this ever-growing list of quilt-along is that there are no two quilt alongs alike. Looking to boost your quilting skills? Sew something row by row? Create a small wall hanging, or a queen size bed quilt? Guaranteed, there's a QAL just for you.
Have you signed up for any quilt-alongs yet? Let me know in the comments; I'd love to add them to this growing list.
As for me, I'm getting ready to host three quilt-alongs this year. The first is casual and runs most every Friday – together, we'll be practicing our free motion quilting. I know, I know, not your traditional quilt along – but we had so much fun practicing our FMQ skills last year that I wanted to continue that in 2022 as well. I invite you to learn more and join in the adventure – you can even print out the complimentary Free Motion Friday stickers for your planner and be extra organized for 2022. (…and if you're looking for a planner, I highly recommend The Quilter's Planner!) Each new free motion quilt pattern comes with a full video tutorial in our growing video library!
The second quilt along will be for Lent; we'll be making a quilt similar to our Jesse Tree quilt that we made for Advent, but this time we'll be making a quilt for Lent inspired by the eight days of Holy Week. Here's a sneak peek at a few of the blocks in the quilt…you can see all the blocks here and even register for the quilt along which begins on March 14th!

My third quilt along is one near and dear to my heart. After completing the Jesse Tree quilt-along last year, I'm planning on doing it again this coming December. So, you can future plan for a 2022 quilt along by penciling this into your planner for December 1st! Look how organized you are! 🙂 This quilt is so special to me, and I'm beyond excited about hosting this special quilt-along with you in again this year, which includes not only the block but an Advent Devotions each day of December.  Thank you for joining me on this faith journey!

(Note: pictures of quilts are always enticing, but I wanted to respect their copyrights…so you'll need to click over to each QAL page to view the final image of the quilt they'll be making.)
So, without further adieu, here is the 2022 quilt along and sew along list! Are you…
…searching for a centerpiece quilt? Join in Sarah's Softies Quilt Along from January 1st – June 4th and create a beautiful quilt with a centerpiece that will be the star of the show!
…ready for a new take on a traditional design? This Wunderbar quilt has been made modern by Sugar Sand Quilt Co and you're invited to join in beginning on February 3rd. You can pick up the pattern ahead of time, too!
…looking for a block of the month? Join Katie Mae Quilts for a Scrapamath Block of the Month from January 10 – December 5 on the first Monday of the month for a lovely block!
…want to brush up your Southern Charm? Melanie Traylor from Southern Charm Quilts has five quilt alongs from her book, A Life With Quilts, happening all year starting January and ending in October!
…trying to build up some new quilting skills? The Quilt Patch by Tori will be offering a Skill Building Block of the Month each month of 2022!
…hankering for a sampler quilt? Nicole Vaughan of Chockablock has created a fun medallion sampler with 16 different blocks that is being run as a block of the month from February to November 2022.
…needing a bit of sunshine in your life? Sharon Andersen of Ms. P Designs USA is hosting a Sunshine Sampler Sew Along beginning on January 17.
…excited to celebrate our beautiful diversity? Shereece Spain of Sew Hooked on Treasures is partnering with Fat Quarters Shop to celebrate Black History Month in a Stronger Together sew along.
…dreaming of diamonds and flowers? Sonia Spence of Fabric and flowers is hosting a beautiful Beaufort Quilt Block of the Month event where you create a quilt block inspired by English gardens! This QAL runs from January through December 2022.
…feeling a bit prickly? Join Karen Bolan Designs for her Cool as a Cactus Quilt Along beginning in March 2022!
…wishing for a bit more grace in your life? Leanne of Devoted Quilter will be hosting an Add Grace quilt along from March 2 – April 17 with registration opening on February 15th.
…wanting to make a cozy cottage quilt? Patti's Patchwork Cottage Sampler quilt along  from December 29 through March 16. I'm dreaming of this in all the colors of the rainbow!
…ready to be less of a wallflower in 2022? Join in Christa Quilt's Blooming Wallflower quilt along and let your true colors shine!
…a fan of the Winter Olympics? Join in the Winter Games quilt along hosted by Nestlings by Robin which will run concurrently with the 2022 Winter Olympics from February 4th-February 20th!
…wish Christmas was all year long? Join Michelle Bartholomew. for the Reindeer Ridge Quilt Along which runs January through August 2022.
…wanting to have a year of color play? Jen of Patterns by Jen is hosting a 2022 Monthly Color Challenge again this year, focused on the pigmented hues in spice!
…feeling like your heart is going to burst? The Exploding Heart quilt along by Slice of Pi is the perfect one for you, and begins on January 6th!
Phew! That's an amazing list of projects. So, tell me: which quilt along will you choose in 2022?
Looking to expand your quilting skills in 2022? Subscribe to our (free) growing video library – it's full of tutorials and how to's to help you meet your goals!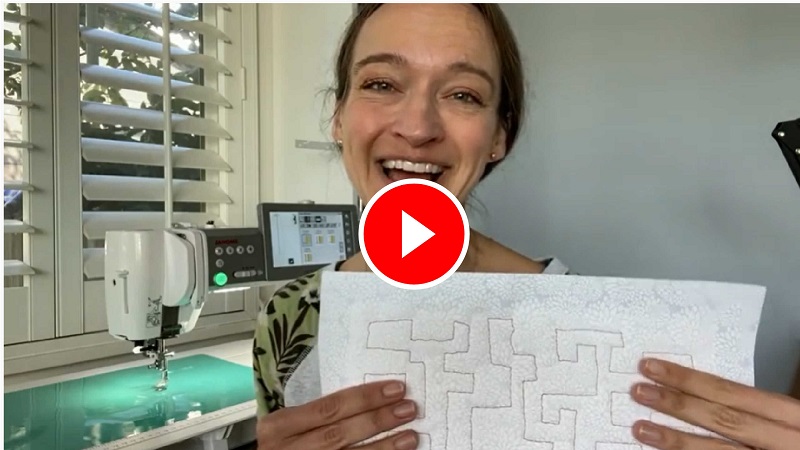 (Visited 7,861 times, 6 visits today)