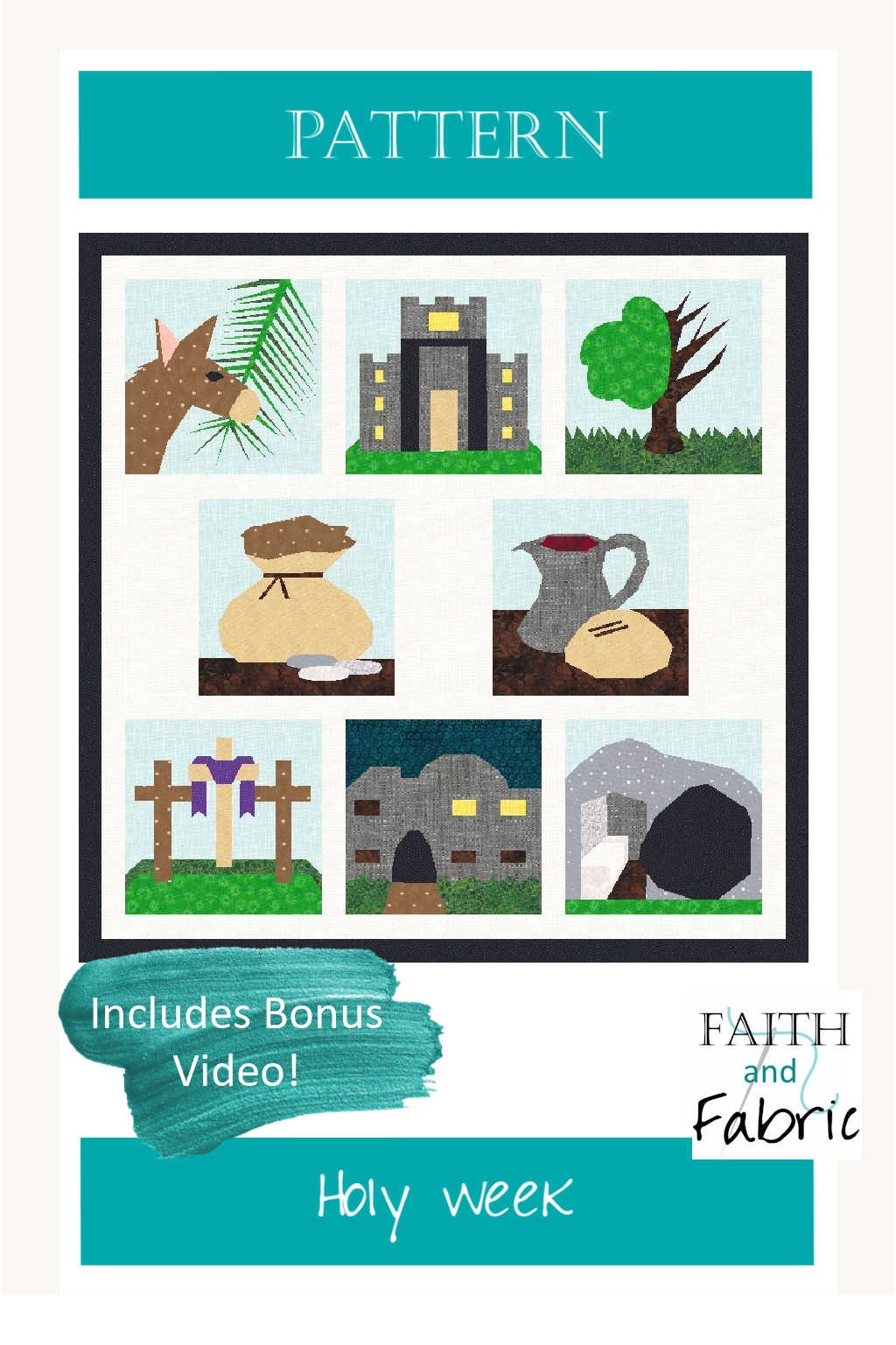 I am SO excited to invite you to an extra special quilt along this Lenten season! Together, we'll be journeying through Holy Week like never before as we create eight beautiful quilt blocks, each inspired by the days from Palm Sunday to Easter Sunday.
We'll be starting off on Palm Sunday by creating the iconic donkey Jesus rode into town as palm branches were laid at his feet. It was the welcoming of a king! On Monday, we'll sew the temple in Jerusalem where Jesus flipped over the tables of the money changers and vendors who – instead of vendors – were behaving like thieves and using the people's worship of God for disproportionate profit for themselves. On Tuesday we'll recreate the fig tree, half in its lush greenery – but absent of figs – and half as it appeared on Tuesday morning after being cursed the previous day…dried and withered. On Wednesday we will sew the thirty pieces of silver that Judas Iscariot received in his betrayed of Jesus. On Thursday we create the bread and wine of the Last Supper, which Jesus broke and shared with his disciples telling them to "do this in memory of me". On Friday we create the three crosses on Golgotha, with Jesus's center cross draped in a royal purple sash. On Saturday we will sew the upper room with its lights still on, representing the disciples staying awake as they waited for the promise of their Savior. On Sunday, we will sew the joy of Easter: the open tomb. The stone has been rolled away, and the white burial shroud sits atop where Jesus once lay.

The quilt blocks come in three sizes: 8×8, 10×10, and 12×12 meaning you can choose whichever size you'd like to work with. You can also make just a few of the blocks if creating the entire quilt doesn't fit for you as shown below. Like our Jesse Tree quilt, each of the blocks in this quilt come with a devotional to help center our hearts as we sew that day's block.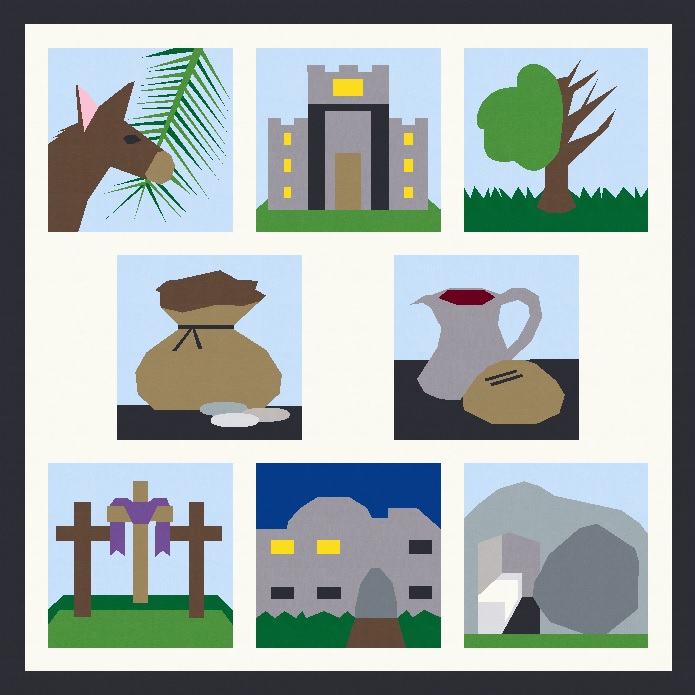 Shown in the first image, at the top of the page, is the quilt mocked up in prints, while the image directly above shows the quilt mocked up in solids as does the image below (my quilt top). This will give you an idea – as you select your fabrics – of whether you want to go with solids or prints (or maybe even a mix of both). Just like the Jesse Tree quilt, I made my Holy Week quilt in Kona Solids. Here is the fabric pack I purchased to make this quilt…and I added in a few extra shades of gray.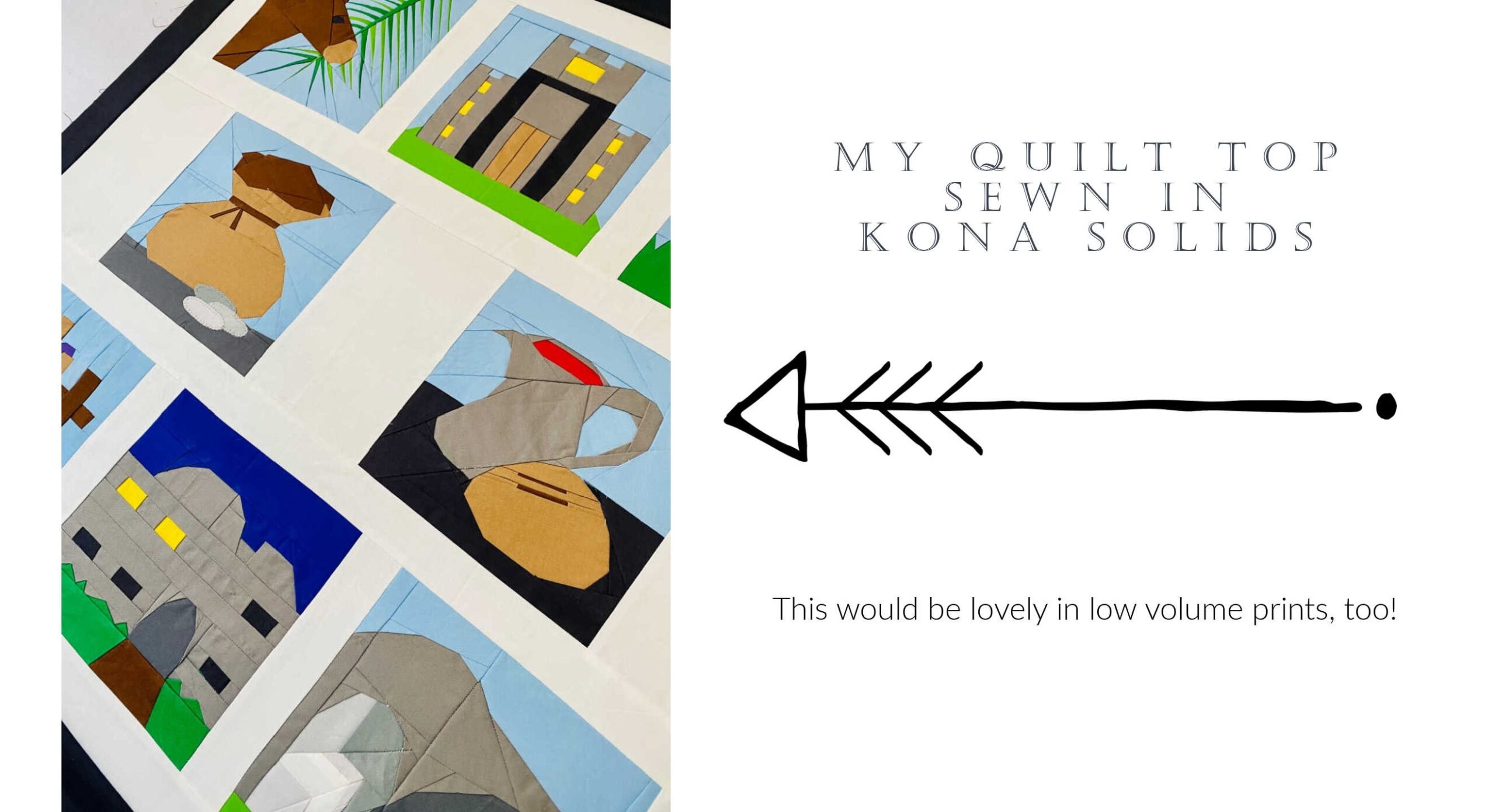 Upon purchase, you'll immediately have access to all nine pattern files:
0: Quilt Piecing and Fabric Requirements
1: Palm Sunday Quilt Block Pattern
2: Holy Monday Temple Quilt Block Pattern
3: Holy Tuesday Fig Tree Quilt Block Pattern
4: Spy Wednesday Coin Bag Quilt Block Pattern
5: Holy Thursday Last Supper Quilt Block Pattern
6: Good Friday Three Crosses Quilt Block Pattern
7: Holy Saturday Jerusalem Quilt Block Pattern
8: Easter Sunday Empty Tomb Quilt Block Pattern

I also am *so* excited to share that we have another book in our Patchwork Devotionals for Quilters series released that connects to this quilt pattern. Patchwork of Salvation is a Holy Week devotional focused on the eight days from Palm Sunday to Easter Sunday, following Jesus from his entrance into Jerusalem through his glorious resurrection. Each of the eight days in the devotional include a scripture reading, devotion, and reflection space that connect to that day's theme. There are even a few recipes included! Separate pages have been included to record your notes, and thought provoking questions accompany each day's reflection. Beautifully designed quilt blocks, tying directly to that days reading, create gorgeous imagery throughout this stunning book. This devotional makes a meaningful gift for yourself during the Lenten season, and can be completed either individually or as part of your quilting guild or sewing community.

(Visited 3,286 times, 5 visits today)