It's been a week, hasn't it? I was talking with some girlfriends in my bible study…last Thursday was a normal day. We went to the study, the kids played together outside afterwards, we did a bit of grocery shopping. This Thursday – just *one week later* – schools are cancelled, businesses shut down, and our state is on lock down. It's still kind of hard to process.
It's hard not to worry about it. Both my husband and I are self-employed, so it means big changes for our family right now. I'm thankful we've built up a savings for unexpected times like this, but it's still so easy to fall into the worry trap, you know?
So, we're following the advice of Padre Pio. Pray. Hope. Don't Worry.
That's the theme of our bundle, in fact. Each of the 23 items is included to help you do just that, and each requires little to no work to use. I've already read through the "Anxious Kids, Troubled Heart: A Practical Guide to Soothing Childhood Anxiety" as we talk through the changes we're experiencing with our son. I've picked up some great tips from the "Healthy Immune System Guide" that I've started within our home. We had a lot of fun playing the games in the "Family Dinner Kit" – a much needed break from talking about school and news!

Here's a look into everything included in the bundle…it also includes the new Lent & Easter table runner pattern.
Before you go through the list below, I wanted to share something: normally, our bundles are priced at $25. That's already a massive discount off the normal price for 20+ resources from moms like you. But in this time of quarantine and trial, we'd like to offer some extra help. If the regular price is out of reach, feel free to pick a price you're comfortable with. That's right – you choose a different price if you could use some help during this time. Whatever you choose to do, know that you are helping my family, and the other 22 women in this bundle, support theirs. We are all in this together!

Here's what's included in this bundle (click here to purchase):
At-home Stations of the Cross and coloring with "36 Lenten Coloring Pages & more" from Catholic Paper Goods
Adoration prayer journaling with "A Visit With Jesus" from Someday Saints
Sooth childhood anxiety through "Anxious Kids; Troubled Hearts: A Practical Guide to Soothing Childhood Anxiety" by Ginny of Not So Formulaic
Inspirational coloring pages from "Be Yourself Journal Coloring Pages" by Prayer Wine Chocolate
Crafting with the Catechism with "CATHLETICS for Cooped-Up Catholics" by ArmaDei
Catholic coloring pages featuring the Saints from Trendzilly
Guide to Catholic kids' media with the "Catholic Kids Shows Cheat Sheet" by Catholic Mom Vibes
Catholic kids' coloring pages with "Catholic Priest Coloring Pages" from The Kennedy Adventures
Navigate times of transition with "Change with the Psalms: A Seven Day Workbook for Addressing Change in Our Lives" from A Beautiful Camouflaged Mess
Growth mindset for businesses with "Christian Business Affirmations" from Valor Blogging
Immune system fundamentals with "Healthy Immune System Guide" by Catholic Fit Moms for Life
Homeschool Helpline group coaching with Terri Hedrick of Homeschool in Florida
Stay faithful on social media with the "How To Be a Good Catholic on Social Media" eCourse from Catholics Online
Make money from home with "How To Get Started As A Virtual Assistant" by FDS Creatives
Liturgical quilting for beginners with "Lent/Easter Reversible Table Runner" from Faith and Fabric
Embroider your faith with "Marian Cross Embroidery Pattern" by Happy Nest Home Goods
Study the world from home with "Montessori Geography Bundle" from Elevator to Heaven
Connect with the faith of the martyrs through "North American Martyrs Kids' Activity Book" by Bonnie of The Koala Mom
Abandonment to God's Will with "Prayers of Surrender Printable Pack" by Kendra from Catholic All Year
Family dinner prayers & fun with "Printable Family Dinner Kit" from HailMarry
Household planning pages from Books Faith Life
Connect with conversations through "The Question Jar: Cultivating Connections in Catholic Families" by Alicia of Sweeping Up Joy
Reminders of God's mercy in "Words of Mercy Coloring Book" by Prints of Mercy
If you have any questions on the bundle, don't hesitate to reach out. The sale ends March 27th at midnight…and there's a 30-day guarantee if you have any problems.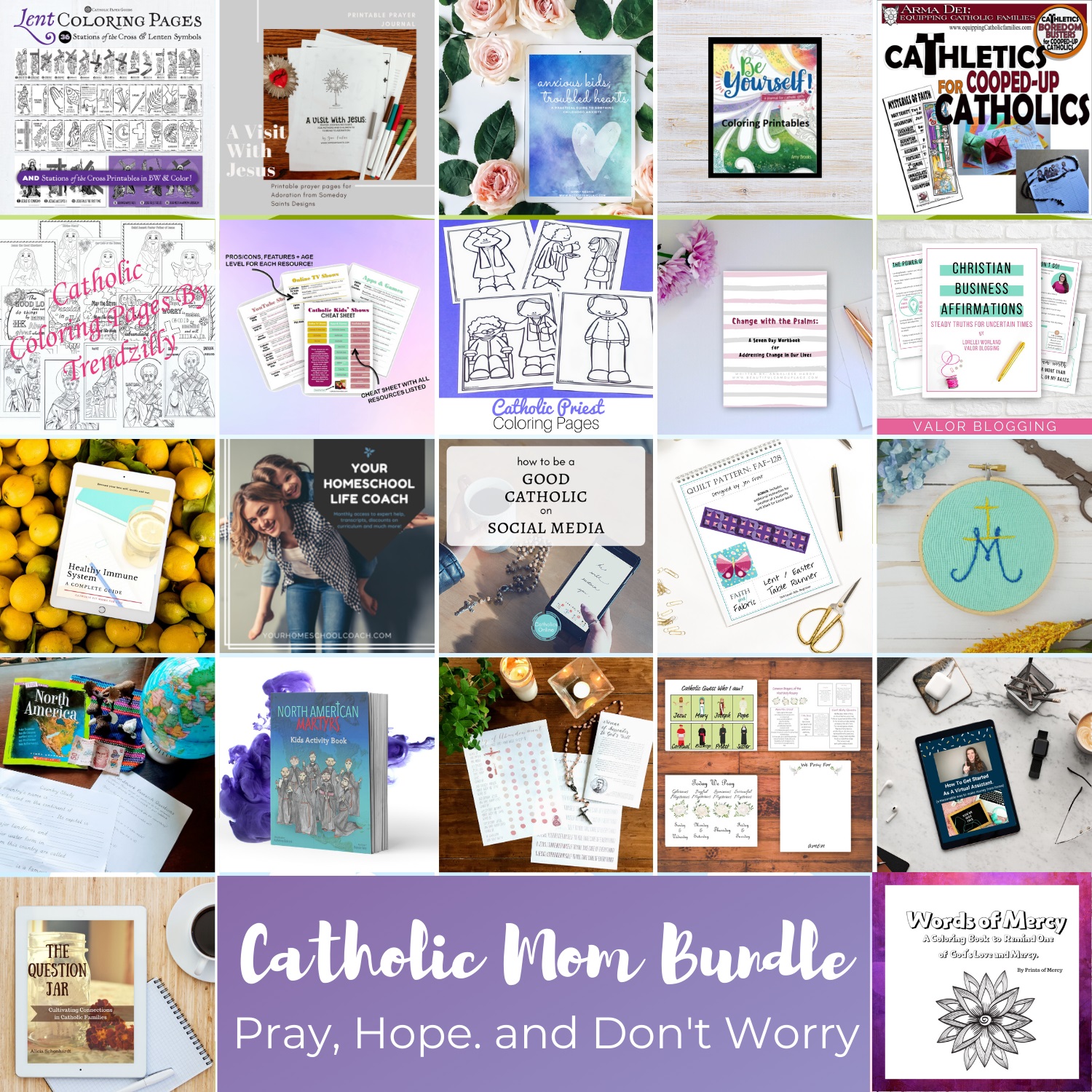 (Visited 674 times, 1 visits today)