Hi there, and welcome to TGIFF at Faith and Fabric! My name is Jen, and I'm a work-from-home quilter in addition to being mom to the most special little man and wife to a seriously awesome guy. We live in San Diego, and are enjoying the last few days of coastal fog before the summer sun sets in. Speaking of summer – let's talk winter. Christmas, that is – after all, my share today is Christmas in July!
As a quilter and pattern designer, one of the most common questions I get is: "Can you make a quilt for me to buy?" For me, creating quilts has always been such a personal endeavor; I've made quilts as gifts, but not to sell. This time, though, I wanted to make a special Advent & Christmas quilt from some pieces I had created as "extras" (you know, just in case?) for the Silent Night quilt pattern I designed a few years ago. Yep, you read that right – I still had extra applique in my studio two years later. It was time to do something with them.
So, I created this table runner for my shop! It's a double sided runner, making it perfect for both the Advent and Christmas season. It measures 17"x31", making it nice both as table runner or as a wall hanging.
On the Advent side, rich angled piecing comes together in the purple and rose phentermine online tones of the season. The violets dominate the color scheme, while pops of rose add vibrant reminders of joy. As this would read more as the "back" of the quilt based on the actual quilting I wanted to do, I purposely strip pieced on the angle so that any horizontal and vertical lines from the front quilting wouldn't compete with strips going in the same direction on the back. I also varied the width of each strip to add visual interest.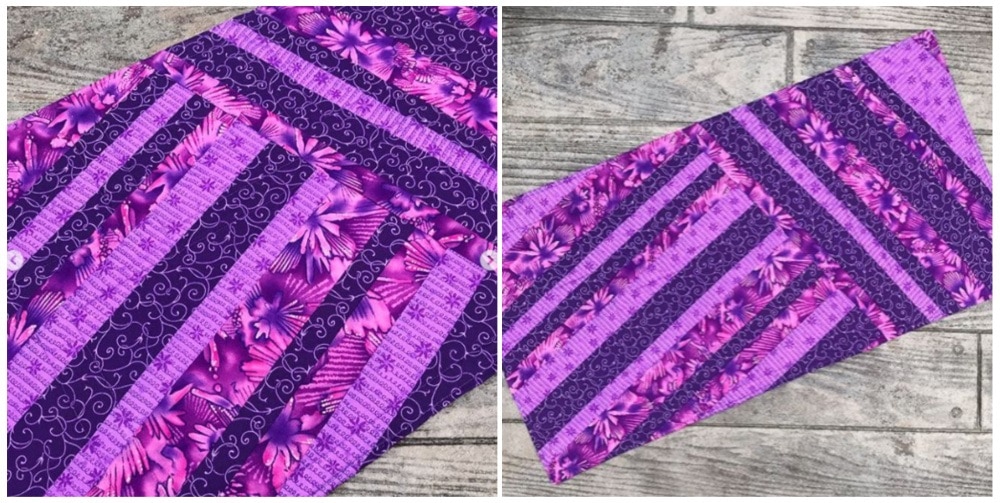 Come Christmas morning, flip the runner over and experience the joy of Christmas day! Each of the frames were designed to capture the first Christmas morning. Shepherds stand in the field, with the angel above bringing them the Good News. The Star of Bethlehem rises above the manger, where Joseph and Mary sit before their new child. The three wise men walk, following the star ? as they, too, bring gifts for the newborn king.
Overall, I ended up using over 40 thread and fabric colors in this quilt! My favorite thread, though, is the gold: gold thread in the stars, angel's trumpet, and gifts of the wise men adds a twinkle and sparkle to the quilt making it all the more special.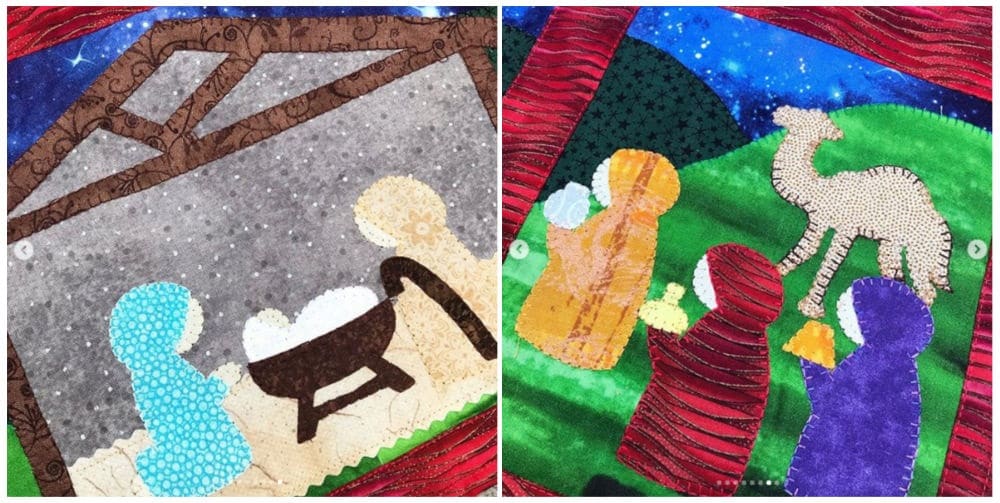 So, on to you! What have you been finishing this week?
You are invited to the Inlinkz link party!
(Visited 451 times, 3 visits today)