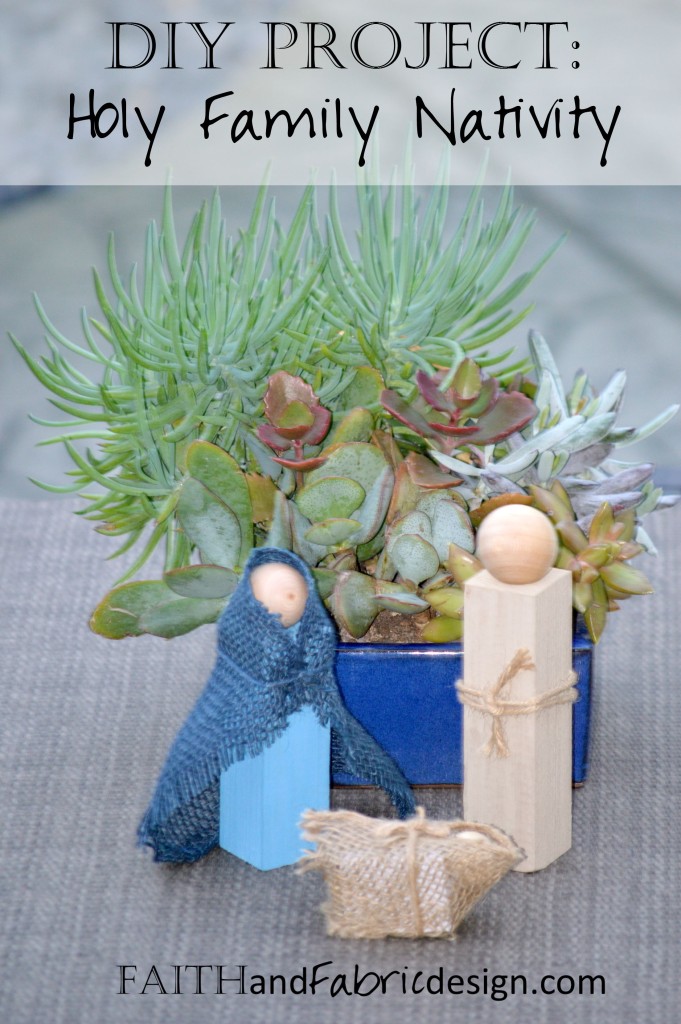 Sometimes, a scrap of wood is so much more than just a scrap. Our back yard has a ton of scrap wood – with a general contractor for a husband (and a great one at that), pieces of 2×2, 2×4, and 4×4 wood fill bins on the side of our house. It's a bit of a wood graveyard and, while the scraps come in great as kindling in our fire pit, I was so excited to come up with a fun way to use some of those 2x2s in the creation of our new Holy Family craft! I really wanted a rustic, abstract look, so I didn't sand the wood, used rough burlap over soft fabric, and didn't paint the wooden knobs (heads). Love the way they turned out!
This Nativity scene works wonderful for Advent with its simple reminder of what's to come…and it makes an even better gift. Cut a few extra pieces of wood, and use the extra burlap, twine, and knobs for a no-cost present – it will be one your friends and family will love!
WHAT YOU NEED
HOW TO MAKE
Prep the materials as noted in the list above
Paint each of the 2×2 pieces: Joseph in tan, Mary in blue, and Baby Jesus in gray
Wait for the paint to dry. Fun stuff, I know.
JOSEPH: stand the "body" of Joseph up. Glue the largest knob onto the top, right in the center. Tie the twine around the center, where his waist would be.
MARY: stand the "body" of Mary up. Glue the medium knob onto the top, right in the center. Wrap the blue burlap around her like a cloak. I found it easiest to do this by first folding the burlap in half, and laying it over her head, then sliding it back just a bit and tying it off. Play around until it lays the way you like. Tie the twine towards the top…think  A-line dress here.
JESUS: stand the "body" of Baby Jesus up. Glue the smallest knob onto the top, towards the front of the body. Wrap the brown burlap around Baby Jesus, again centering it at the top and adjusting it until you find a position you like. Tie the twine around the center.
Enjoy your beautiful and unique nativity!

(Visited 1,979 times, 4 visits today)