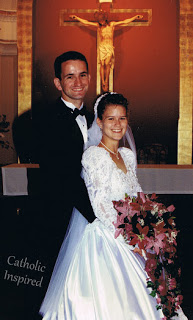 My husband and I will be married for 16 years this fall. I married young. I was 20 years old, while Jon, my husband, was the ripe old age of 25. (I like to say "old" just because he was 5 years older and had some patches of gray hair at the time.) Financially, we were not doing well. Being so young I had very little money saved and Jon had college bills to pay. So when it came time to have a wedding we had a very simple ceremony. We almost decided to skip a honeymoon since we thought it might be better to save the money for more needed things. In the end, after some encouraging words from friends and relatives, we did decide to go on a cheap, two day honeymoon to a local beach. The trip was great, but the thing I remember most about our two day honeymoon was sitting with my new husband and drinking a cup of tea. Even the thought of our cordial little tea time brings a smile to my face.
Shortly after we were married we became pregnant. In the past 16 years we had 9 healthy children, plus three in heaven. Since our family was growing by one child every 20 months or less, my husband and I rarely had alone time. Our quality time was short and date nights were very rare, but I never felt unloved or unappreciated.
My husband and I made it a point to spend a little time each day with one another. We had "dates" every night!
Our nightly dates started out as "tea time". We always sat and had a cup of tea together after the kids were in bed. During the summer we would sit outside on our patio with a lit candle. It was so sweet and cozy. Sometimes we would take a walk around the yard. In the winter we would play cards while drinking our tea. Unfortunately, some days were just too busy to even take those few minutes, so we had our tea while we folded laundry, washed and dried dishes, or while I prepared food or school work for the next day. (We homeschool, too.)
My husband and I found those few minutes of talk time to be the most important thing to keep our marriage happy and healthy! It helped us to understand how the other one was feeling and where we needed to focus our attention around the house. It helped us to know which of our children needed more one-on-one time or extra help. It gave us a better understanding of one another. Our daily dates are like our honeymoon: cheap and short. But it's not how much you spend, or where you go that matters. It's the person you are with and the conversation which makes the difference.
~~~~~~~~~~~~~~~~~~~~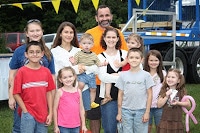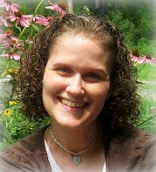 Jennifer M. Lawrence is a Catholic, God fearing woman who enjoys using her God-given talents to create faith-centered arts and crafts.
She has been happily married to her best friend for over 15 years. Together, she and her husband have 9 children (ages 14- 2), whom they home-educated in PA. Jennifer blogs at: www.catholicinspired.com .
~~~~~~~~~~~~~~~~~~~~
Return to Hot Summer Nights
(Visited 236 times, 1 visits today)