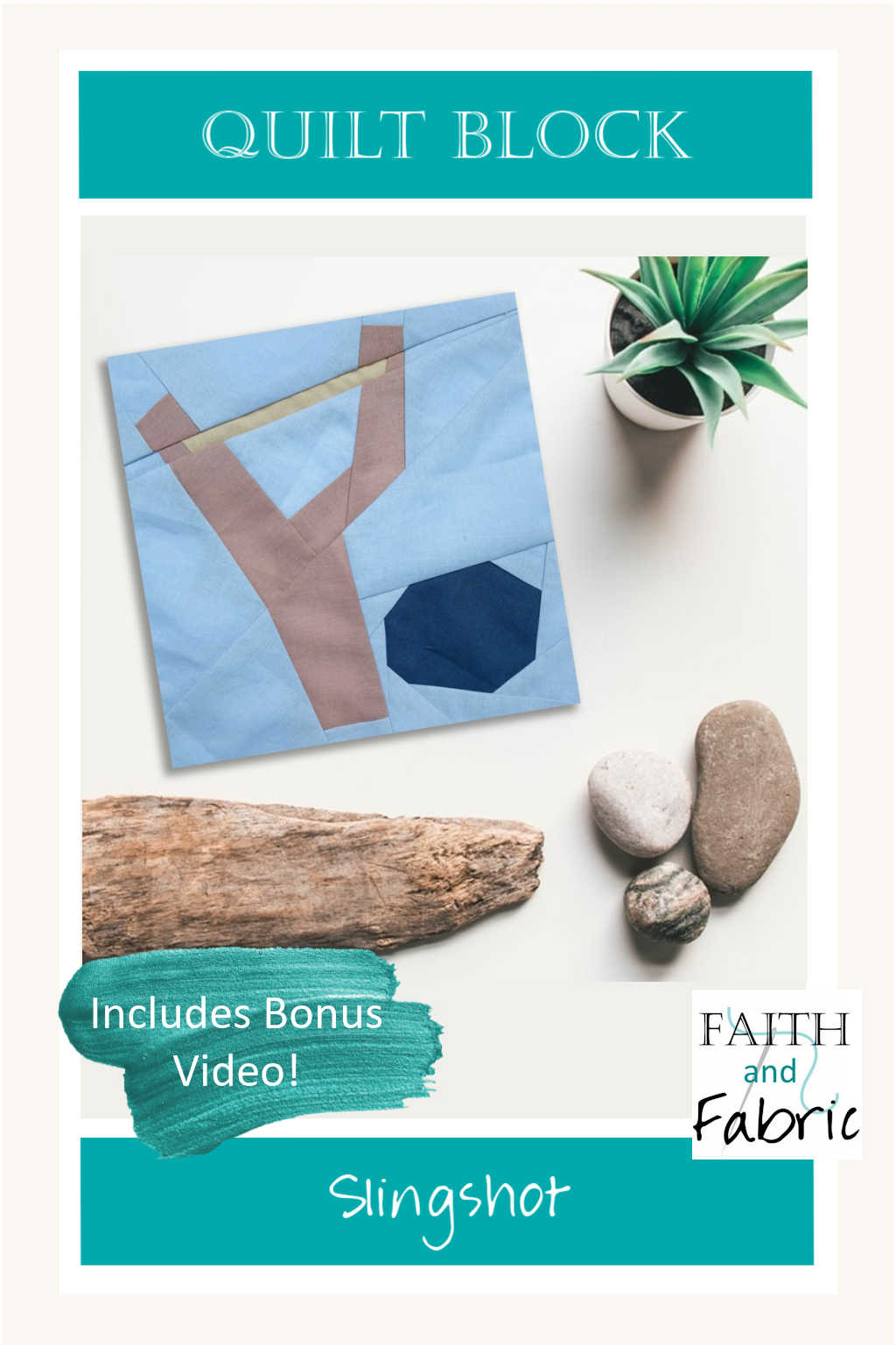 Welcome to Quilt Block Mania, and welcome to Faith and Fabric! I'm Jen, and here you'll find Christian-inspired quilt patterns, quilt bocks, and fabrics. If you're new here, I invite you to stick around for a bit, or even learn a little more about Faith and Fabric here.
This month's block is themed "toys", which seems very fitting with Christmas just around the corner. I thought I'd share one of the blocks in our Jesse Tree quilt with you: the slingshot! While this block is intended to represent David and Goliath, it fits great with this month's theme of toys. My son and his little buddies are huge NERF fans, and love making their own slingshots from rubber bands, sticks, and rocks in the back yard and then using both their NERF and homemade sling shots to knock over empty cans.
As mentioned, this block is one of the blocks in our Jesse Tree quilt pattern; how beautiful does it look with all the other blocks surrounding it, sharing our salvation story? Do you see it in the bottom right corner, just next to the stump of Jesse?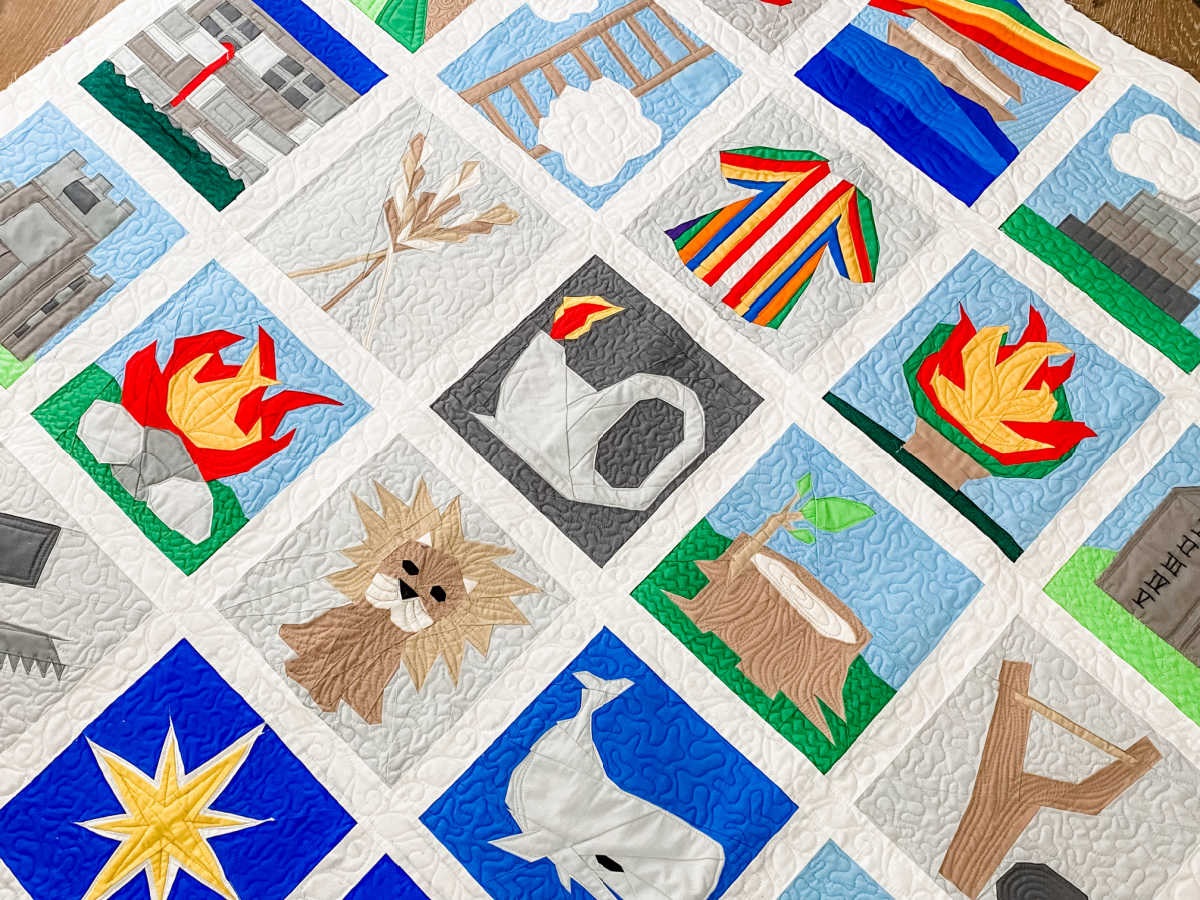 We've just started a quilt along for this gorgeous quilt, and are making one block per day for each day of Advent. If you'd like to join in, you are *more* than invited…you'll be automatically registered for the QAL once you purchase the full Jesse Tree quilt pattern here.
In the mean time, here are some other fun toys designed by other talented quilters:
Puzzle Cube Quilt Block by Carolina Moore
Swirlybirds by Scrapdash
Rocking Horse by Appliques Quilts and More
Old-fashioned toy by Blockofthemo.com
Wooden Toy Blocks by Penny Spool Quilts
Xylophone by QuiltFabrication
Stacked Rings at Patti's Patchwork
Toy Truck at Blue Bear Quilts
Bullseye at Pretty Piney Quilts
Toy Plane by Mom and Me Quilting Co
Nutcracker by Inquiring Quilter
Water Colors at Perkins Dry Goods
How to Theread a Book by Craft Towards Joy
Sling Shot by Faith and Fabric <– you're already here 🙂
Candyland at EvaPaige Quilt Designs
Shape Sorter Block at Patchwork Breeze
Colorku at Love to Color My World
Toy Wagon by Cristy Fincher
Baboushka dolls by Duck Creek Mountain Quilting
Baseball by Masterpiece Quilting
This block comes together so quickly, and depending on whether you use solids or prints you can easily change the look of the block. I have to admit, while I love the solids (after all, that's what I used in the quilt), I'm ready to try out making it with prints!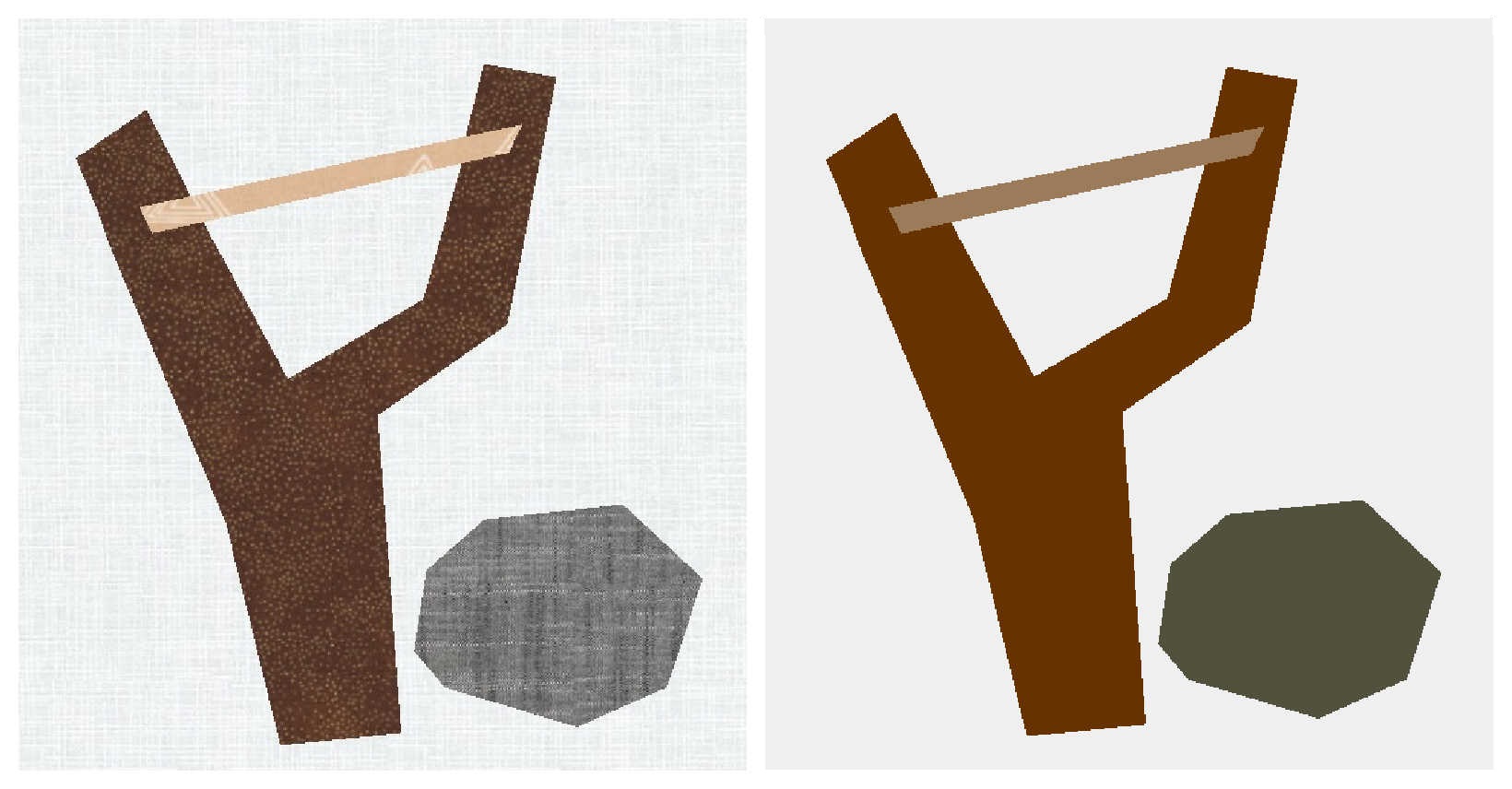 Have you been following along our weekly free motion tutorials? Here's all the free motion designs we've done so far. The wood grain technique we worked on a few weeks ago would be perfect for quilting into the stick!
This block is free this month as part of Quilt Mania, and is also part of our Scripture Quilts™ patterns that are available in the shop. Until then, you can download this block for free by signing up below. Please note that the block will be auto-sent to you, so be sure to check your spam folder and mark it as "not spam" to ensure delivery.
This bock is foundation paper pieced, so if it's been a while since you've foundation paper pieced, no problem! Here's a quick tutorial on how to foundation paper piece. It uses the Easter Chicks quilt block, but the process is 100% the same:
One of my latest obsessions is to turn my quilt blocks into pillows! This sling shot quilt block pattern would make a fun pillow for a child's room, don't you think ? Using some of the extra fabric you have on hand, you can add some sashing and have a great envelope pillow that you can use in your next pillow fight 🙂
Like many of our quilt blocks, this block is foundation paper pieced and the pattern includes three sizes: 8″x8″, 10″x10″, and 12″x12″ as well as a coloring sheet. Your free pattern is for the 12″x12″ size. Pick up your quilt block before month end at which point it will become $3 per pattern, same as all our quilt blocks. Happy sewing, and may we always love each other!
(Visited 940 times, 4 visits today)