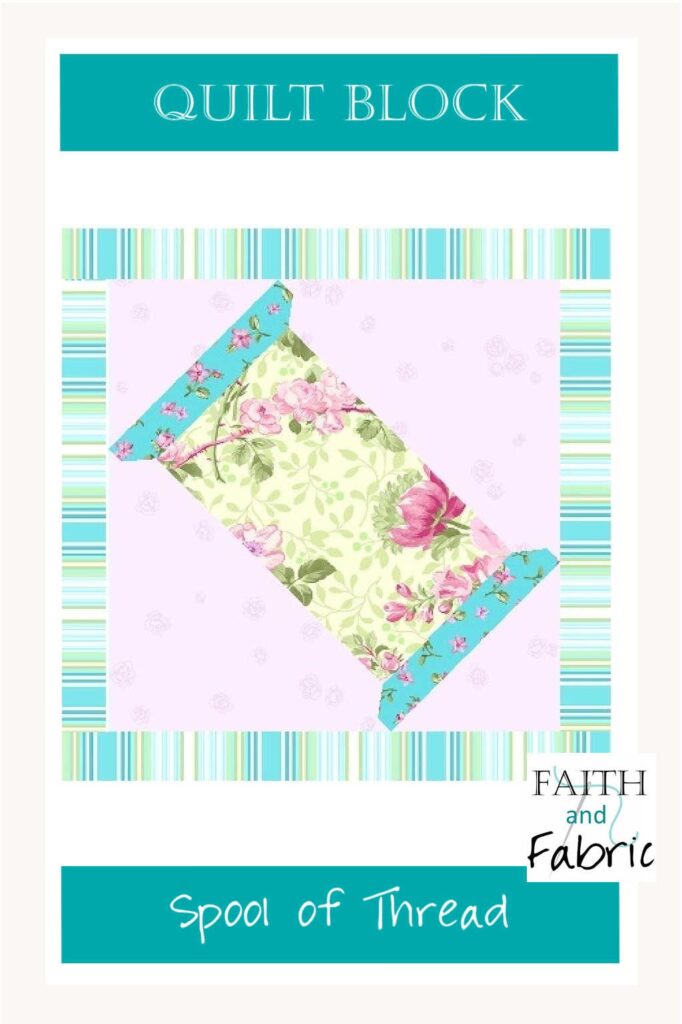 Are you ready for another fun Quilt Around the Block Tour? Last year we quilted our way through all 50 United States (I was Pennsylvania), and we had such fun that we all thought we'd get together and do it again this year! This year's theme is Sew Much Fun, which means we'll be quilting 6″x6″ blocks that are all sewing themed. Last week was the first week of the quilt along, and was hosted by Kathryn LeBlanc of both Dragonfly's Quilt Shop and Block of the Month...you can pick up her block here if you haven't already, but be sure to register at the main Quilt Around the Block Tour page so you don't miss a thing!

Onto Week 2 – this week's block, as shown above, is a spool of thread! Now you all know I LOVE foundation paper piecing, so this block is FPP'd. I did make a version that was rotary cut for a recent spool-themed pattern, shown below, but thought we could all use this quilt along as a chance to brush up on our skills. Since the majority of blocks are traditional pieced, I wanted to do something different 🙂 Thus…the FPP.
What I love about this simple quilt block is that it's a great scrap buster. You can make so many randomly colored little spools of thread, each with it's own feel just by digging in your scrap drawer! I wanted to go a little less scrappy on mine, but still have that scrappy feel. So, I went with the beautiful fabric line called Rose Whispers from Eleanor Burns for Benartex. I feel like this fabric has the perfect mix of those lovely vintage prints mixed with a touch of modern, don't you? I especially like the stripes included in the line she designed…stripes are always my favorite border trim.

If you're new to foundation paper piecing, or just need a refresher, no problem! I've prepared an in-depth video taking you through all the basics…and even an advanced tip or three thrown into the mix:
Ready to download your simple spool of thread block? Great! To pick up a basic copy of the FPP pieces, as well as how to assemble them, enter your information below and you'll automatically be sent the "mini pattern". I'm calling this a "mini pattern" as it's just the basics for making the block as shown above, as opposed to our full pattern as shown below which includes two ways to make: both templates for rotary cutting *and* FPP instructions! The full pattern also includes the secondary pattern for each block, fabric requirements, border, ideas for layout, coloring pages, and more!

I look forward to seeing how your block turns out, so be sure to tag me @faithandfabric on both Facebook and Instagram! Also, be sure to head over to my friends Laura P (Slice of Pi Quilts) and Laura S (Orange Blossom Quilts) for weeks 3 and 4, as well as to Limeleaf Designs for Week 5. It's going to be a fun year! (Remember, those links won't work until it's their week.)

(Visited 2,819 times, 27 visits today)