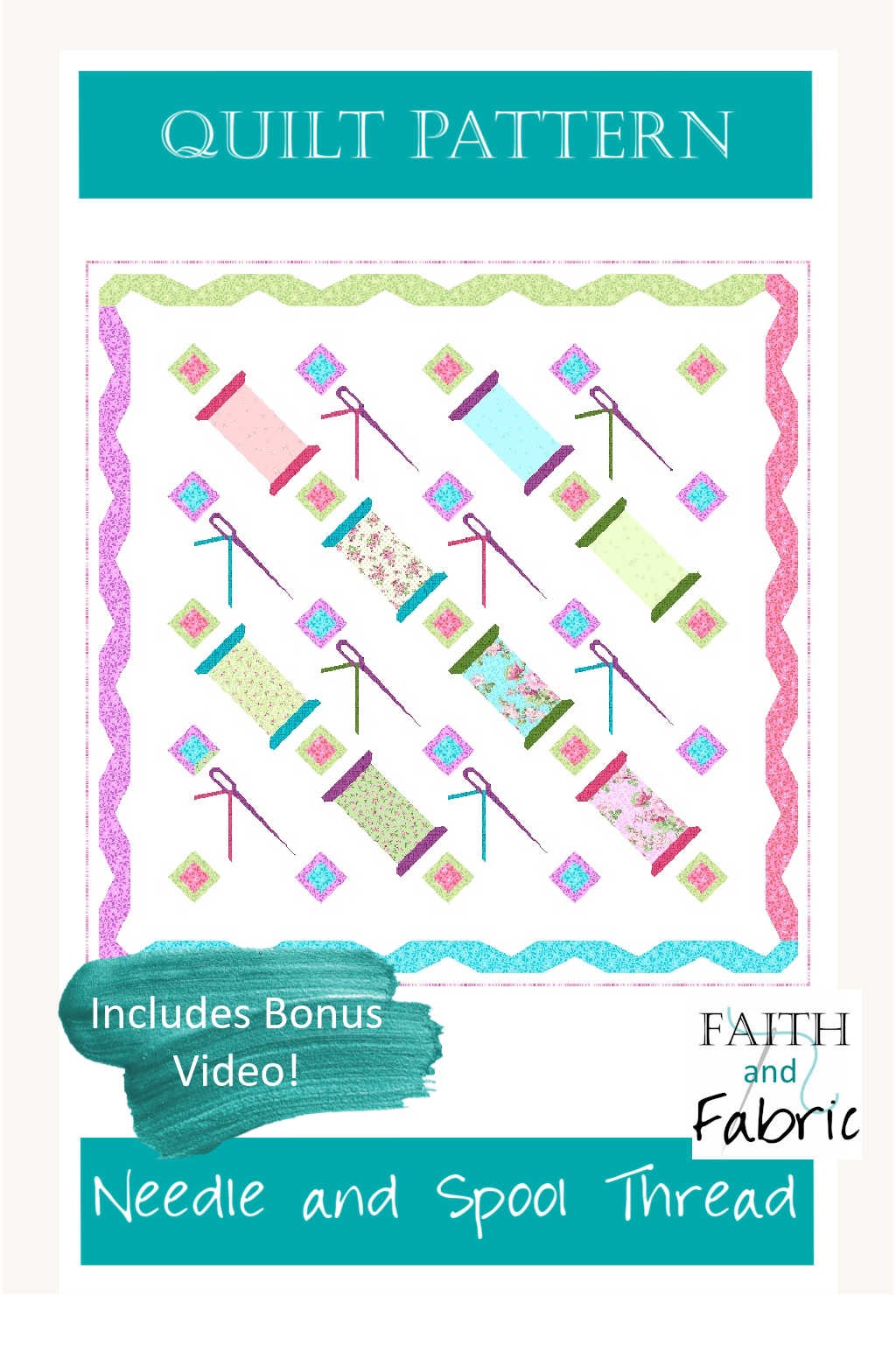 Show your love of thread with this beautiful needle and spool of thread quilt! Designed to specifically highlight your gorgeous fabric collection, each of the spools of thread, as well as the border and backgrounds, leave ample space to let your fabric shine through.
This two-designs-in-one needle + spool of thread quilt pattern is foundation paper pieced…but don't let that scare you. The spool of thread block provides you with TWO different ways to create your quilt: either use the Set A Templates to cut your fabric and then sew, or use the Set B Foundation Paper Pieces to create the blocks. Either way, it's up to you! Both spool of thread sets can be intermingled, so if you start with the templates, and decide to switch it up half way through, no problem! The flexibility is there for you. The needle block is FPP only, due to the more intricate design.
The gorgeous fabrics that inspired this quilt are from the Rose Whispers line, designed by Eleanor Burns for Benartex.

Simple color changes, as shown below, completely change the look and feel of this quilt! The first photo shows just the spool of thread block, while the second image below shows the quilt made with a combo of the two blocks. Love!

Make it ultra scrappy, and let those gorgeous fabrics shine by randomizing the placement of each of your prints.
Show your true love of thread by orienting the blocks so that you create X's and O's within your quilt!
Make it an organized scrappy quilt by repeating colorways on the border and within the diamonds. Use darker jewel tones on the spools and keep the "thread" as the only randomized portion of the quilt.

Each of the quilts finishes at 36″x36″. If you prefer to make your blocks larger, you can always print out either the templates or the foundation paper pieces at a larger size, and make a lovely runner of the spools of thread of thread. How lovely is this runner, made with those same gorgeous Rose Whispers fabrics?

Here's a simple runner highlighting, instead, the needle and thread block. Again, I love these fabrics as the background accent pieces! Striped borders are my favorite, too.

Ready to make your very own quilt? Great! If you plan to foundation paper piece your spools of thread quilt, but it's been a while since you've used this technique, no problem! I've prepared a how-to video for you to take you through the basics of FPP:
As mentioned, this quilt (as designed) finishes at 36″x36″. The pattern includes BOTH templates (for the spools of thread block) as well as foundation paper pieced (for the spools of thread block + needle and thread block) pattern for creating the quilt top, as well as coloring page for you to test out colors and create your design plus ideas for block placement.

(Visited 1,315 times, 2 visits today)