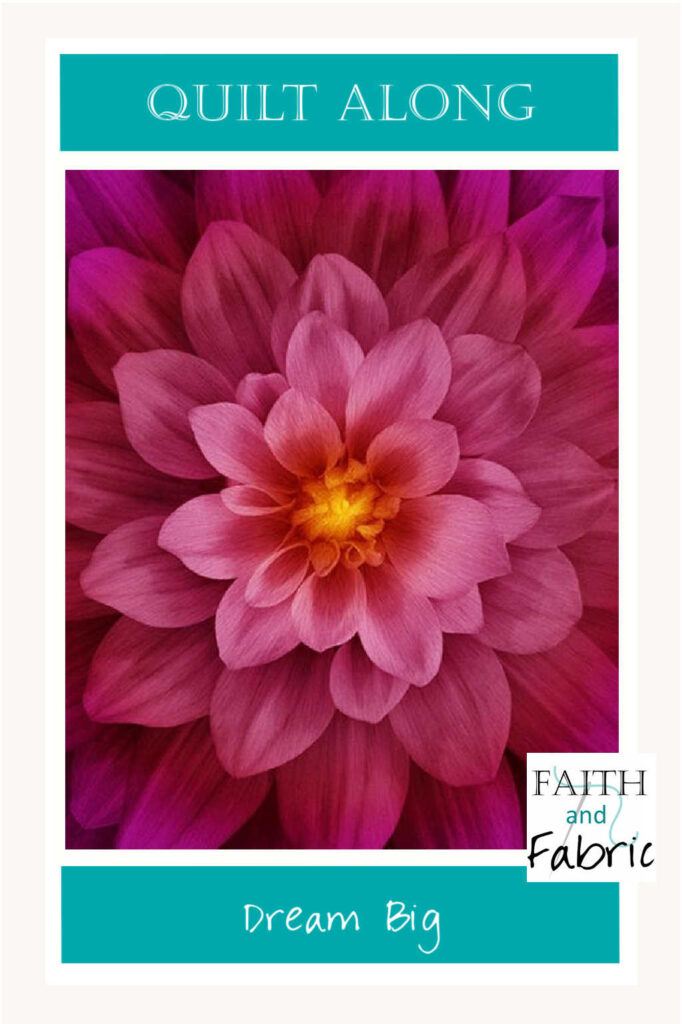 I'm so excited to be a part of the Dream Big Quilt Along (#dreambigqal) being hosted by Shereece of Sew Hooked on Treasures and Mary of Mary Go Round Quilts. This quilt along is different than other quilt alongs you've been part of, because there's no piecing involved. Yep, you heard that right! No piecing at all 🙂 That's because we'll be spending the entire quilt along quilting the gorgeous Dream Big panel from Hoffman Fabrics. Now, if you've been coming around for a while, you'll know that upping my free motion quilting skill was something I really wanted to do this year – which is why we've been having our Free Motion Fridays (almost) every Friday afternoon! It's been great to see all your designs as we practice and learn together. Also, if you haven't checked out the Line Designer for practicing your free motion quilting…you need to as it's a total game changer. You're welcome 🙂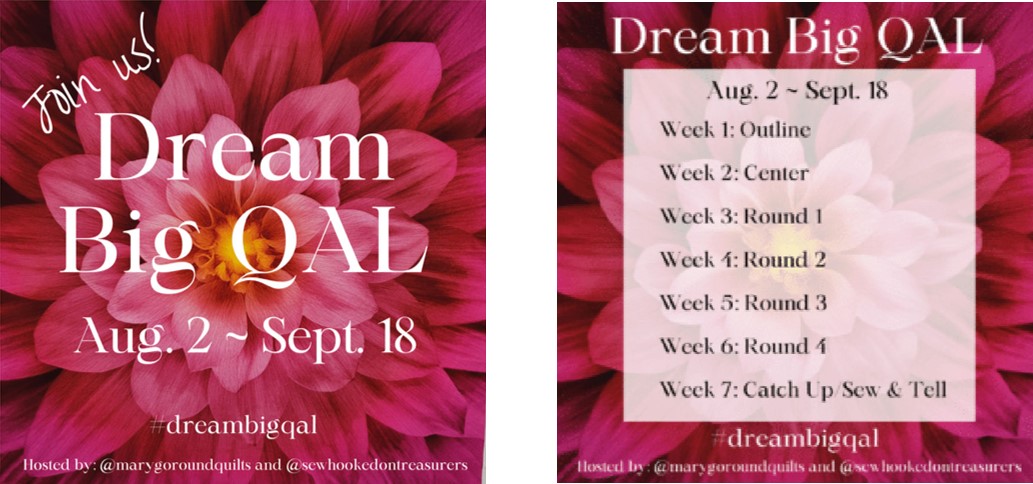 Let's talk a bit more about the quilt along; it's free to join other than purchasing your supplies. The team will be taking you through the full supply list at the start, but you can get a jump on things by picking up your fabric panel from either Amazon or Etsy.  The panel measures roughly 43″x43″, but you can make yours a little larger (and a lot more lovely) by adding a postage-stamp inspired scalloped edge to it! Here's more information on this lovely pattern…but remember, all you'll need for the quilt along is the panel itself.
To register for the quilt along, stop by either Sew Hooked on Treasures or Mary Go Round Quilts to sign up. There's also a great FAQ Q&A found here that helps answer some of the most common questions. So go ahead, pick up your panel off either Amazon or Etsy, and get ready to sew. There are so many colors to choose from that picking *just one* will be the hardest part 😉

How about a few more details?
The panel will be broken down into sections each week. The instructors will guide you through different stitch designs for that section. Feel free to apply the designs in each petal as you choose.
Quilting designs can be applied using a domestic or a long arm machine. Whatever machine you normally use, that's the perfect machine for this QAL. Just make sure you have the proper foot.
You're welcome and encouraged to practice on scrap sandwiches, paper, or any other method you use to learn new designs.
We'll be sharing videos in the upcoming weeks to help you get ready. We'll be covering topics such as: Panel selection, Thread, Batting, Display, Basting
Registered participants will receive an email each week with a link to the video. The links will be unlisted until after the QAL, so you WILL need the email. You'll be able to view them no matter where you're located as long as you have the links. We recommend clicking "Save" on the video in YouTube.
If you can't start the first week, or miss any weeks, previous week's links will be included in the email as well.
There are prizes! Prize Drawing Winner(s) will be randomly chosen each Friday during the QAL from ONLY registered participants who have posted progress photos on Instagram, Shereece's Facebook page and/or Mary's Facebook page. Winner(s) will be notified by email and/or Instagram. You will have 24 hours to reply to claim their prize. International participants are eligible. See the image below for a list of the sponsors who are offering prizes – woohoo!
The time commitment is totally at the discretion of each quilter.
Here's a little video to help you get started with planning out your Free Motion quilting plan. There are so many petals in this quilt that it can be easy to become overwhelmed with what to put where! We'll take a look at a simple strategy, share how to make a quilting key, and more:
I look forward to sewing and dreaming big with you on this journey!

(Visited 1,655 times, 1 visits today)