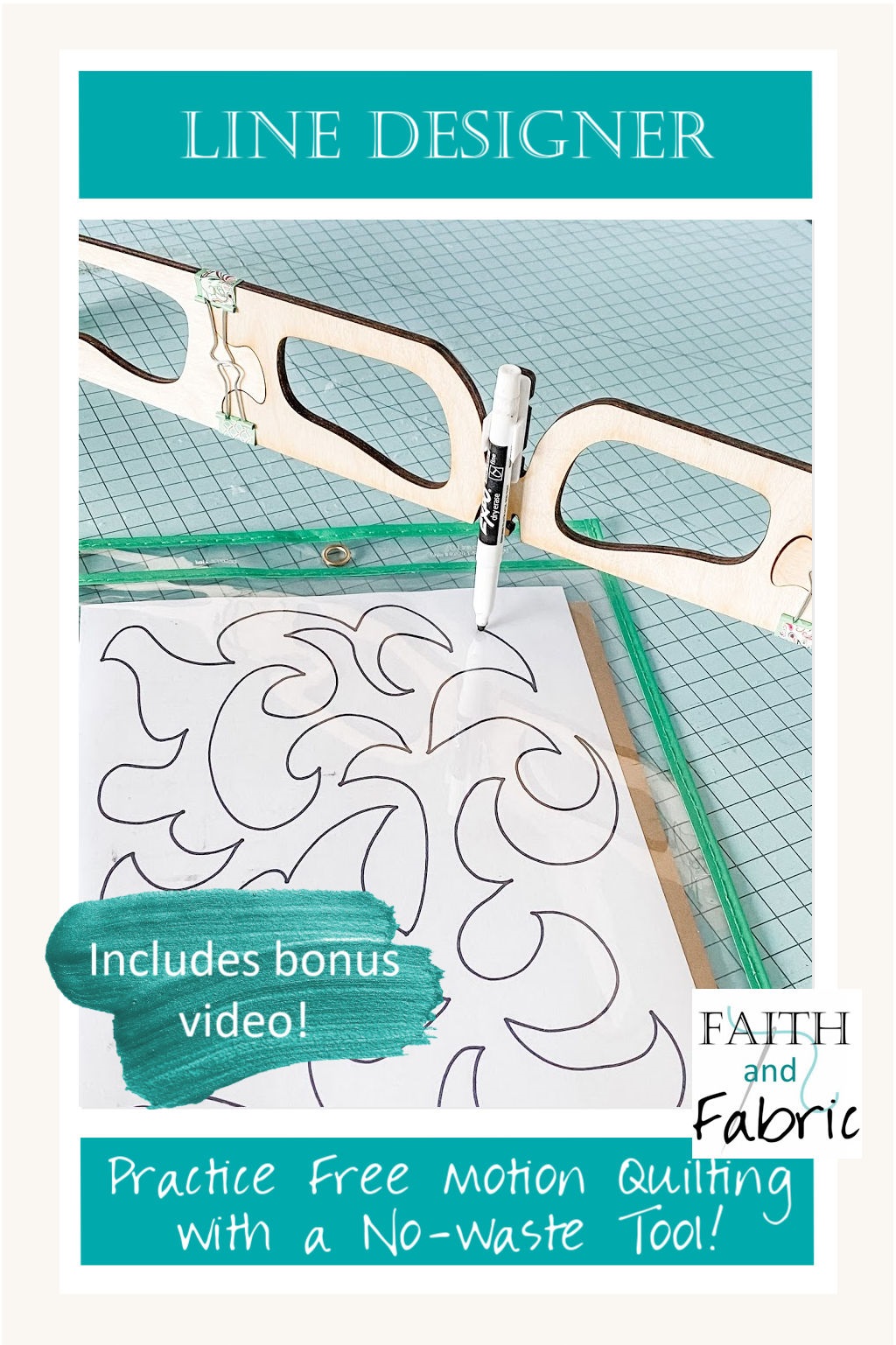 Are you looking for a new way to practice your free motion quilting? Wishing you had a tool to practice anew free motion quilting design before heading to your machine and wasting a practice pad? Look no further – the Line Designer tool is here!
This one-of-a-kind FMQ tool is designed to mimic the same hand placement and movements from your machine when you free motion quilt; a dry erase marker attached to a beautifully carved lightweight wooden frame creates a "needle" as you slide the "fabric" below. The "fabric", in this case, is a heavy duty plastic envelope into which you can slide practice sheets, blank sheets, or even a quilt block as you test out a design. By interchanging your dry-erase markers you can even test out thread colors directly on the block (which is tucked safely into the sleeve of the envelope). When you're not using your Line Designer, it comes fully comes apart taking up virtually *no* space as you can see in the video below. Speaking of video, I'll show you how to use the Line Designer in detail, take a look at two examples as we practice, and even share how you can use a glider mat to make it even more true to feel.
I've been using the Line Designer on the latest #freemotionfriday designs, and it's been *so* helpful to get that muscle memory down! Before, I used to have to waste fabric, batting, and thread; now, with the Line Designer, I'm able to test out a design *on the block* to really get a feel for how it will look. When I'm done, the dry-erase "thread" wipes away clean, ready for the next use.
The complete Line Designer Kit includes:
-beautifully laser cut line design tool
-Marker holder
-clips
-Whiteboard marker
-soft cloth for eraser
-plastic envelope for design making
-graph and plain paper to use in the plastic envelop to support line making
Ready to learn more? Hop over to School of Line Design on Etsy via the link below to pick up this amazing quilting tool!

(Visited 600 times, 6 visits today)