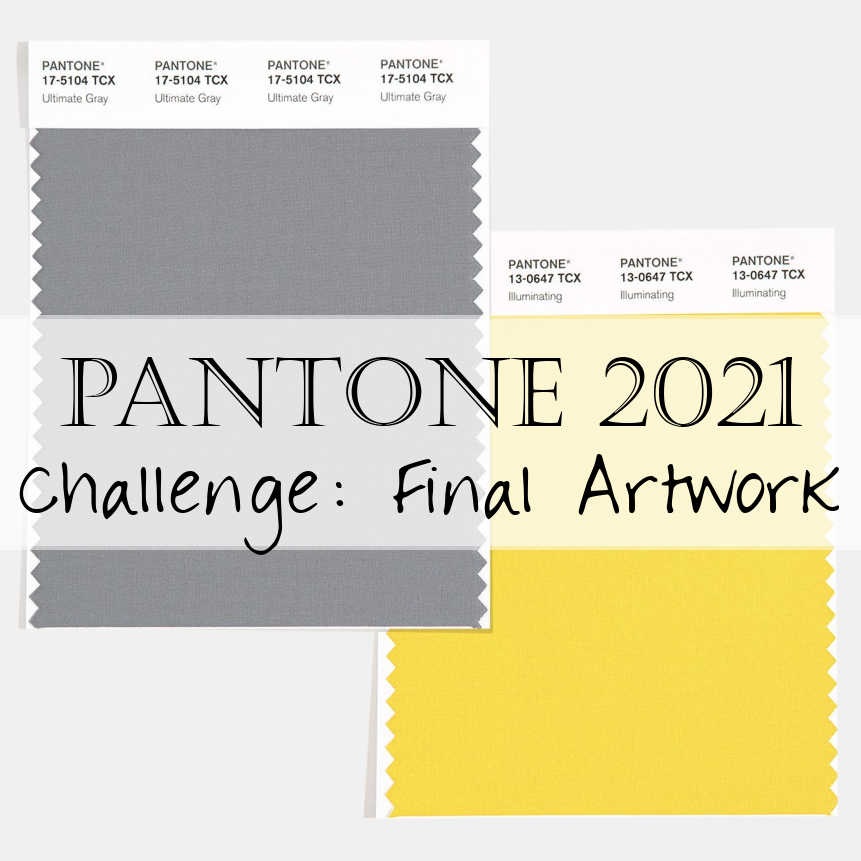 Welcome to the fifth and *FINAL* week of our Pantone 2021 Challenge – it's been amazing to journey this month alongside you as we create beautiful works in this year's Pantone colors!
Like you, I'm so very excited to share my final project with you: a modern baby quilt.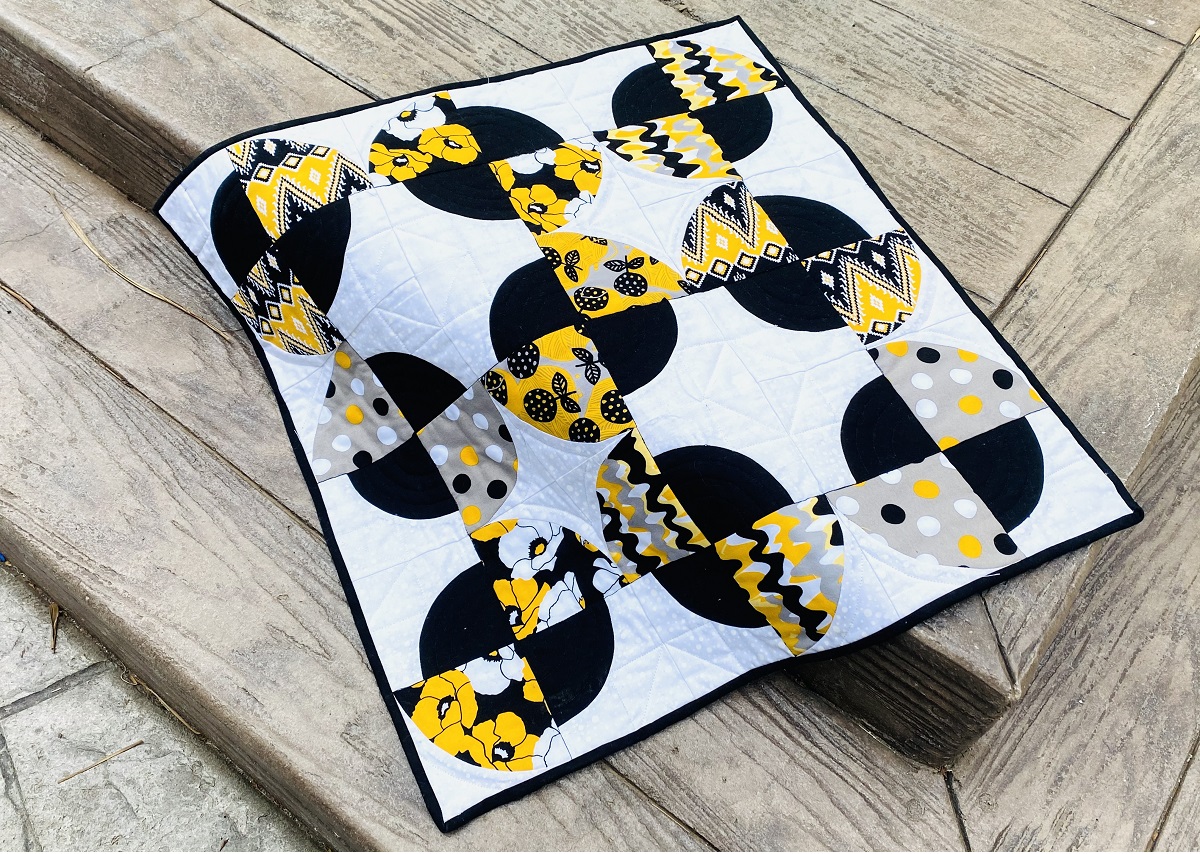 Didn't it turn out so so lovely?!? I love how the black circles sit behind the yellow and gray circles, making it look like they're layered. It reminded me almost of an eclipse with the way one sits in front of the other, doesn't it?
In creating this, I used the five different fabrics in alternating blocks, rotating the directional prints to add more visual interest. I set everything against a white background using a low volume print; the print itself adds just a bit of pop when you look at it, but doesn't detract from the main overall design.
When it came to quilting this quilt, I really wanted to play up the circular shapes. So, I quilted heavy rings into the black fabric to help it physically sit lower on the quilt than the colored fabrics, and added a simple echo/diamond to the colored fabrics to again play off the raised/lowered theme. For the white space in-between, I added additional square and diamond shapes to not only add texture to the quilt but to pick up the diamond shapes that appeared within the main curved blocks.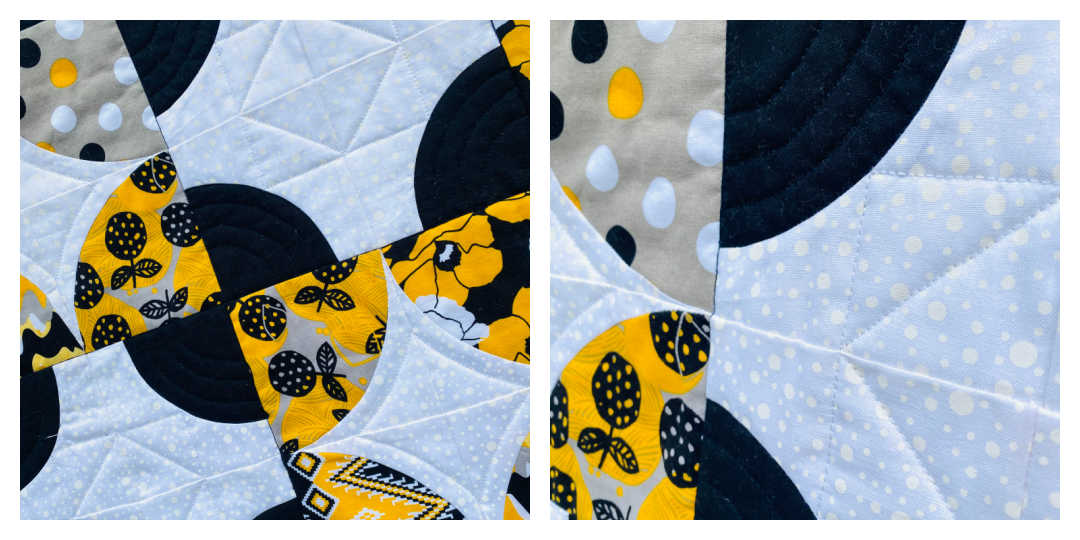 As this is intended to be a baby quilt that will get a lot of use, I wanted to create a back that would have less white knowing it would likely be the side that was on the ground. I used many of the fabrics from the front, and repeated the main block image to give it a sense of cohesion between the two sides. Honestly, I love the back almost as much as the front!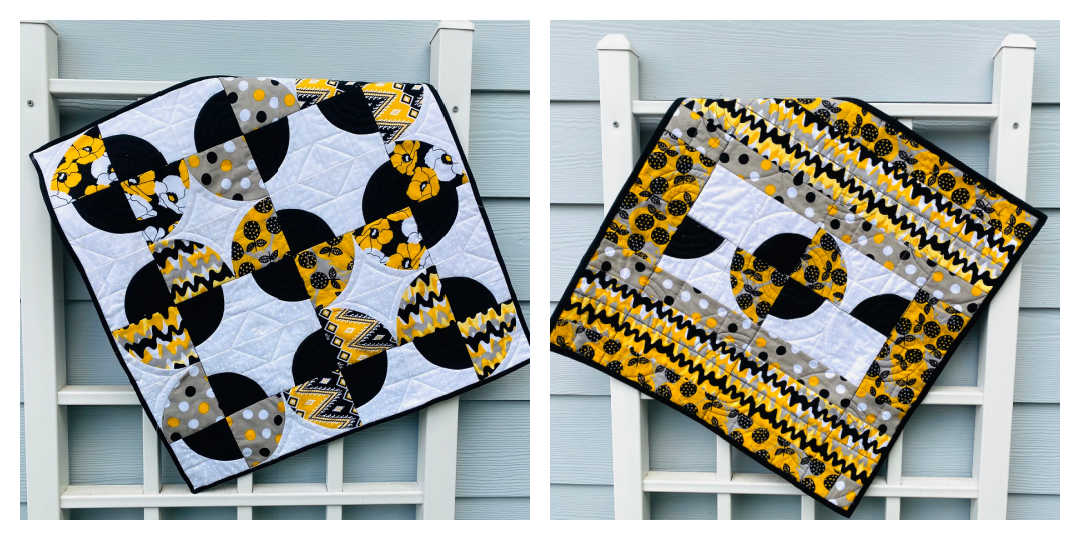 This quilt comes from the pattern Square Dance by Alyce Blyth in her book "Mini Masterpieces: Learn how to Quilt". I love this book, as it breaks down so many common quilting techniques into easy, understandable projects. With each new technique you learn, you'll be completing an entire small quilt – a mini masterpiece! I truly enjoyed making this quilt, practicing (lots and lots) of curves, and look forward to making other projects from her well-designed book again.
Here's a few sneek peeks into just some of the projects in the book; you can scroll through a preview of the book and projects here (and I know you'll want to make them all!). Aren't they each beautiful? With each quilt focusing on a different technique, you'll have – like me – countless opportunities to practice new skills throughout the year…and have a finished project to show for it, too.

…and now it's your turn! I can't wait to see your finished projects as you add them to the linkup below (opens 1/29/21):

You are invited to the Inlinkz link party!
(Visited 485 times, 2 visits today)