One of my favorite parts about quilting is the amazing online network of quilters. Whether you live in the US or AU, it's so easy to stay connected and learn from each other! I'm excited to join up with a lovely quilter from Australia in sharing her book, The Storyteller's Sampler Quilt. This absolutely stunning quilt is made from 363 tiny hexagon blocks, each assembled to look like a Grandmother's Garden quilt. If you look closer at each flower in the garden, though, you'll see that each flower is actually a separate quilt block in and of itself. Adorable!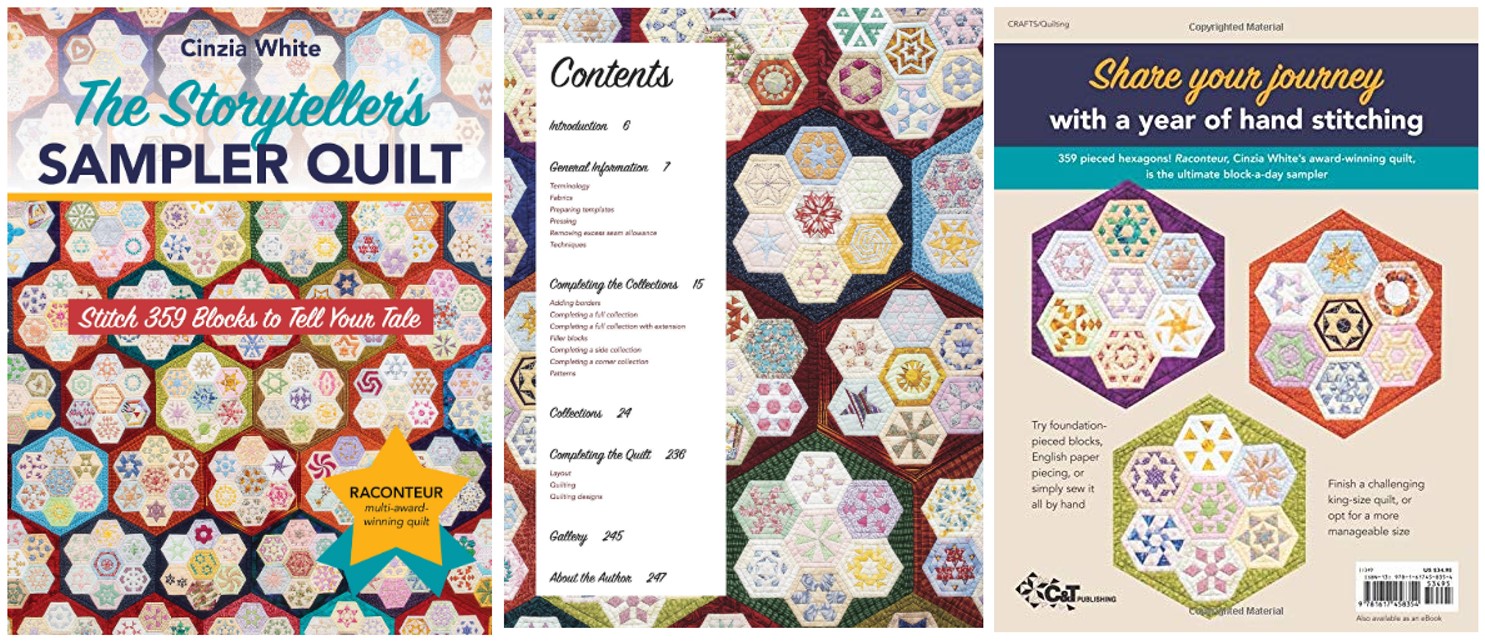 I love all things little, so was very excited to join in on this fun project! My block is called Winter Grace. As I stitched this little block up today, the eighth day of Christmas, I couldn't help but think what a fitting name it was. The little holly design, with a center berry, seemed a perfect match for the winter weather outside. Didn't it turn out lovely?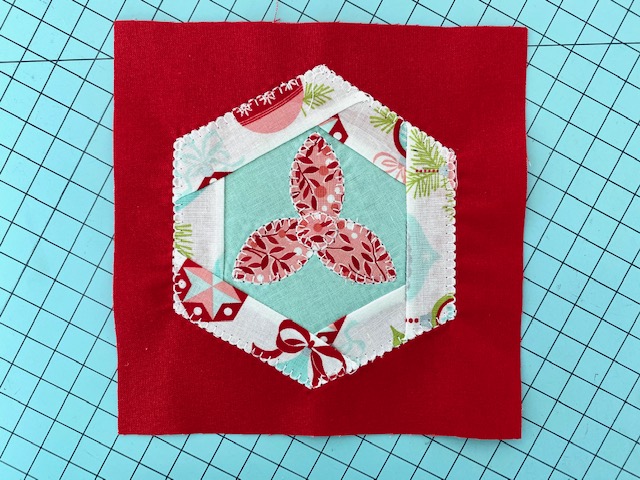 In making my block, I chose to use the blanket stitch setting on the machine as opposed to hand stitching it. I'm a huge fan of the blanket stitch…it's an opportunity to add a pop of color and dimension, as well as texture, to the fabrics you're working with.
I also stitched the little hexagon down onto a 6.5″x6.5″ fabric square, which makes it perfect for slipping into a sampler quilt of *many* different projects that I've been working on! That's one thing I really like about Cinzia's book: the versatility of each block. Within her book, she provides ideas on creating runners, full quilt, and other projects using the over 300 little hexagon blocks she designed.

It's fun to imagine The Storyteller's Sampler Quilt made in all reds and whites, or blues and grays (my current favorite color combo). I'm looking forward to making a full set – or collection – of hexagons; it would make a lovely centerpiece on the table!
(Visited 603 times, 1 visits today)