When my youngest brother moved out of the home, my mom and dad went through a bit of "empty nest" and brought home the cutest miniature schnauzer. I'm not a dog person, but Toby is genuinely a sweet dog…who was a bit lonely until, a few weeks later, my mom brought him home a sister. Abby is a cocker spaniel (or, as my father refers to her, a total blond). As sweet as Toby is, Abby is a crazy lady with too much energy and an inability to *not* pee when she gets excited! They're quite the pair…especially now, as they enter their very senior years. Sweet Toby has gone blind, and Abby is now deaf. They're still quite the pair, even now.
For Christmas, we usually buy a little something for them…in their younger years, it was a silly pink dress for Abby (which she promptly shook off) or a new toy for Toby (which he promptly chewed to bits). Now, it's more likely to be vitamin enriched doggy muffins that are soft on their gums and full of fiber. Getting old is grand, though, as they are cared for just as much now as they day they came home!
When it came to their treats, I wanted to make them something special…especially as this might be their last Christmas with us. I received several yards of this bone fabric from a neighbor, and (I admit) it's sat in my drawer for a very (very…very…very) long time. As I tend to make more "story" quilts, as my mom likes to say, I never had a use for these bones-on-brown or bones-on-tan fabrics. So, I took a break from quilts and – genuinely – had a fun afternoon sewing up something completely different!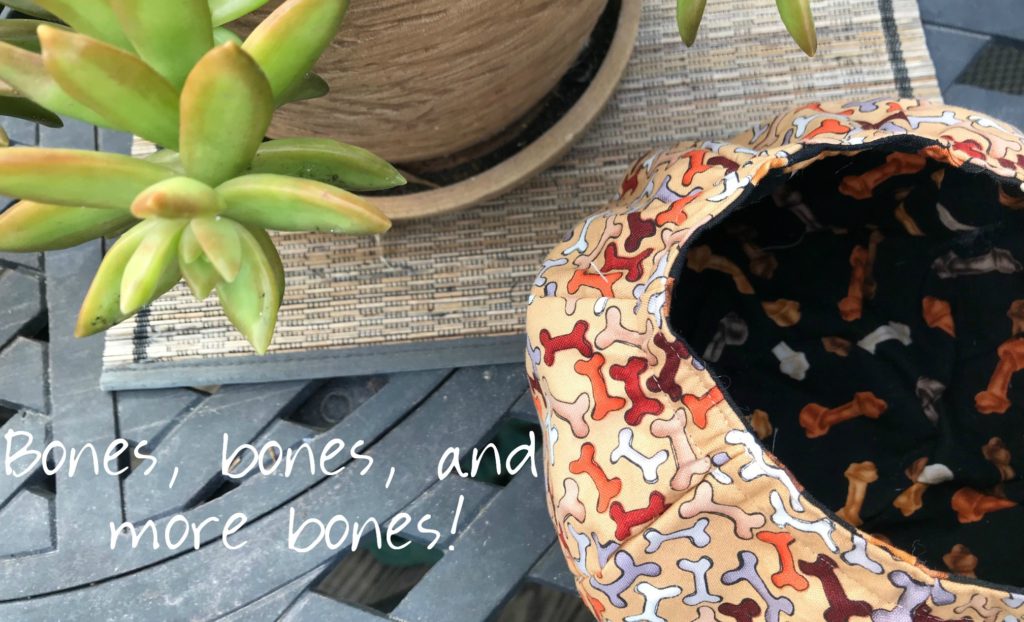 While Abby is too old for costumes, I created a little Santa hat bag for her out of the fabrics. It has a draw-string top that can be tied once her – and Toby's – senior treats are inside. I added two of my son's beads so the draw strings wouldn't get lost inside. The soft white fluffy fabric was super easy to work with – though my sewing room looked like a snow storm of fluff had gone through after I finished all the cutting! I tapered the fabric, as opposed to making a cylinder, so that the hat would not have a ton of gathered fabric at the top. It took a few tries to get the shape exactly as I wanted, but am happy with the final result.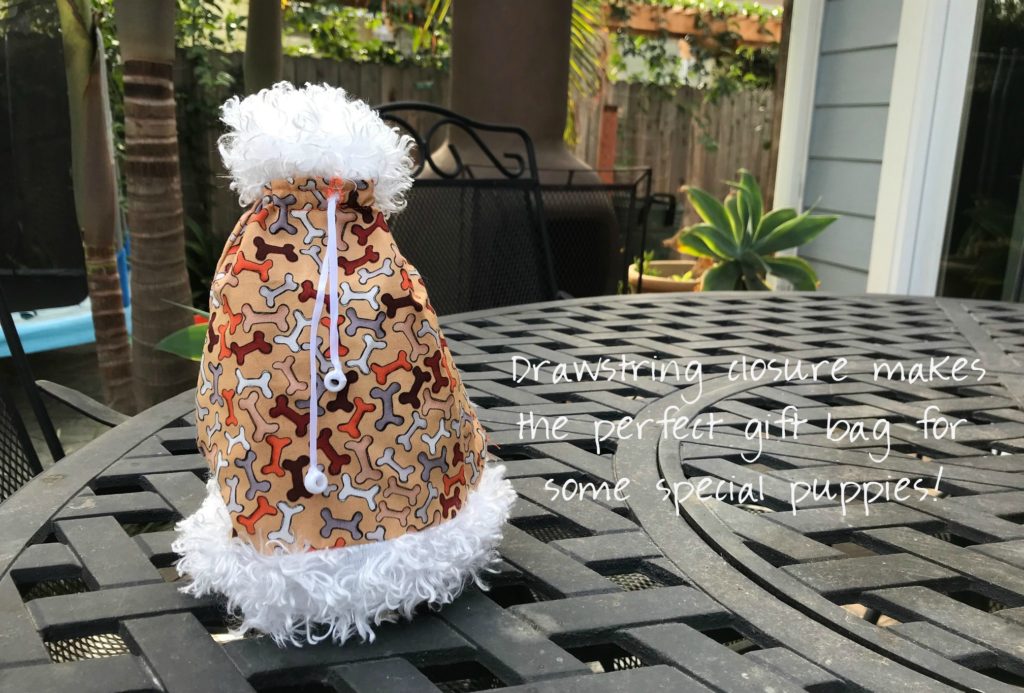 This little sewing project was a nice break from the quilting…I've been sewing up so many projects for friends and family, and coming up with this fun little project was just that – fun. The Santa hat was finished, but I wasn't – so I ended up making a pumpkin with an open top, perfect for more soft biscuits – though this one will be for my sister's two dogs next Halloween. Fingers crossed we can celebrate with them!
Your turn! What have you been working on?
(Visited 809 times, 2 visits today)