I'm so excited to share a really great product with you! As a craft lover, both my son and I have spent many days painting, gluing, cutting, and creating. As a mom who wants to instill faith in our child, having creative ideas delivered right to my door that teach faith in a fun way is perfect.
The Mass Box describes themselves as "a program for 3-7 year olds to help your family get ready for each and every Mass with craft supplies, kids missals, and coloring sheets delivered every month to your door! We take the work out of getting ready for Mass so that your family can spend time together preparing instead of searching the internet for ideas and collecting craft materials. Everything is ready, and we've even made a YouTube show called Catholic Crafts with Clare to help prepare you and get children excited about the Mass and the crafts." Seriously…the videos and projects are great!
One unintended benefit of the box was that my son not only better learned the readings for the week, but my husband and I did, too. Yeah for family learning!
When you register for the box, you can register it to be sent *directly to your child*. Seriously, little man was so excited to get a package addressed to him! This was a great way to start building a bit of excitement about the box.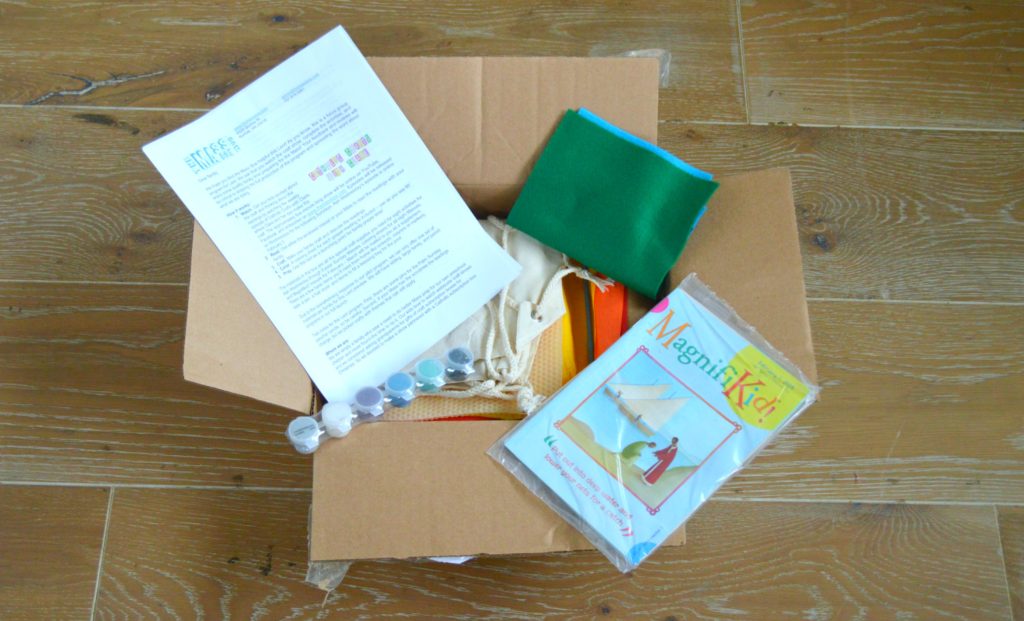 Once it arrived, we opened it up.  When you first open the box, a clear set of instructions are at the top. Starting off with an intro to The Mass Box, the instructions lead to an overview of each activity broken out by week. Each week's activity breaks down what the goal is *and* which materials in the box you'll be using. Easy. Beneath the instructions are all the goodies! Some boxes include fun freebies, like a drawstring bag and some cards to share with your friends. The Magnifikid, a missal containing the readings, Mass parts, and additional activities for your child, is a great tool that can be used both at home *and* during Mass. Coloring sheets for each Gospel reading (wonderful to take to Mass!) as well as the supplies for each Sunday's activities finish off the box.
Here are two of our favorite activities: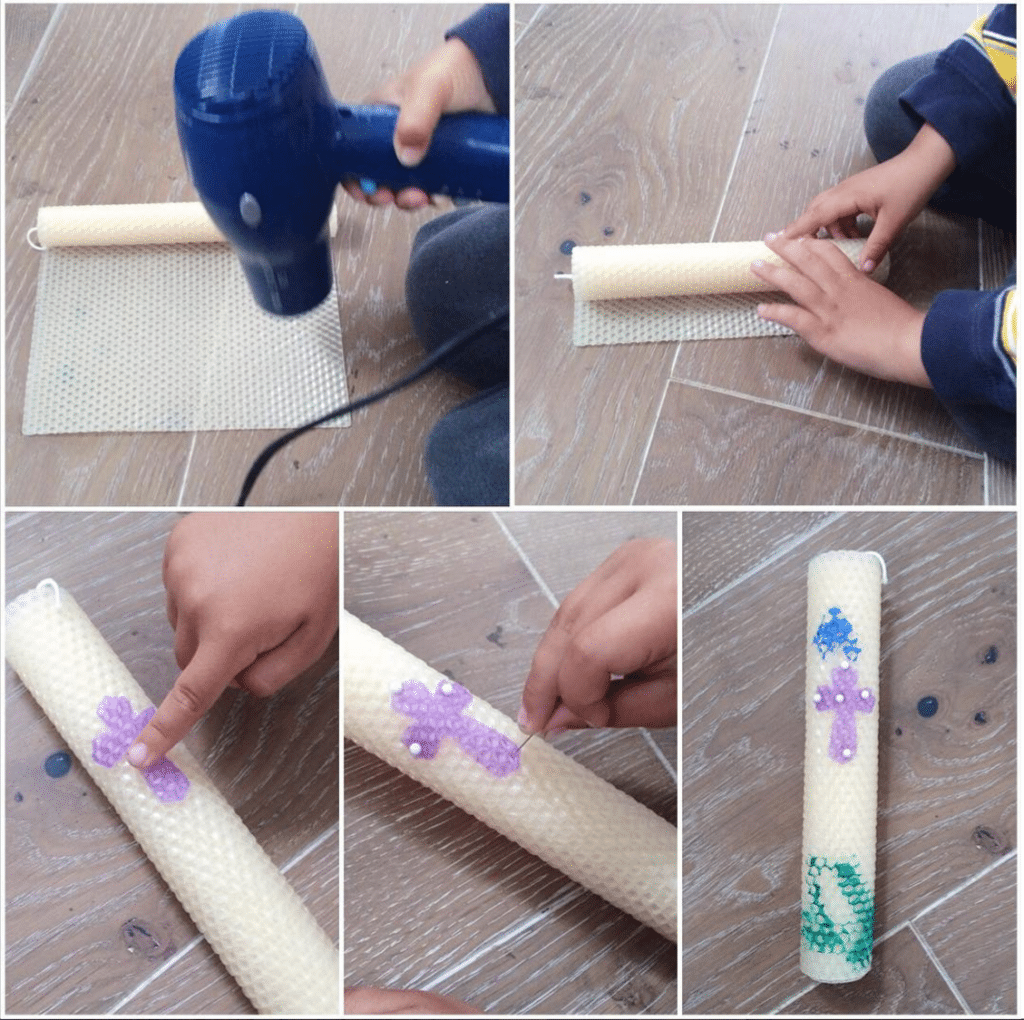 Making our own Paschal Candle was so much fun! I've worked with beeswax before, but hadn't involved my son – so this was a great opportunity to let him make his *own* candle. Didn't it turn out adorable?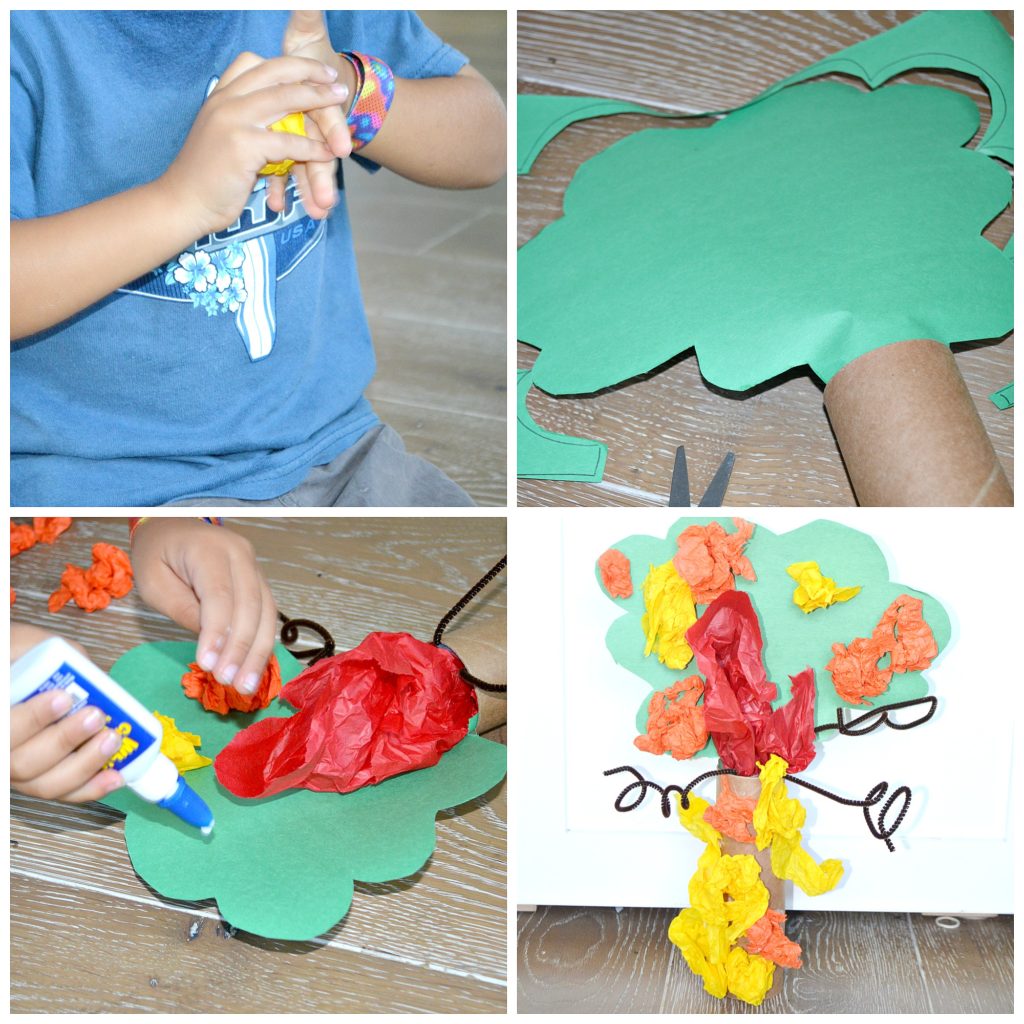 Creating a Burning Bush was an adventure in gluing and crumbling that turned into a crumbled paper snowball fight! Once we had found (most of) the crumbled paper, we created a burning bush by gluing our crumbled paper to the bush.
The cost for The Mass Box is $20 per month; you can subscribe or try it out just for a month or two. We're planning on subscribing, and will be picking up a kit for our Godchildren, too. Looking forward to seeing what you think of the box!


*As part of this review, I received a complimentary box. All opinions are my own – seriously, we loved it.
Just for fun, this post links up to some of these great linkup parties!
(Visited 321 times, 1 visits today)