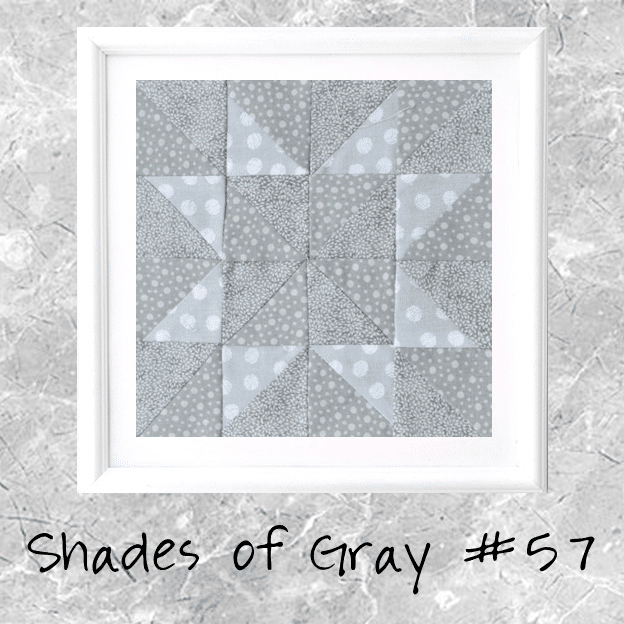 Block Completed: 12/1/15
Fabrics Used: on-hand stash

Playing with the mid- to darker-range fabrics in gray this week. I loved making the Margaret block as it was all HSTs – made the cuts and sewing so much easier to do. I also liked this block as Margaret is my grandmother's name, which made it all the more special. It's been fun to see family names popping up like Jenny, Carrie, and Margaret!
Two learnings on this one:
Press means press, and iron means iron. I not only ironed, but twisted the iron as I ironed, and you can see the negative result in the lower center fabric of the block. The fabric twists in a clockwise direction, with the fabric in the second-from-the-bottom row twisting to the right and the fabric in the bottom row twisting to the left. I decided to let it cool off and will go back with a small clover iron later to see if I can fix the damage…we'll see if it works.
I was sewing this one while my mind was on other things (that happens with easier blocks), and I kept sewing the blocks together the wrong way! I finally grabbed some little sticky dots, numbering the blocks in order which helped A TON – until I sewed through one, that is 😉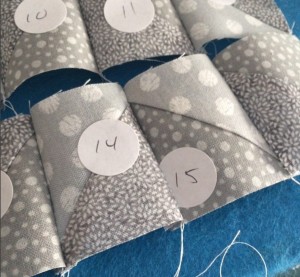 Click here to see all the blocks that have been completed so far. Also – are you on Instagram? Let's connect. Happy quilting!

Just for fun, this post links up at some of these great Catholic and quilting sites!
(Visited 160 times, 1 visits today)