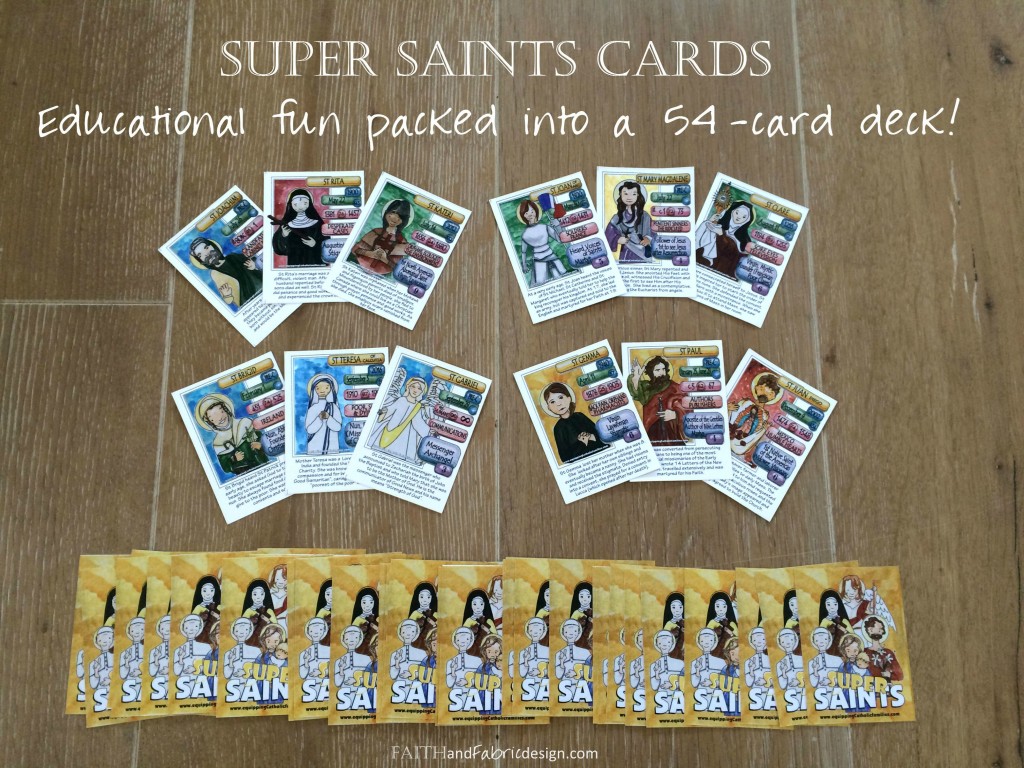 Looking for a great way to share the saints with your family, classroom, and friends? Want to learn more about our saints in a fun way? Equipping Catholic Families has created an adorable, educational, and incredibly enjoyable way to get to know the saints better. Introducing the Super Saints Cards Kit!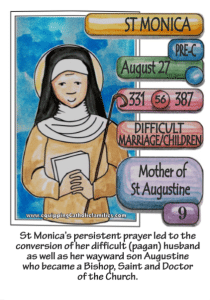 This 54-deck of cards features one saint per card and accompanying facts about that saint.  The graphics are engaging; I especially like how it calls out key points (name, age, what they're known for, etc.) for each saint – see the example of Saint Monica (my patron saint) to the left. The pictures of the saints themselves are truly beautiful – each is an original watercolor painting created by their daughter. Want to see more? Check out this great video to learn more about this kit.
The Super Saints cards come with three different games to play, all of which will help you learn more about the saints. Our little man is a bit *too* little for some of them, so – on a run with a friend – we came up with a few games for the little guys. All these games require pairs, so print two decks of cards (108 total) and separate them into pairs. Using twelve pairs (or however many are appropriate based on your child's age), you can play:
Memory: are both of those cards showing a picture of St. Joseph?
Go Fish: do you have St. Mary? No? Go fish.
Old Maid: pick a saint and make him/her the old maid, using a different saint as the old maid each time.
Order Sorting: Any chance to practice numbers or letters is a great opportunity for little guys! Using a single deck, sort the cards by age, youngest to oldest. Or, sort alphabetically by name.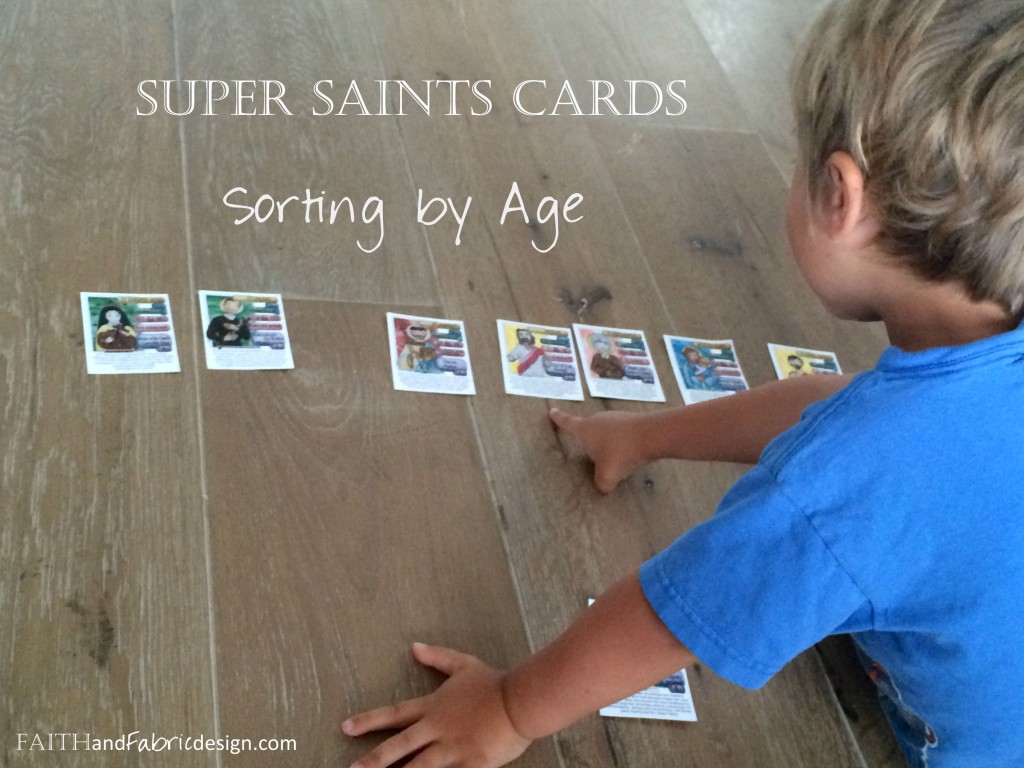 From a parent's perspective, the cards are an educational tool for the whole family – mom and dad included.
When you purchase the kit, you'll receive a link to a file which can be downloaded and saved – no wait time, which is great. The cards can then be printed on your home printer, but we took ours to FedEx Kinkos and had them printed on a heavier-weight paper to make them a bit more durable – and they look great! A tip: Staples is *significantly* less expensive than FedEx Kinkos, so stick with Staples if you're printing (we didn't realize until it was too late).
One last thing – you *may* have heard that Pope Francis is coming to Philadelphia this September (wish we could be there!). A crowd funding program has been set up to make these saints cards available at the World Meeting of Families – and you can help! A bonus? If you make a $25 donation, you'll receive the Super Saints Cards for free.

Just for fun – this post links up at some of these great sewing, quilting, and Catholic linky parties!
(Visited 946 times, 5 visits today)