Summer…it's a time to unplug, relax, and reset. The school year has ended, the vacations are in full swing, and we are in the quieter lull of (extra)ordinary time. It's amazing to think that in just two months the kids will be back to school, the hectic days will be back, and Advent will be just around the corner! One of my personal goals this summer has been to get more organized – both in how I manage our family's day-to-day activities and in incorporating a few more feast days into our celebrations. I started trying to manage this through a synced calendar and to-do list in my iPhone, but found that what ultimately resulted was more screen time when stepping away from the phone/iPad is a goal in and of itself.
I'm so excited to share with you a planner that not only helps me with the day-to-day and feast days, but with managing my hobby as well! This ultra-budget friendly planner comes in four .pdf versions: (1) Catholic Through the Year, (2) Homeschool Weekly Lesson Planning, (3) Blogger Planning, and (4) Household Management. You can also pick up all four in a package called The Whole Enchalada. You can see the detailed specs on them for more info…these planners have it all. This well-organized planner was designed by Martina Krietzer of Catholic Sistas, and truly will help keep not only your family but your faith focused on what's most important.
The Whole Enchalada was the perfect one for me – here's why: since these are .pdf documents, you can print them out and mix & match. You can also print to whatever size (8.5″x11″, half sheet, etc.) you want. Bind, and voila! You now have a custom planner just for you, by week, with exactly what you need right at your fingertips – stylish, organized, and ready for anything.  Again, because it's a .pdf file that you purchase, you can include and exclude pages to fit your needs. I tend to keep my contacts in my phone, so I excluded the contacts pages, but love the opportunity to have my blog pages for the month right alongside my calendar/family planning pages. The household management pages are great, too, and I really appreciate the accountability they offer (like did I *really* clean the toilets this week or was that actually a month ago?).  To be honest, the Household Management Planner was actually way more useful than I was anticipating – filled with tips (like using dryer sheets as bug repellent), the 23-Day Organizing Challenges, and QR codes for more info throughout, this planner will help you get the job done.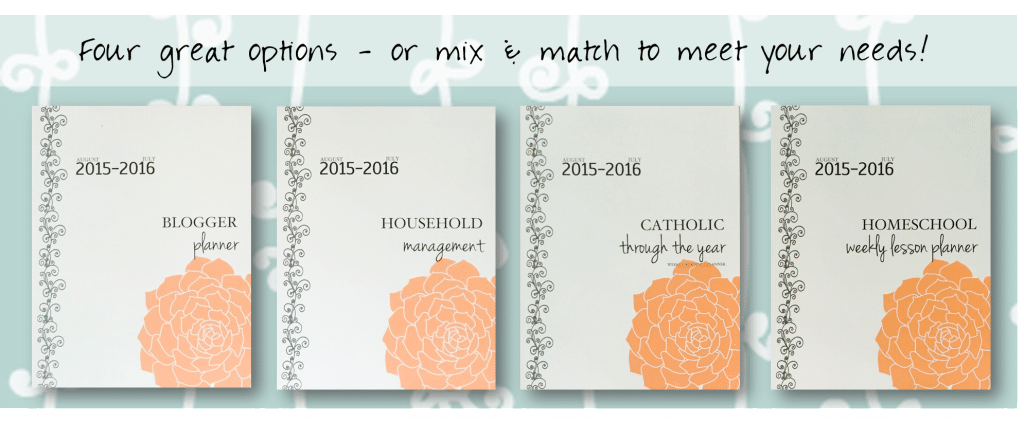 Here's a peek into how I have mine set up. I use the Catholic Through the Year as my primary organizer, and into it I've incorporated pages from the Blogger Planning and Household Management. One of the pages I like most is the the weekly view – the upcoming feast days are shown on the top row (as are liturgical colors and other important info), and below it are three rows for you to add your own info. I added "Shop", "Events", and "Dinner". It's soo much easier to plan our week now that I have a quick birds-eye view of what's going on!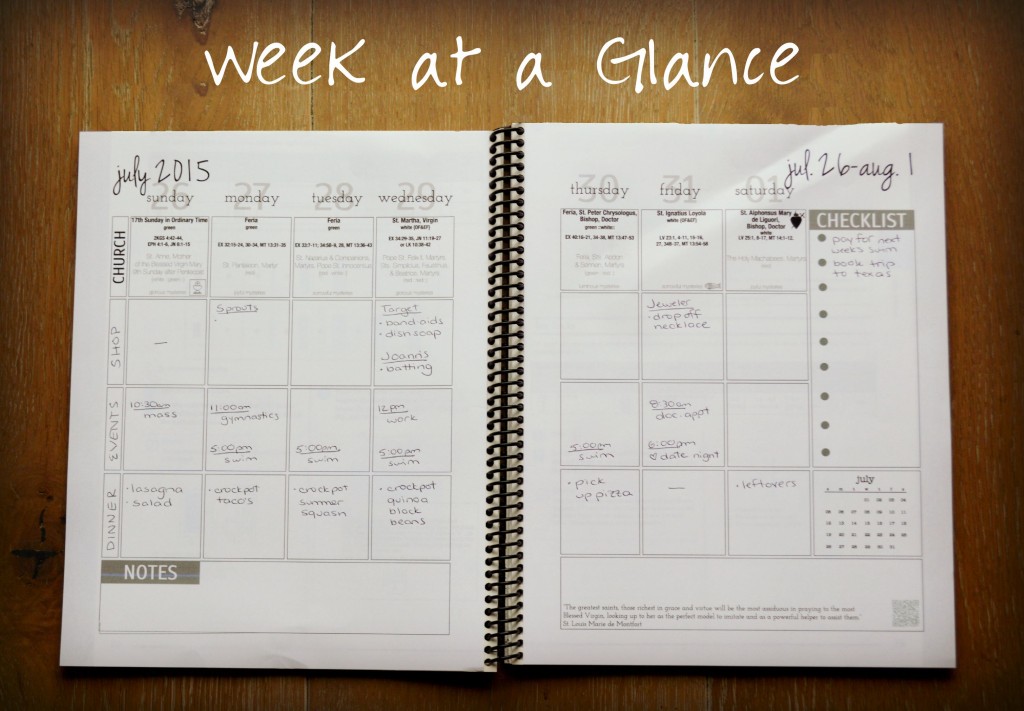 I mentioned earlier that I combined info from two other planners into this one. I placed both the Blogger Planning and Household Management pages right behind the calendar page; this way, everything for a single month is in one spot. I like that I can plan jot down ideas for Advent, Pentecost, and Triduum in the future months leading up to the celebrations – that way, I don't forget the idea and have ample time to plan the activity.
One thing I want to add to my to-do list is to laminate the daily maintenance form so I can easily reuse it over and over. Or perhaps put it behind a pretty glass frame since that, too, would be dry erase friendly. So many options.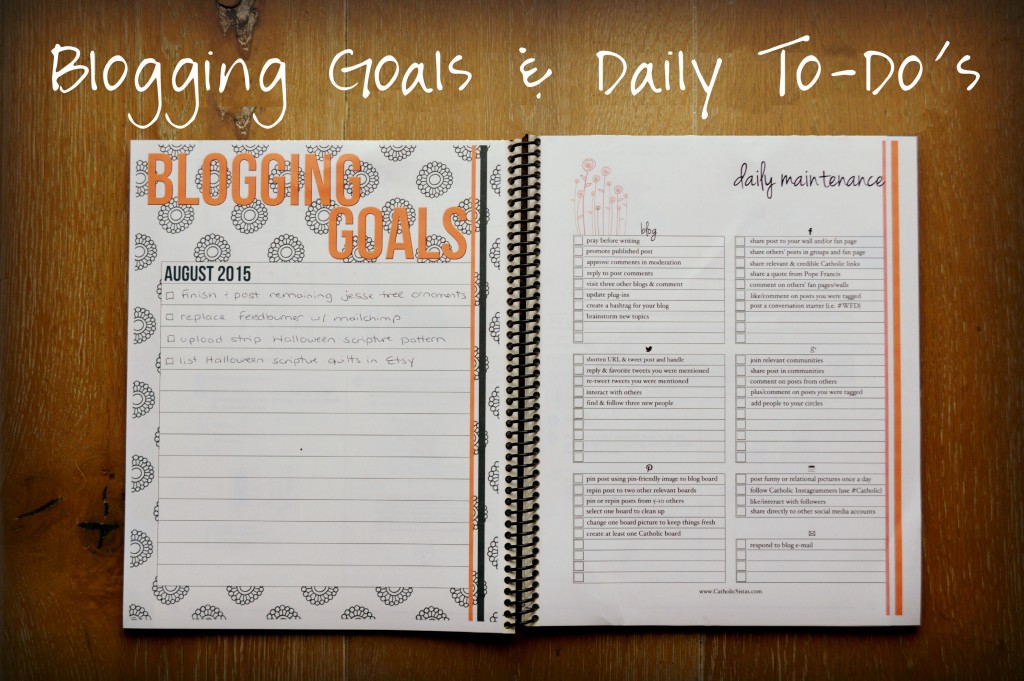 My house is my sanctuary…with a low threshold for sensations (a Vegas fan I am not), the minimal furnishings, muted blue and white walls, and warm wooden floors truly give me a sense of peace. Everything has a place, and it gets put back each night before bed. Is our house always picked up? Almost always. Is it clean? Well…mostly. My BFF Roomba vacuums the main areas each day (seriously, every home should have one) but I've never established a good cleaning routine. It's been on my proverbial to-do list since forever – but I tend to default to cleaning rooms as they start to look like they need a good scrub. Not exactly pro-active, if you know what I mean. What I really like about the Household Management book (there are a lot, but this is my fav) is there's a weekly & monthly checklist. For me, it's all about the accountability – I'm super task oriented, and having a reference (did I do that? or do I just think I did that?) fills that need. Besides, who doesn't get a mini-rush from marking a to-do checkbox as done??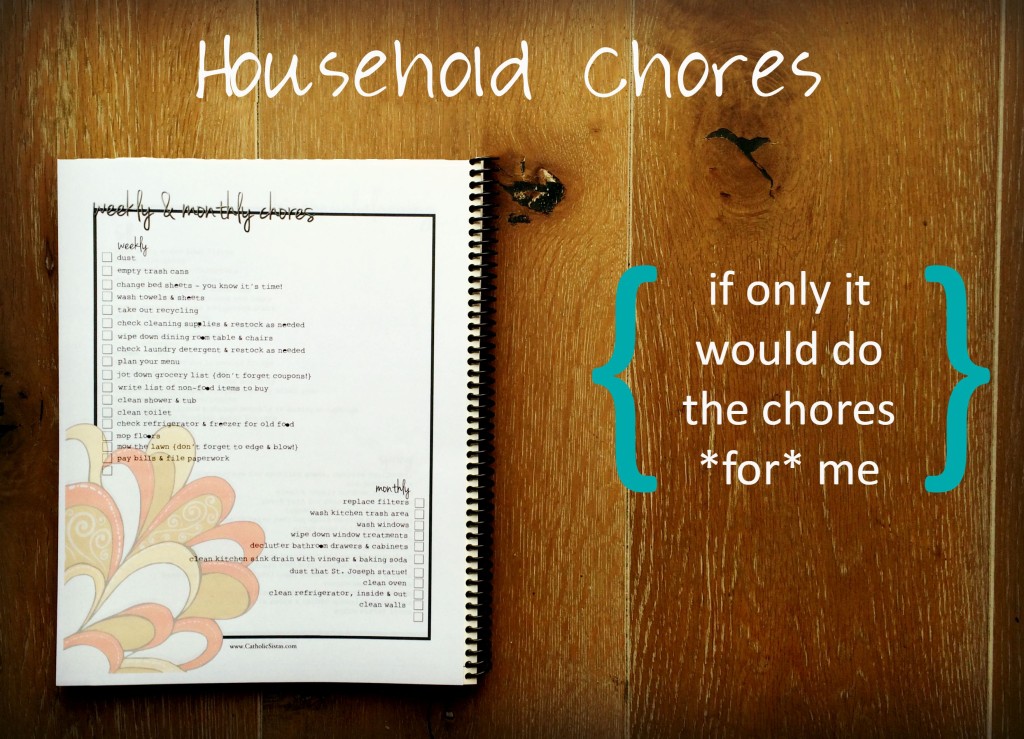 There are so many ways to incorporate this planner into your day-to-day, and we're excited to share a way to see how others are using theirs as part of this blog tour! You can also check out a few sample pages to help you determine which is right for you. Now if only there was a planner to help me with my quilting projects…
JULY 20 – Ashley Woleben at Between the Linens
JULY 21 – Jen Frost (that's me!) at Faith & Fabric
JULY 22 – Hilary Weston at Sweetness and Joy
JULY 23 – Sarah Reinhard at Snoring Scholar
JULY 24 – Michelle Fritz at Tales from the Side of the Tub
JULY 27 – Debbie Gaudino at Saints 365
JULY 28 – Erika Drain at Raising Little Saints
JULY 29 – Catholic Mom
JULY 30 – Kerri Baunach at Journal of a Nobody
JULY 31 – Barb Szyszkiewicz at Franciscan Mom

Congratulations to our winner, Jessica Compton!
(winner announced 8/1/15)
Just for fun – this post links up at some of these great sewing, quilting, and Catholic linky parties!
(Visited 1,015 times, 2 visits today)