Hosting a dinner party is so much fun, so when we had the opportunity to move the annual Knights of Columbus out of the sterile church cafeteria into our back yard, we were thrilled! Hubby is entering his second year as Grand Knight, which made this event all the more meaningful. So proud of him.
When it comes to party planning, no one does it better than my friend Kylie of Made by a Princess: Parties in Style. I mean seriously, she's good. When it came to the KoC party, I knew I was hosting an outdoor potluck but wanted to make it a bit classier and less mishmashed casserole dishes, if you know what I mean. After a quick call to explain my challenge, Kylie shared some great ideas: using our own dishware/serving platters so the dishes matched, sticking cloves in lemons to help ward off bugs (plus, they look adorable), and more.
I took her tips, and created the blue-and-gold Knights of Columbus party shown below! Love the way everything came out. I think I might start to look at a new marble dining table set ready for my next event. Yes… I am already thinking of next year's dinner…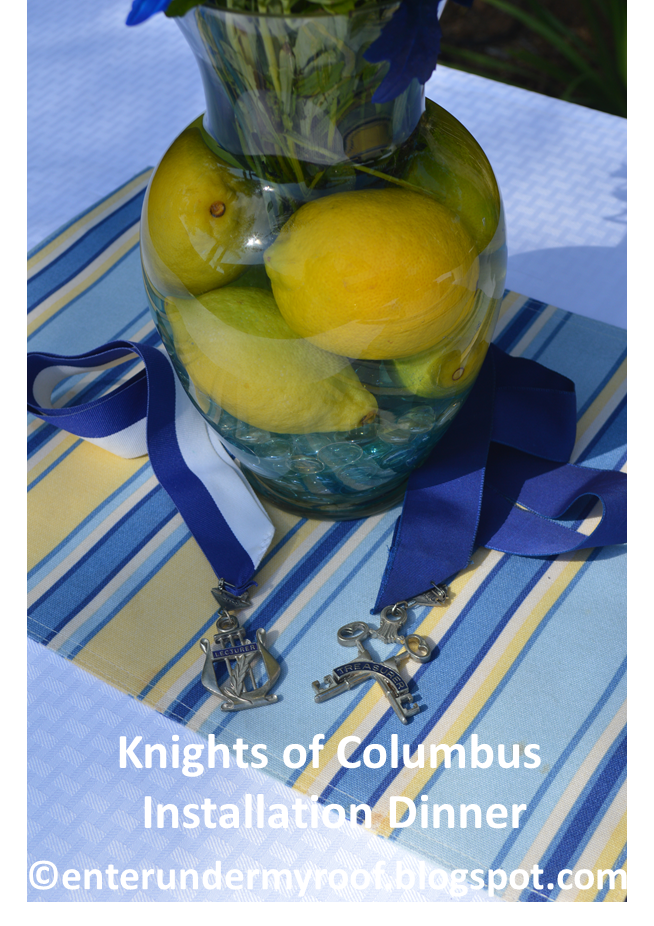 For the ceremony itself, we used one of the large tables as the podium. I'm a HUGE fan of simple white linen table cloths (we have six of them, all the same. Yep – six.). They work perfect for ANY season, as they're simple, classy, and pair perfectly with whatever theme you want to have. A bonus? When they're dirty, just throw them in the wash with some bleach and they come out just like new. The main table for the ceremony had, as it's base layer, one of the white tablecloths. I already had these great yellow and blue stripped placemats, so we laid three of them side-by-side to create a faux table runner…and it totally worked. I placed a large vase with lemons and flowers as the side (center) piece – to be honest, this was the last vase and I was both tired of slicing lemons and running short on time so just stuck the lemons whole into the vase 🙂  I still think it looks cute, and added a bit of variety to the centerpieces. In prep for the ceremony, we placed the KoC medals around the vase and along the table runner.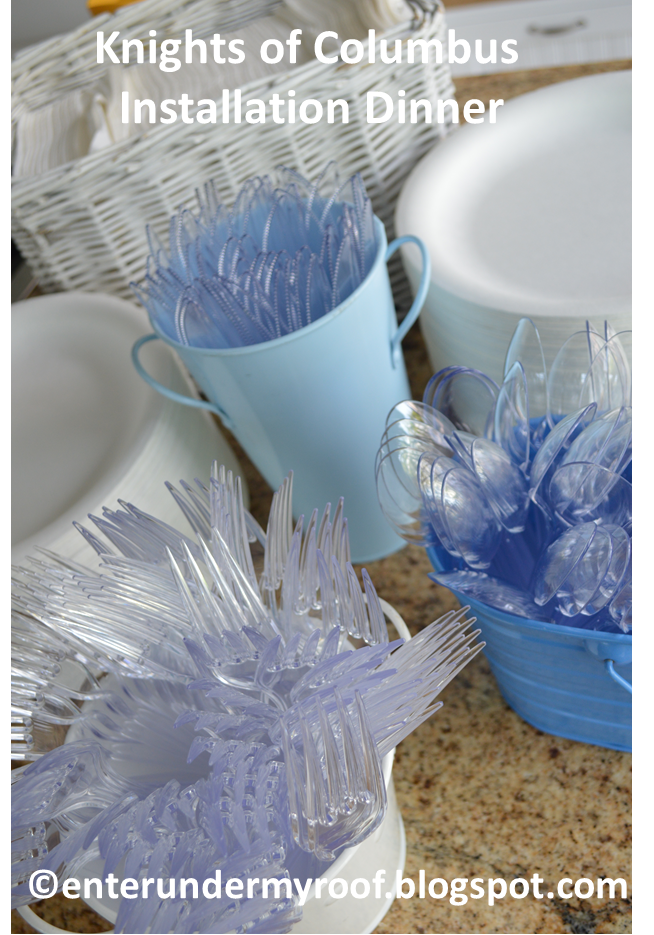 When it came to the serveware, we opted for disposable. I didn't have enough ceramic dishware or silverware to accommodate 50 people – plus, with the great quality now available out there for picnic-ware, you don't have to sacrifice quality or design to get a great look. In keeping with the general color theme, I opted for plain white paper plates (the high density kind), clear silverware (I think that always looks the classiest), and white napkins (again, classy vs. too much blue & yellow). We placed each type of silverware into a blue tin – I had these on hand from past get togethers, and find they work really well for large groups. I was tempted to do one of the bundles – you know, those cute little napkin-wrapped-silverware packages tied off with cute twine? – but with so many dishes, soups, appetizers, and folks going back for seconds (and thirds), we wanted to provide the most flexible option to our guests. 
I hope this gives you a few ideas for the next Knights of Columbus dinner you help host! 
Just for fun…this post links up at CBN.
(Visited 1,442 times, 3 visits today)