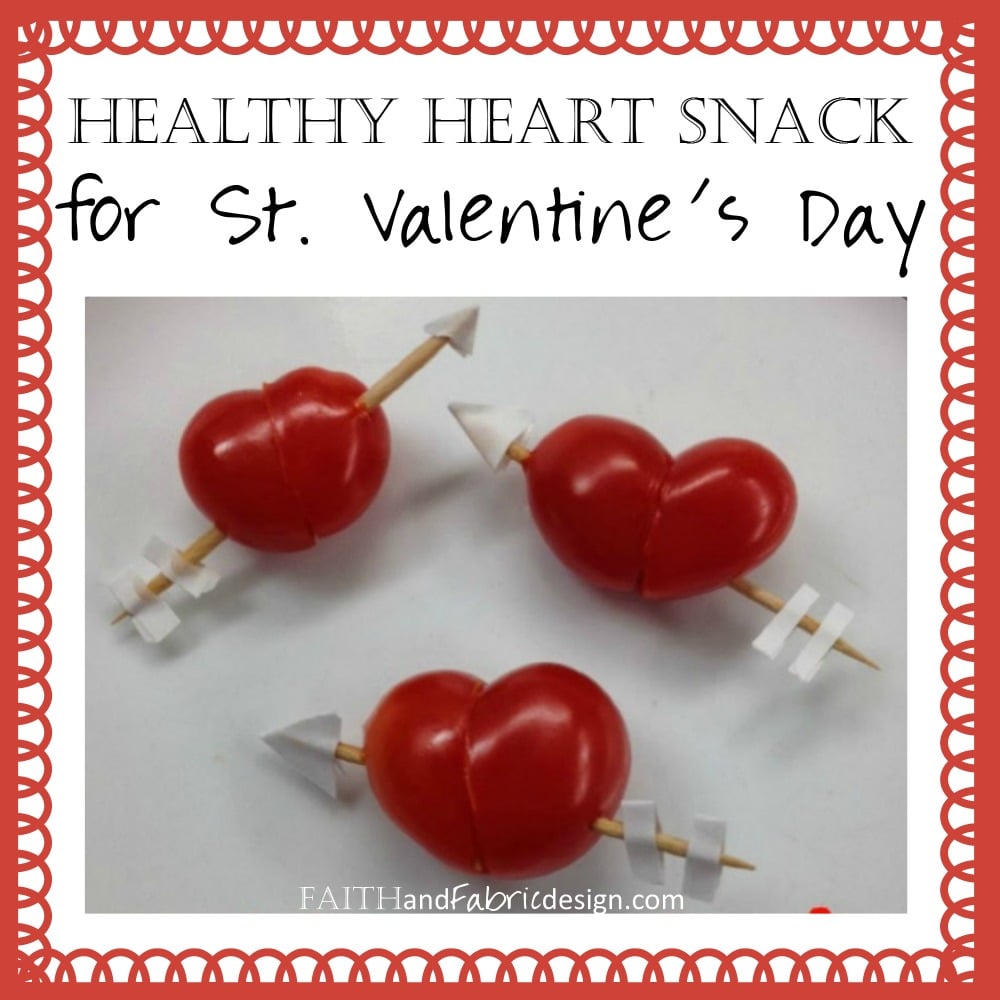 Normally, when I think of St. Valentine's Day, I get an instant stomach ache at the thought of all the sugar that comes along with it (even if it isn't edible). Luckily, I have an amazing mama friend who brought these adorable healthy tomato heart snacks to a St. Valentine's Day party last year and I've literally been waiting an entire year to break this recipe out! I'm sure this idea is all over Pinterest, but I'll always thank Kristi for bringing these into my life.
This healthy recipe definitely plays up more into the commercial side of St. Valentine's Day (hearts galore) but I promise, there is a spiritual aspect to these as well. By the time you're 3/4 of the way done making them, you'll be praying for patience. Trust me (wink-wink).
While a bit tedious, I really did enjoy making these. Little man was happily playing with dad in the other room, and I relished in the quiet time (get it? tomatoes? relish? …wait, are there even tomatoes IN relish??). All in all, it took me about :30min to make a dozen of the heart tomatoes, but that's from start to finish and includes the time to gather the supplies, learn my way through a few mistakes, and clean up.
WHAT YOU NEED
two dozen mini tomatoes (the oval shaped ones…not the round ones)
one dozen toothpicks
white labels
a really sharp knife (I found a steak knife worked better than a kitchen knife. Go figure.)
HOW TO MAKE (recipe makes a dozen tomato hearts)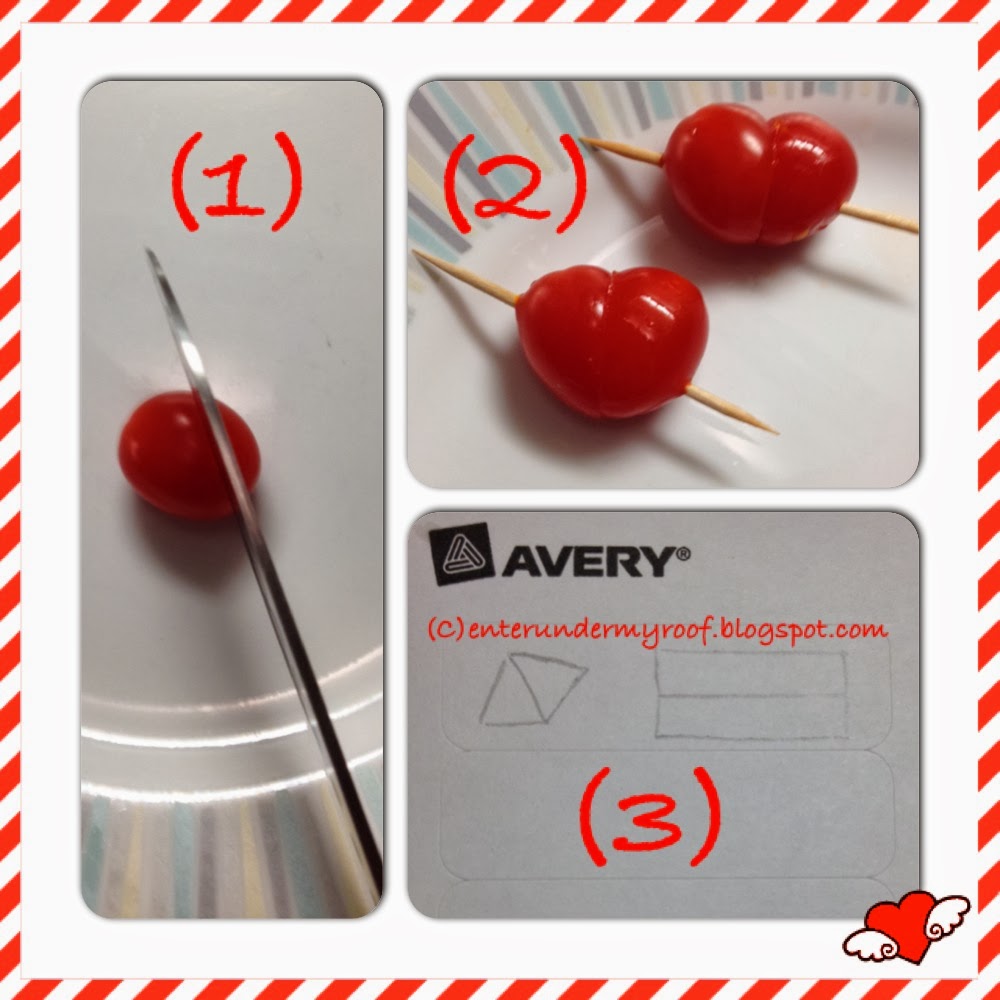 Select 24 tomatoes, picking them out in pairs. Make sure each pair of tomatoes is about the same size/shape. The more oval shaped, the better.
Slice the corner off the tomato as show in Figure 1 above. I found it helpful to close one eye and visualize half a heart on the side of the knife. You'll look weird if anyone walks into the kitchen while you're doing this, but it'll get you the shape you need. A tip: save your tomato graveyard of leftover corner pieces – you can throw it in the freezer and toss it into your next pasta sauce. Yum!
Repeat the above step 23 more times. Are we having fun yet or what? Remember to keep your tomatoes in pairs. Romantic, no?
Using a toothpick, spear the two tomato halves together as shown in Figure 2 above. I thought it looked cutest if you put the toothpick through on an angle, but get creative and do what you like best.
Let your toothpicks dry. This is important – if you try to stick the arrow ends onto the toothpick you just pushed through the tomatoes, it won't stick…it's too wet. Not that I'm saying this from personal experience or anything…
Using a label, or other paper with a sticky back, cut out a double triangle and two long thin strips as shown in Figure 3 above. Stick them onto the toothpick. You'll actually stick the paper onto itself by folding it in half over the toothpick. This holds it in place.
Repeat the above step 23 more times. Pray for patience. Be thankful you have the time and ability to make cute snacks for your loved ones. Remember what inspired you to do this in the first place.
Voila! You're done. I left mine in the fridge overnight in an egg plate and they held up just fine. Enjoy your healthy Valentine's Day treat!

(Visited 692 times, 1 visits today)