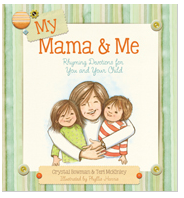 I have the pleasure of joining in a tour for the wonderful book My Mama and Me by Crystal Bowman & Teri McKinley. This children's book is comprised of 25 daily devotions – each daily activity includes:
a bible verse, which provides the context for that day's devotion and introduces children to the concept of verses (or, conversely, reinforces verses if they're already familiar with them)
a devotion, written in a sweet rhyme about eight lines long which is perfect to hold short attention spans
a short prayer to summarize both the verse and devotion
an activity for mom and child to do together (make a card for dad, create a cross, find things that God created, etc.)
This is not only a great book content-wise, but it's definitely worth mentioning that the illustrator, Phyllis Harris, has provided tender images to complement each page. The gentle water-color styled artwork show image after image of mother and child being, loving, and playing together. Phyllis is a talented artist and the illustrations she creates truly bring the pages to life.
The book closes with a wonderful prayer for moms (and dads) everywhere to pray for their children.
This is a book we love to read together and one that I would buy for a friend's children as a gift. Want a copy for yourself? Enter our FREE GIVEAWAY below! Want a copy for yourself? Enter our free giveaway!
——————–

Overall Rating: 4 out of 5

Recommended Age: 2-6 (personal recommendation)

Return to Main Book Club Page

——————–
Disclosure: Tyndale House Publishing provided me with a complimentary copy of this book in exchange for my honest review (and I can honestly say I recommend it!).
Note: This post also appears on Catholic Carnival & CBN.
(Visited 107 times, 1 visits today)