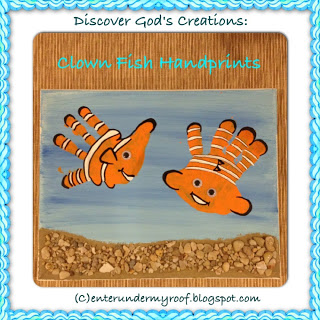 After reading "
The Berenstain Bears Discover God's Creation
" last month (see the
review here
) and learning about all the wonderful "discoveries"" they made, I thought we'd do a bit of discovery work on our own and see what creatures WE could discover! You already know I'm a huge fan of
hand-print crafts
, so when a friend and I decided to make some beach themed prints, I couldn't wait to get started.
This is a four-part series, if you will, so that – once complete – you will have four different beach-themed prints that you can arrange on your wall. What better way to display the wonderful creations that are around us every day?
This is the THIRD design
– check back in a few days for next week's "discovery"! …and
here's a great way to store the beautiful artwork
AND help your kids learn at the same time.
Week 4: Coming soon!
WHAT YOU NEED
HOW TO MAKE
Paint the top portion of your canvas light blue. While the blue is still damp, drop some dark blue dots onto the canvas and blend them using the same brush that still has some of the lighter blue paint on it. Since the paint is damp, it should mix/blend in…this achieves the softer tone.
Paint the bottom two inches or so of the canvas tan.
Once all the paint has dried, paint your little one's hand in orange. For the first fish (upper left), stamp the entire LEFT hand. For the second fish (upper right), stamp the RIGHT hand but don't paint/stamp their thumb.
Once they stamp their hand, you can go back with your fingertip and a bit of orange paint to fill in any blank (empty) space on the fish. I recommend using your fingertip as opposed to the brush as it looks more realistic / like the handprint. Otherwise you end up with brush strokes…not good. Let the red paint dry.
Once you're sure everything is dry – I'd recommend waiting a few hours or overnight – go back and paint in white stripes on the fish.
Once your white lines are fully dry, outline them – and parts of the fish – with the black sharpie marker. You can give your fish a face, too.
Glue down google eyes.
Spread some craft glue THICKLY on the tan paint. Glue small pebbles, rocks, shells…whatever you have…to make the ocean floor. Allow to fully dry.
Hang it on the wall and enjoy!
Note: this post links up at
CBN
.
(Visited 785 times, 1 visits today)