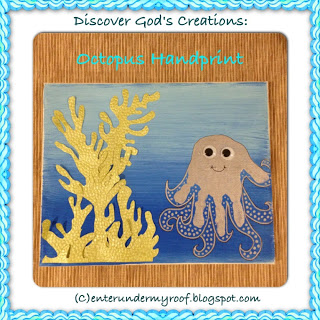 After reading "
The Berenstain Bears Discover God's Creation
" last month (see the
review here
) and learning about all the wonderful "discoveries"" they made, I thought we'd do a bit of discovery work on our own and see what creatures WE could discover! You already know I'm a huge fan of
hand-print crafts
, so when a friend and I decided to make some beach themed prints, I couldn't wait to get started.
This is a four-part series, if you will, so that – once complete – you will have four different beach-themed prints that you can arrange on your wall. What better way to display the wonderful creations that are around us every day?
This is the SECOND design
– check back in a few days for next week's "discovery"! …and
here's a great way to store the beautiful artwork
AND help your kids learn at the same time.
Week 4: Coming soon!
WHAT YOU NEED
HOW TO MAKE
Paint the top portion of your canvas light blue and the bottom portion dark blue. While the blue is still damp – and using the same brush – brush some of the darker blue water into the lighter blue water. Since the paint is damp, it should mix/blend in…this achieves the softer tone.
Once all the paint has dried, paint your little one's hand in silver. Stamp the hand towards the right side of the canvas, being sure to press the fingers down. Lift, and repeat with the other hand.
Once they stamp their hand, you can go back with your fingertip and a bit of silver paint to fill in any blank (empty) space on the octopus. I recommend using your fingertip as opposed to the brush as it looks more realistic / like the handprint. Otherwise you end up with brush strokes…not good. Let the red paint dry.
Once you're sure everything is dry – I'd recommend waiting a few hours or overnight – cut out leafy shapes from the green paper. Your cutting should look soft and organic – there's no real pattern. I cut out several pieces and stacked them into each other to give it a layered look. Another tip: when you're gluing the kelp down, just clue portions and "bubble" the paper so it has more of a 3-D effect.
To finish the octopus, outline his head with the thin black marker. Draw tentacles around the fingers, looping some tentacles behind others. Then, using the silver marker, make some small suction cups (dots) to fill in the tentacles.
Glue down two google eyes and draw in a smile for your octopus.
Hang it on the wall and enjoy!
Note: this post links up at
CBN
.
(Visited 643 times, 2 visits today)