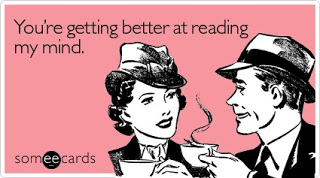 Ten years and three kids later, my big
take-away from married life is that my husband is not, in fact, a mind reader.
This should have come as no surprise to
me. In my formative years, I observed successful marriages and divorces. In my
late teens, I decided that marriage was outdated and worthless. In my late 20s,
I converted to Catholicism and swallowed my words as I took the vow of married
life.
It hasn't been a walk in the park, but I
consider my marriage pretty awesome. My husband doesn't raise his voice, he
works hard, and it doesn't hurt that he's pleasant on my eyes. I think his
personality's great and he seems to really like me. He goes to Mass every
weekend with me, puts up with my hyper-Catholicity, smiles at my "special
features," never complains, and even brings home dinner when I fail
(again) to make anything edible.
Around the time our second child was
weaning and I spiraled into a vortex of depression, something happened. Why was
he sitting around when it was obvious what needed done? The kid needed changed.
The floor was cluttered. I hadn't had a mental break in 48 hours or a good
night of sleep EVER, it felt like. How could he NOT see what needed done?
Somehow, we made it through, and it was
when I was in the midst of struggling to like my third infant in the midst of
the demands of everyday life that a dear friend pointed out something so
crucial, so important, so obvious that I'm STILL slapping my head about it.
"He can't read minds, Sarah. You
have to tell him what you need him to do."
Since then, I can't help but point this
out to every single woman I know. Chances are, your husband does NOT just know
what to do. Don't roll your eyes and think he's an idiot, because there's a
fundamental difference between the two of you: you're a woman and he's a man.
What you excel at, he might not.
So when the dishes are piled in the sink,
the kids are bouncing off the walls two hours after their bedtime, and you
think you're about to lose your mind, consider doing something radical. ASK FOR
HIS HELP. Tell him what you need him to do.
Don't wither him with a glare as he kicks
up his feet, don't make snappy comments about this or that hardship you face,
don't stomp out of the room in a flurry
of emotion.
Use your words and remain calm. You might
be pleasantly surprised at the reaction they have.
~~~~~~~~~~~~~~~~~~~~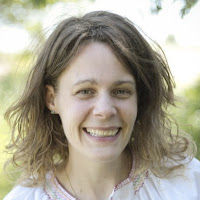 Sarah Reinhard blogs at
SnoringScholar.com and writes regularly at CatholicMom.com. Her hot summer
nights are spent with a book in hand, a great view of the surrounding fields,
and, hopefully, the kids tucked away in bed with the help of her husband.








~~~~~~~~~~~~~~~~~~~~
(Visited 231 times, 1 visits today)