The foundation for an open, trusting, loving, and growing relationship

I had heard of this married couple, both 60 years old, who were
celebrating their 35th wedding anniversary.
During their party, a fairy appeared to congratulate them and grant them
each one wish. The wife said that she
wanted to travel around the world. The
fairy waved her wand and POOF … the wife had a pair of tickets in her hand for
a world cruise. Then the fairy asked the
husband what he wanted. He said, "I
wish I had a wife 30 years younger than me." So the fairy picked up her wand and POOF …
the husband was 90.
As humorous as this story is, there is an underlying principle
here which cannot be ignored. Sometimes we
think that happiness, especially in our relationships, has everything to do
with "external" things. If we can just change
our environment, circumstances or outward appearance then we will find true happiness
and joy. This could not be further from
the truth.
True happiness in our personal lives, and all of our relationships,
comes when we learn to experience the one thing which unknowingly we all long
for deep inside … "Intimacy". The desire
to be authentic, real and transparent is an inherent human trait which we all
desire … and yet … it is the one thing which we fear the most.
We are afraid it for two reasons: (1) we really don't understand
intimacy and therefore, as human beings, we fear what we do not understand or
have never experienced. (2) Those of us
who have some concept of intimacy fear it even more because it means that we
are allowing another human being deep into the inner recesses of our lives … an
area that we ourselves may be uncomfortable with … and THAT is a terrifying
thing.
The desire for intimacy … the misunderstanding about intimacy … and
the fear of intimacy forces us to
wear "masks". We want to love and be
loved so we create masks which we wear in the hopes that we will find
acceptance. We misinterpret that practice
for intimacy and then wonder why we still feel alone. The problem with wearing a mask is that it requires
a lot of work keeping them in place and even more effort in not letting people
see beneath our mask … and that is exhausting.
What's even worse is that if we do succeed in getting people to love us
… the truth is that they only love our "mask" and … at the end of the day … we still
feel empty and alone because we have really not received the love we so
desperately long for.
So what does
intimacy or being intimate mean? This is
not, as some think, a term referring to sexuality. Intimacy is much more than just sex. Of all the definitions I have come across I
think the best one is given by a counselor named Bill Herring. He states: "The best definition of
"intimacy" is simply "into-me-see". He goes on to state: It can be very risky for some people to let others see into
them. It takes courage, the willingness
to know and reveal oneself at ever-deeper levels, and a commitment to personal
honesty and integrity." (1) Wow …
that is frightening! No wonder is easier
to just put on the mask. But mask
wearing is laborious, exhausting and futile.
Deep inside we all desire to "know
and be known". The apostle Paul said in
Galatians 4:8-11 that we can come to that place with God. Here is where intimacy must begin … with God
and with myself.
Shana Schutte
, in an article for "Focus on the
Family", said: "
Real
intimacy makes us feel alive like we've been found, as if someone finally took
the time to peer into the depths of our soul and really see us there. … Because
God made us, He intimately knows us better than anyone can. For this reason, He
can make us feel known in a way that no one on earth is able; and in this we
can experience intimacy in an indescribable way
."(2) Once you have achieved that, now you're ready to develop
intimacy with those whom you can trust to be transparent with … and that ought
to first and foremost be your spouse.
One tool I encourage my clients to
use in developing intimacy in relationships is the "Johari Window" (3). This tool opens up opportunities to be open,
transparent and vulnerable thus developing trusting, loving and caring
relationships with the important people in your life. The Johari Window allows me, in a safe &
nonjudgmental environment with my spouse, to share the deep personal things in
my life and allow her to see the areas in my life which I need to improve. NOW you are experiencing "Into-Me-See" in
your marriage and enjoying a trusting, loving and growing relationship.
——————–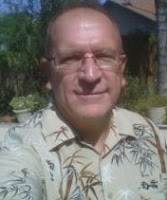 Bill Nichols
is a Board Certified Christian Counselor, a Certified Professional Life Coach, a Certified Behavioral Counselor, and a Certified Anger Management Professional. He holds a Master Degree in Christian Counseling, a Bachelor of Biblical Studies Degree and is a member of the AACC – American Association of Christian Counselors. Bill has over twenty-five years' experience in pastoral and professional Life Coaching & Counseling. Mr. Nichols has attended five different colleges and is a graduate of Nazarene Bible College in Colorado Springs, CO, International College of Bible Theology in Sikeston, MO and Logos Graduate School in Jacksonville, FL. You can read more at his blog, "TheOnesimusConnection – A Journey in Self Discovery" at
www.theonesimusconnection.com
or at
onesimusconnection.wordpress.com
. Follow Bill on
Twitter
,
Facebook
,
YouTube
,
GodTube
, or
LinkedIn
.
———————
(Visited 163 times, 1 visits today)