Around
this time last year I was just a fiancée, counting down the 5 remaining months
until I'd finally get to call Tyler Pearson my husband. Like many brides-to-be in the months leading
up to the wedding, I was in the midst of planning. Perhaps not so much like those other brides,
I was also nearing the end of my coursework for my Master's Degree— in Biblical
Theology.
"Let us rejoice and be glad and give the glory to Him, for the
marriage of the Lamb has come and His bride has made herself ready."
(Revelation 19:7)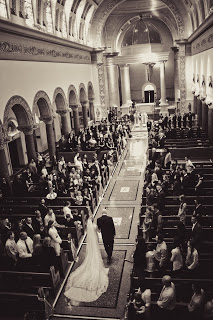 The above verse from the Book of
Revelation was my most prayed-over piece of Scripture during the time leading
up to my wedding, and it was one of the many things swirling through my mind on
the afternoon of December 22, 2012 as my father walked me down the aisle to
meet my groom.
But let's back up a bit. What did my wedding have to do with the Book
of Revelation? What does it mean for
Christian marriage to be a visible sign of the spousal union between Christ,
the Bridegroom, and His Church, the Bride (CCC 1617)? And most importantly,
what practical applications can we draw from all of this to help strengthen our
own marriages?
Pope Francis recently said that the
Church isn't an institution—it's a love story. This love story begins in the
Old Testament, with God breathing life into man. It continues with God's entering into
covenantal communion with man, and His going after a wayward Israel even when
she turned away from Him again and again.
The story ultimately culminates in the New Covenant, in what Blessed
John Paul II called "the Sacrament of the Bridegroom and the Bride," that is:
the Most Holy Eucharist (Did you know that every time you go to mass you're
entering into the "marriage feast" of the Lamb?!).
Marriage is easily and often
misrepresented in our society today, not necessarily always as something bad, but certainly often as something
far short of the glorious elevated status it is meant to have in the Christian context. Two people professing their love for one
another in front of family and friends is a nice gesture, and it may even be a
good enough excuse to throw a party; but Christian marriage is meant to be even
more than that. It's the moment when two people become one,
each no longer living for himself (or herself), but truly binding themselves
before God from now on to live for the sake of the other—to do everything with
the intention of helping the other get to Heaven.
Christian marriage is an image of
the kind of love that Christ has for His Church; that's why we call it a sacrament—an earthly sign that actually effects
the heavenly reality that it symbolizes.
Christian marriage gives two people the supernatural grace to love one
another with the love of Christ. (CCC
1641-1642). It is a love that lays down
its own life for the sake of the other (John 15:13). This love says without reserve, "This is my
body, given for you" (Luke 22:19), as Christ says to all of us in his
invitation to the Eucharistic meal. This
love makes families—an earthly symbol of the Triune God.
Practically speaking, this has all
sorts of implications for our marriages.
Are we "tapping into" the supernatural grace we were given on our
wedding day to love our spouse as Jesus loves?
Are we living for the sake of the other?
Are we aware that our vocation to marriage has made us responsible for the
salvation of our spouse and our children?
Are we open to new life or are we sterilizing a love that is meant to be
given fully and without reserve?
"Let us rejoice and be glad and give the glory to Him, for the
marriage of the Lamb has come and His bride has made herself ready."
(Revelation 19:7)
When it comes down to it, all of us—single, married, and
religious—are invited to such a greater wedding feast than even the most
extravagant and magnificent of earthly weddings. We're all invited to the heavenly marriage
feast of the Lamb (which we get a glimpse of every time we go to mass!). What are we doing to prepare ourselves, our
spouses, and our children, to come to the feast?
——————–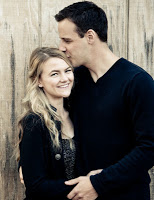 Mary
Pearson is the 23-year-old creator of
YoungAndCatholic.net
.
Her writing has been featured on LifeTeen.com, CatholicMom.com, and
CatholicExchange.com. She holds a Master's degree in Biblical Theology
from John Paul the Great Catholic University in San Diego, CA. Mary lives
in Southern California with her husband, Tyler.
——————–
(Visited 176 times, 1 visits today)